ABB Installation Products SuperStrut Facilitates Side-to-Side Framing Installations
ABB Installation Products, formerly Thomas & Betts, has introduced its SuperStrut accessory to help integrators side mount a variety of racking components.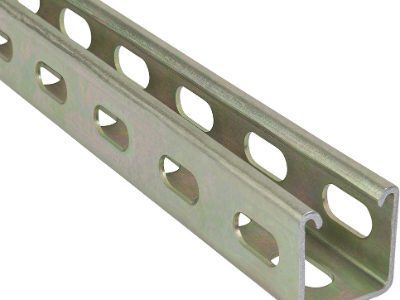 ABB Installation Products Inc., formerly Thomas & Betts, makes equipment for commercial and industrial applications, and its newest product, the Superstrut accessory, is engineered to enable electronics integrators to make side-to-side strut connections or attach a range of side-mounted accessories to any side of the strut without having to perform unplanned custom drilling.
The Superstrut is made from pre-galvanized 12-gauge steel and is available in 10-foot or 20-foot sizes.
ABB Installation Products locates holes every two inches center-to-center, and the holes are 9/16-inches wide to permit integrators to utilize their choice of hardware to support whatever installation scenario they encounter.
"The new three-side configuration adds a great deal of flexibility to the ways installers can use [a] Superstrut channel," notes Mark Meyer, global product manager for metal framing, ABB Installation Products.
"We think it will be a valuable addition to our product offering, particularly for challenging installations that require more complex designs."
Superstrut Family Includes Other Accessories
The ABB Installation Products Superstrut series of products also includes a selection of other accessories.
Some of those other accessories include:
GoldGalv: ABB Installation Products explains this accessory features a trivalent chromium finish that is applied over zinc. This process according to the company, creates a non-porous chemical bond, which is applied after the accessory is manufactured.
SilverGalv: The SilverGalv employs an 0.5 mils of zinc electroplated finish that is applied after the product is cut, drilled and manufactured. The SilverGalv is corrosion resistant and its resistance rating falls between the durability of its GoldGalv and Hot Dipped Galvanized products.
Hot Dipped Galvanized: This product employs a zinc-coating after the fabrication process to protect protection to all surfaces of the accessory.
Pre-Galvanized: ABB Installation states its pre-galvanized product utilizes a zinc coating that is applied by hot dipping the steel at the mill before the product is fabricated.
The company adds that all of these products are engineered to withstand a range of environmental conditions to ensure framing systems deliver years of reliable performance.