During CEDIA Expo 2018, ABB launched the ABB-free@home smart home solution, which simplifies smart home control and integration functions on one open platform. The smart home automation system facilitates the control of such functions as climate, lighting, door communication, and entertainment from a touch panel or a range of in-wall controls as well as via a tablet or smartphone, even remotely.
It can also be integrated with Phillips Hue, Sonos, and Amazon Alexa. ABB says installation is straightforward, making it more accessible to a wider range of professional installers.
The system connects directly to the homeowner's Wi-Fi network and integrates a variety of smart devices.
Its touch panel and in-wall controls are designed to be simple to understand so users can quickly learn the system.
ABB is collaborating with other market leaders to deliver an integrated system for consumers to control all of the latest technology for convenience: voice command via Amazon's Alexa to switch on the lights, sound system control in multiple rooms, and energy-efficient lighting and climate control settings.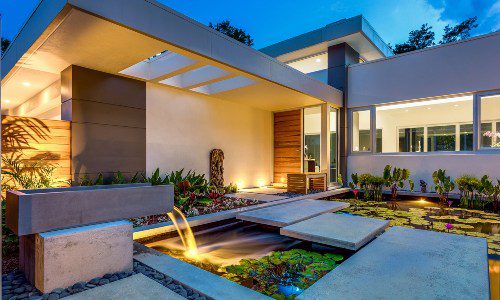 Landscape and architectural lighting create a magical and elegant ambiance for homeowners. The outdoor lighting industry has always been a phenomenal one and continues to grow in popularity. Now is the ideal time to learn more about this rapidly growing and highly profitable industry. Join our panel of esteemed lighting experts that will dive into why it's time for integrators to rethink their role in the outdoor lighting industry.
Register Now! 
"Our goal is to make people's lives easier, safer, more comfortable and enjoyable through the application of smart home solutions. This momentous launch in the US represents a significant step forward in achieving that," says Franklin Sullivan, lead division manager, ABB Electrification Products US.
ABB-free@home Links With Amazon
ABB says its smarter home and building solutions are ideal for both homes and apartments. In the United States, these offerings are available under the ABB brand. Alexa users will be able to control climate and lighting scenes through Amazon's cloud-based voice service, simply by telling Alexa what they would like to do.
The user simply needs to link his or her Amazon account to the "MyBuildings" account in the Alexa app and Alexa will be activated.
Integration of Sonos ABB-free@home will allow Sonos speakers to be controlled from the ABB-free@home app, an in-wall keypad, and a touch panel.
Users will be able to see and create speaker groups, start, stop, mute and skip songs, and adjust the volume, enabling users to integrate their favorite music into scenes.
Functions such as climate and lighting control can be triggered based on the homeowners or tenants location via geofencing. Should the system recognize that someone has left home, it can adjust the temperature, light settings, and also revert back to comfort settings to help reduce energy usage.
If you enjoyed this article and want to receive more valuable industry content like this, click here to sign up for our digital newsletters!