Honeywell (NASDAQ: HON) has announced Vimal Kapur, current President and Chief Operating Officer, will succeed Darius Adamcyzk as the company's CEO, effective June 1, 2023. Following the succession, Adamcyzk will continue to serve as Executive Chairman of the company. Kapur has also been appointed to the company's board of directors as of March 13, 2023.
Kapur, 57, graduated from the Thapar Institute of Engineering in Patiala, India as electronics engineer with a specialization in instrumentation before eventually entering the company as Managing Director for Honeywell Automation India Limited.
From there, he came to hold several other leadership positions within Honeywell, including President of Honeywell Process Solutions, where he led the business through the oil and gas downturn, and Vice President and General Manager of Honeywell's Advanced Solutions line of business where he built the foundation of an outcome-driven software business, integrating the Matrikon acquisition into the company.
In July of 2022, Kapur was named President and Chief Operating Officer in July of 2022, and has been leading the creation of new solutions to help Honeywell customers drive sustainability and digital transformation within their businesses.
"I have had the privilege to work in a variety of businesses and functions over my three decades with Honeywell," Kapur said in a statement. "Our high-performance culture and exceptional talent set Honeywell apart from other companies, and our innovation inspires me every day by bringing technologies to market that impact the world in a positive way. Honeywell is playing a major role in making the world a better place, and I am both proud and humbled to take on the CEO role of this great company."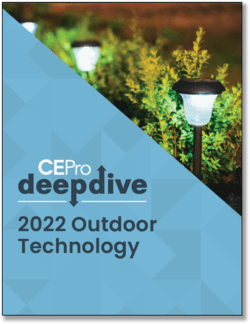 The 2023 CE Pro Outdoor Technology Deep Dive reveals unique set of impediments, including explaining pricing and interacting with outdoor-centric trades.
Get your copy now to take a "deep dive" into the trends and challenges of outdoor technology.
Download the report now!
Adamczyk, 57, was named COO in 2016, CEO in 2017 and Chairman and CEO in 2018. Under Adamczyk's leadership, Honeywell's market capitalization grew from $88 billion to $145 billion, a 9% CAGR.
Over that period, Honeywell's cumulative total shareholder return totaled 128% versus 109% for the S&P 500 and 100% for the XLI. The company's annualized dividend rate also grew from $2.27 to $4.12, an increase of 82%, while its share price rose 99% over the same time frame.
In his role as Executive Chairman, Adamczyk will be focused primarily on supporting customer relationships, business development, enterprise strategic planning, shaping the portfolio and global government relations.