For the most part it goes uncredited, but back in the late 1980s, it was Bose that invented noise-canceling headphone technologies. Reinventing this technology through the introduction of its noise-masking technology, Bose has taken this new technology to the health and wellness market via its Sleep Earbuds that have been engineered to help users get a better night's sleep.
Bose says that its new health and wellness solution block a range of noises that could interfere with sleep, and the Sleep Earbuds are the smallest product it has ever made.
"Noise masking is a science," states Daniel Lee, systems engineer for Bose Sleepbuds.
"It's more than ambient sound or white noise. You can't achieve it by simply turning up the volume on calming songs. And depending on the situation, it's more effective than active noise cancelling—even ours.
During the day, QuietComfort headphones improve focus and productivity or let you hear your playlists and calls clearly in loud places," says Lee.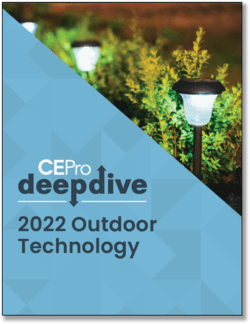 The 2023 CE Pro Outdoor Technology Deep Dive reveals unique set of impediments, including explaining pricing and interacting with outdoor-centric trades.
Get your copy now to take a "deep dive" into the trends and challenges of outdoor technology.
Download the report now!
Related: Bose Debuts New Smart Speaker 'Ecosystem' at CEDIA Expo
"But at night, you're trying to shut down completely and the world is naturally more quiet—and when it's quiet, even the slightest sound seems loud. Bedside machines can't cover it, earplugs can't block it and earbuds meant for sitting, standing or moving can't be worn for hours laying down—especially on your side.
"But Bose Sleepbuds can, and if you're someone who's tried everything and nothing has worked or haven't tried anything believing nothing will, we made them for you," says Lee.
Bose Sleepbuds Optimized for Sleeping
Designed specifically for sleep, the Sleepbuds come with ten preloaded sleep tracks that "mirror" frequencies of snoring, neighborhood noise, clogs, traffic, and other common background noise.
The product incorporates batteries that support up to 16 hours of running time, and the Sleepbuds come with a brushed aluminum charging case designed with travel in mind.
Bose says Sleepbuds is its first product to use noise-masking technologies, and the products are not active noise-canceling headphones.
The Framingham, Mass.-based electronics company stresses its Sleepbuds are not a set of headphones with a sleep function either, and the product cannot stream music—Bose says the sole purpose of the product is to help users get a better night's sleep.
Read Next: The State of Whole-House Audio in the Smart-Home Channel
Engineered for long-term use, each Sleepbud weighs just 1.4 grams and measure just over a centimeter wide and high.
The exterior of the Sleepbuds features a laser-etched antenna for wireless connectivity to a smart device, and internally the Sleepbuds employ batteries, small transducers, and microcircuit boards with flash memory.
Other features include noise-isolating StayHear+ Sleep tips that come in three sizes, and companion Android and iOS apps that facilitate updates and a choice of user selectable functions such as alarms, sleep tracks, and volume.
MSRP is $250