Power protection is something most homeowners don't think about until it's too late but surge protection products, along with power conditioning products, are the unsung heroes of the electronics industry. Well-designed surge-protection and power-conditioning products are capable of defending against harmful power spikes and surges for everything from networking components to amplifiers to video displays to security systems.
Power conditioners add benefits such as radio frequency (RF) and electromagnetic interference (EMI) filtering and even voltage regulation to help connected products maximize their respective designed performance parameters and life expectancies.
The problem with the surge protection product market is the plethora of marketing terms that make any sort of product research nearly impossible to execute with-out some sort of engineering background.
Helping to navigate these terms, CE Pro asked a panel of industry experts to decipher the jargon that proliferates their profession.
Surge Protection Basics: MOVs vs. Avalanche Diodes
Realistically it's impossible to fully grasp the technologies used within the power protection product market in one article.
It is possible, however, to build a basic understanding of some of the legitimate technologies the market employs to help sort through the myriad of so-called "magical" solutions that populate the market.
The most fundamental protection technologies used to safeguard electronic equipment are metal oxide varistors (MOVs) and avalanche diode circuits.
Christos Desalernos, power product manager, Nortek Security & Control (NSC), says MOV designs are the most prevalent technologies upon which protection circuits in the industry are based for a number of reasons.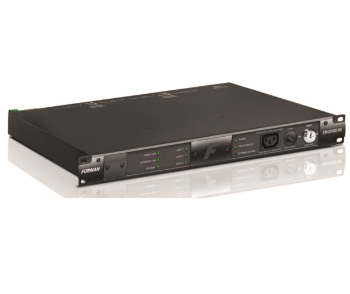 "The most commonly used surge suppressors are MOV technology. They are cost effective and work quite well," notes Desalernos. "If only MOVs are used in the circuit they will sacrifice themselves to protect equipment."
Meanwhile, avalanche diode are typically not used by themselves in an AC surge suppressor due to their limited energy capability, according to Desalernos.
Avalanche diodes are typically used in series mode surge suppression circuits like the Furman SMP [Series Multi-Stage Protection] as part of a DC rectifier circuit. With SMP, Furman employs inductors — in series — capacitors, MOVs and avalanche diodes.
"Since we are using multiple technologies, not only to protect connected equipment but also in the surge suppressor, they are considered non-sacrificial," adds Desalernos. He says integrators should have no concerns using MOV circuits, but he warns against using inexpensive power strips because those products tend to offer higher clamping voltages.
"You really want a clamping voltage of 1,000 volts or less. Most of the Panamax and Furman products range from 188Vpk to 500Vpk, depending on the model and price point," Desalernos says. "Sacrificial designs allow for smaller form factors and most cost-effective solutions."
Lauren Simmen, manager, marketing, SurgeX, says integrators should determine the application and then ask if the job needs surge suppression or surge elimination.
Simmen says MOVs allow energy to pass through to connected components, which can affect the life expectancy of those products plugged into the protection solutions.MOVs are specifically designed to reduce the force of power surges.
Simmen says SurgeX's products utilize a design called Advanced Series Mode, which is capable of eliminating up to 6,000 volts, while conditioning against spikes, sags and electrical noise.
Simmen recommends integrators ask these questions when specifying surge suppression systems:
What is the incoming voltage?
What are the load requirements, or what is the amp draw of the products that need protection?
What features and functionality do you (or the customer) want? Does that include control capabilities and the ability to sequence?
Power sequencing is a feature that turns on lower-power devices, such as media players and processing products, before items that require higher power levels, such as power like amplifiers.
Likewise, sequencing also works in reverse order to power down systems to avoid pops coming through speaker systems, which can damage loudspeakers.
Isolation Transformers, UPS & Remote Management Options
Another category of products in the world of power protection is isolation technology.
Toronto-based Torus Power is a manufacturer of isolation transformer-based power solutions, and according to Kevin Main, president and chief operating officer, isolation provides a unique set of benefits to the category.
"Power isolation is very different than power conditioning and there are some real, measurable differences. Power isolation is the process of delivering voltage through a transformer core using primary and secondary copper windings that are shielded or 'isolated' from each other," explains Main.
"The benefits of using this technology are the improvements in overall noise reduction on the incoming voltage line, providing a more stable power platform that allows the audio/video equipment to run at lower temperatures; improved performance for dynamic equipment like power amplifiers; and a more defined and accurate sound stage for the overall system."
To help integrators ensure they are properly specifying the proper isolation solution, Torus Power offers a service that will examine any system in question to recommend a solution.
Some of the factors the company looks at include equipment location, wiring plans, and the power availability from the main electrical panel to the equipment location.
Read Next: McIntosh Power Controller Uses Thermally Protected Metal-Oxide Varistors to Keep Electronics Safe
Other items Torus Power looks at include the local power grid to see if there are any power fluctuations that could cause problems.
A popular solution that's been used in the IT and A/V industries for years is called UPS or uninterruptible power supplies.
Simmen points out that UPS products can play an important part in protecting a system when specified correctly, but there are many misconceptions related to these products.
"Even if you're using an online UPS, where the incoming power is constantly being transferred from AC to DC and back to AC to create what is known as a pure sine wave, the connected devices and systems are still susceptible to surges if a UPS is all you are using," she emphasizes.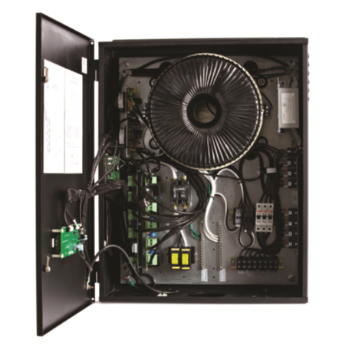 A UPS solution does benefit a system by ensuring connected components receive a pure 120-volt sine wave to eliminate voltage sags and surges. She says these products also provide power during outages to allow users the ability to properly power down their computers and other devices to avoid damaging these products due to the abrupt termination of electrical current.
Like other product categories that use web-based connectivity to augment the functionality of their products, the power protection industry also offers remote monitoring capabilities.
Desalernos says remote management is an option that integrators can use to manage power installations from anywhere in the world.
These technologies, which include his company's BlueBOLT platform, allow authorized individuals to monitor specific connected devices and to remotely control on/off power cycles, which is a popular function within these remote monitoring systems.
"The number one feature used in remote management is rebooting network devices. With our BlueBOLT platform you can do this manually via a scheduled command — for example 2 a.m. every Tuesday morning — or ping the device so if it fails the ping will reboot the device," Desalernos explains.
"[BlueBOLT also offers] energy management to allow integrators to know their customers' voltages, current and wattage to help them discuss power issues and have proof of performance."
Interestingly, he notes that most energy management issues that cause devices to shut down are low-voltage related.
Third-Party Validation Separates Power Protection From Power Hype
Sifting through all of the jargon that's thrown around the power protection category can be an exercise in futility. Every company seems to use proprietary terms to describe how their respective products make connected electronics perform better to meet their longevity and performance goals.
In reality, many of the technologies described by these marketing terms are unproven and in fact could cause more harm than good. A proven method to weed out marketing hype from reality is to check to see of the company's products are certified by third-party testing firms to validate their safety and performance claims.
In a blog posted on the Furman Power website, Jerry Hoopes, director of hardware engineering, NSC, points out that OSHA-certified testing laboratories that are known as nationally recognized testing laboratories (NRTL) certify products based on tests they perform.
"Remote capabilities will be growing in regard to form factors, control variations [AC and DC], and network ping management."
— Christos Desalernos, Nortek Security & Control
Once a product passes those tests, he continues, the products are authorized to bear the mark of the laboratory that performed the testing to show consumers it has under-taken independent testing for safety.
In North America, popular labs include Underwriters Laboratories (UL) in the U.S. and the Canadian Standards Association (CSA) in Canada. He also notes that other labs, including CSA, TUV and ETL, all provide testing that equates to the same levels as UL's standards.
In the case of Torus Power, Main says it is important for his company to submit its products to these third-party labs to underscore its commitment to designing safe and reliable products.
"The National Electrical Code also requires that all manufacturers of electrical products get their products approved for electrical safety. For large volume products, a certification company like CSA or UL ensures that the products meet the specified safety standards. For specialized products that are hand-built in smaller quantities like Torus Power, this is done by a field evaluation team that inspects every Torus Power unit coming off the assembly line to ensure that each unit meets the CSA SPE-1000 standard," emphasizes Main.
"After each Torus Power unit has been inspected and approved, the inspector will affix a label to the rear panel of the unit certifying that the unit has been inspected, approved, and that the unit meets all of the established safety requirements."
Hoopes says power management products are tested under the UL 1363 standard of "Re-locatable Power Taps," which he says applies to products that extend power to multiple outlets as an extension of a branch circuit.
He also says UL tests products that function to suppress surge energy to AC loads under the standard 1449 Transient Voltage Surge Suppressors specification.
In addition, Hoopes notes that some of the other UL standards to which power products are tested to meet include:
UL 498: Attachment Plugs and Receptacles
UL1283 Electromagnetic Interference (EMI) Filters
CSA C22.2 No. 21: Cord Sets and Power Supply Cords
CSA C22.2 No. 0.4: Grounding and Bonding
CSA C22.2 No. 8: Electromagnetic Interference (EMI) Filters
The safety standards and the increasing level of functionality that manufacturers are building into their products make it easier for integrators to determine what products make sense for particular applications as the power industry evolves, adds Desalernos.
"Remote capabilities will be growing in regard to form factors, control variations [AC and DC], and network ping management," estimates Desalernos.
"Basic power protection and conditioning will always be needed for physical purposes such as small form factors and cost-effective price points. Since our power infrastructure is becoming more taxed, we should also expect to see more demand for battery backup units for power loss and enhanced power line filters since more equipment means more noise."
Power Protection Selection Tips
As tough as it may be to research power products, Simmen at SurgeX says the best thing integrators can do is educate themselves as best as possible.
"To help break it down, SurgeX recommend you look at the specifications of the surge protection device and the warranty to help get a more complete idea of what you are getting," she advises.
"SurgeX prides itself on helping our customers understand the systems and its functions and then, providing the best overall solution for the application … using our diagnostic capabilities we work to diagnose every system to ensure we know the root of the problem and recommend solutions to fix it. We strive to be a partner with our dealers to help their businesses stay up and running."
It can be difficult to calculate the ROI for power conditioning/surge suppression, Simmen admits, but she says power protection should not be taken for granted.
Related: 4 Tips to Beat the A/V Trunkslammers
Rather than making cost as the most important factor, Simmen recommends integrators advise their end-user clients to think about what baseline features a power protection solution should provide to protect their mission-critical systems.
"A common misconception is that a maintenance or service contract will protect them from these problems down the road, but damage due to power fluctuations and anomalies aren't covered by these contracts, nor are they covered by most manufacturers' warranties."
— Lauren Simmen, SurgeX
"At a minimum every system should have a surge protection unit at the point of use — this can be at the rack level or in other locations throughout the building — and a UPS to ensure mission-critical components are always receiving power," she stresses.
"This combination ensures connected components and installation environments are protected against damaging power anomalies, while simultaneously receiving 'clean' power."
She also suggests rather than thinking about the return on investment on the power protection gear, integrators need to engrain their commercial clients to think about the total system investment, which means thinking about the expenditures made on network, phone system and A/V equipment.
However, Simmen realizes discussion with the end user will usually center on the return on the overall investment of the system.
To that end, she notes, "Keeping systems up and running and operating at their optimal performance level is paramount. Failing to properly protect these systems often results in increased downtime, frustration and ancillary costs to troubleshoot and fix issues for end users.
"A common misconception is that a maintenance or service contract will protect them from these problems down the road, but damage due to power fluctuations and anomalies aren't covered by these contracts, nor are they covered by most manufacturers' warranties. We often talk to end users about using proper power protection as a means to add an insurance policy onto their systems."
If you enjoyed this article and want to receive more valuable industry content like this, click here to sign up for our digital newsletters!