In the modern home, proper lighting design is critical. For large estate homes, professional lighting designers understand how the purpose, intensity and effect of light plays a dramatic role in the feel of a home. As outdoor environment specialists, we feel outdoor lighting design is just as essential. Thoughtful design makes a monumental difference, both when selling and installing the job.
Light brings beauty, safety and security to an outdoor environment. Creative lighting designers use layering effects to achieve balance and dimensionality in night-time scenes. Outdoor lighting can accentuate the most beautiful features of a landscape after dark.
Artfully lighting trees can reveal the beauty of their limb structure or shoot dramatic patterns of light and shadow through a cluster of foliage. Variations in lamp intensity, proximity, color temperature, and focus bring out texture and definition of objects lit. Layers of brightness and shadow can be used to create primary and secondary focus in the scene.
The Coastal Source Design Service is one of many services available to our dealers. Provide a landscape plan and address, and we develop a Quick Estimate based on the client's needs.
Once approved, a fully circuited plan can be developed with fixture, lamp and cabling specifications. A final, SKU-level quote is dropped into the dealer's web account so they can place the order for immediate shipment. This service allows our dealers to be as involved or hands-off as they want with the design process while providing professional designs to the client.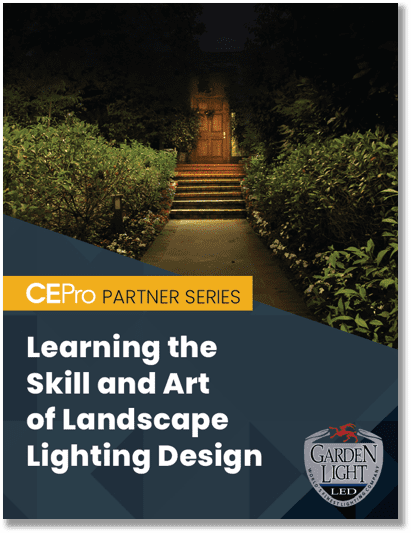 Experts recommend landscape lighting design as an entry point for integrators into the revenue opportunity of home lighting. Check out our new resource for tips and best practices. Download "
Learning the Skill and Art of Landscape Lighting Design
" today!.
---
Franco D'Ascanio is President of Coastal Source.