Diversifying its BESPOKE appliance selection beyond refrigerators, Samsung has introduced several new products that support today's increasingly popular wellness initiatives.
Samsung says that it has added to its line of BESPOKE appliances to respond to the public's reaction to its BESPOKE refrigerators.
"We've seen a tremendous response to our Bespoke refrigerators, which families love because they come in an array of changeable colors and materials that fit any interior décor," says John Herrington, senior vice president, general manager of home appliances, Samsung Electronics America.
"By expanding our Bespoke offerings, families can now bring their personal style to the rest of the kitchen — and the rest of the home."
BESPOKE Appliances Feature Home-Friendly Designs, Support Demand for Wellness Solutions
Recognizing how modern families make use of their living spaces and how they complement their lifestyles through the design of their homes, Samsung says the BESPOKE products were developed to allow homeowners to express their style.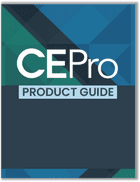 CE Pro's 2022 Product Guide showcases some of the latest and innovative solutions from manufacturers serving the custom electronics industry in a cross-section of categories.
Download the guide now!
In addition to the refrigerators, the BESPOKE Kitchen Suite includes a Front Control Slide-In Range, as well as an over-the-range microwave, and a Linear Wash dishwasher. The Kitchen Suite appliances offer complementary design options to match the refrigerators.
Read Next: Samsung Provides Custom Fridges Through BESPOKE Series
The refrigerators are available in versions such as the 4-Door Flex, the Flex Column, and Bottom Freezer models. Samsung emphasizes the refrigerators are available in customizable configurations and colors, which can be designed by visiting the Bespoke Design Studio website.
Additionally, Samsung points out that it has collaborated with the artist Andy Rementer for a limited edition 4-Door Flex model.
Addressing the surging wellness market, the newly expanded BESPOKE Appliances also includes the BESPOKE AirDresser, the BESPOKE Cube Air Purifier, and the BESPOKE Jet Cordless Stick Vacuum.
Highlighting these new BESPOKE appliances is the BESPOKE Cube Air Purifier. Offered in a choice of gray or deep green, Samsung provides custom herringbone grille options to help the wellness solution blend into a variety of home interiors.
Samsung adds that its new air purifier was developed with a compact footprint, and through the use of the company's Wind-Free technology, the unit pulls in air from five directions to maximize its efficiency. The product also includes an extra filter that traps pet fur and other debris, and through a companion app that's available on the iOS and Android platforms, homeowners can monitor indoor and outdoor air quality.