The market opportunity for outdoor entertainment systems has never been stronger, and new data from the U.S. Census Bureau confirms it. According to the data, for the first time ever, more than 60% of new homes built in the U.S. have an outdoor patio with covering. Specifically, out of 990,000 single-family homes started in 2020, 61.4% came with patios, according to analysis by the National Association of Home Builders (NAHB). According to the association, it is the fifth consecutive year that the share of new homes with patios hit a record high and 10 out of 11 years of growth.
For integrators, backyard patios mean more audio, video and motorized shading systems can be installed, not to mention outdoor wireless access points, surveillance cameras, and even smart grills.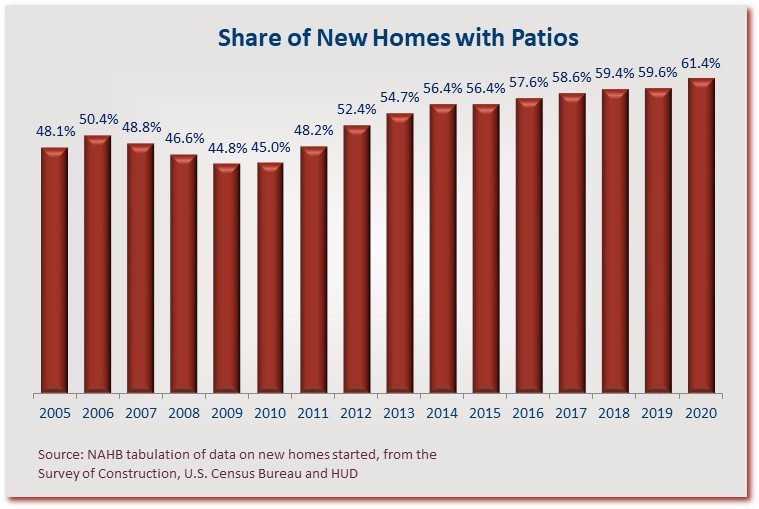 The growth in outdoor patios fell as low as 44.8% back in 2009 during the depth of the housing crisis, but it has been growing ever since. It finally hit more than half of new home starts in 2012 at 52.4%,.
From the start of the downturn in 2007 through 2011, the share of new homes with patios was consistently under 50 percent—as low as 44.8 percent in the trough of 2009. except for 2015 when it was flat.
Patio Regional Breakdowns: Midwest New England Lag
The NAHB also broke down the patio data geographically. The research shows that both the Midwest and New England lag well behind the other regions of the U.S. in terms of outdoor patios, with just 19% of new homes in 2020 in the Midwest with covered patios and 21% of new homes in New England.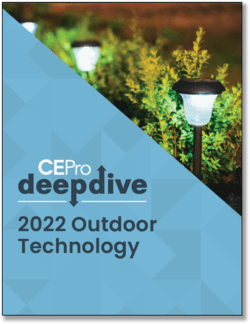 The 2023 CE Pro Outdoor Technology Deep Dive reveals unique set of impediments, including explaining pricing and interacting with outdoor-centric trades.
Get your copy now to take a "deep dive" into the trends and challenges of outdoor technology.
Download the report now!
On the flip side, 70% of homes in the Mountain region, 70% in the West South Central, and just under 70% of new homes in the South Atlantic have covered patios.
The data also reports the average size patio for a single-family home is 278 square feet, with larger average sizes in the Mid-Atlantic, East North Central and Pacific regions. Poured concrete is the most common building material.