Recently, CE Pro virtually sat down with Franco D'Ascanio, president of Coastal Source, to discuss how the coronavirus pandemic impacted the company, things to look out for when installing outdoor lighting vs. indoor lighting, and much more.
How has the coronavirus pandemic impacted Coastal Source, and how has the company adjusted to what is becoming the "new normal" now more than a year later?
We are fortunate, actually. Our outdoor audio and lighting systems can be fully integrated with the home's interior systems, or completely standalone, meaning nobody needs to enter the home to set up a Coastal Source standalone system. This removes any concern from the homeowner and that barrier to entry. Obviously, the increase in home and outdoor living enhancements has had a positive effect on business.
With people rediscovering their home electronics, where do categories such as outdoor lighting and AV fit into the mix as residential systems surge in popularity?
Healthly living and being in the open air is a trend that will continue. We know that integration clients are interested in creating restorative respites and at-home outdoor experiences to effectively boost a person's mood. A well-maintained outdoor living area that considers all the senses, especially sound, becomes a sanctuary created for enjoying downtime and also making memories with family and friends.
Are there any differences or special considerations specifying interior vs. outdoor lighting? How does Coastal Source help integrators spec outdoor lighting?
Yes, there are huge differences in specifying and implementation. Indoor lighting requires much more planning, management and craftsmanship. When you're dealing with an interior ceiling, generally the interior designer, contractor, project manager, electrician and HVAC contractor all have their space, territory and input, not to mention conflicts in those same areas. Outdoor lighting involves a much smaller group of participants and has more flexibility.
A simple example: Say a change needs to be made or a fixture moved. With our Coastal Source fully engineered systems and our patented Plug+Play Outdoor Cabling System, it's a matter of minutes, not hours like it would be on an indoor project.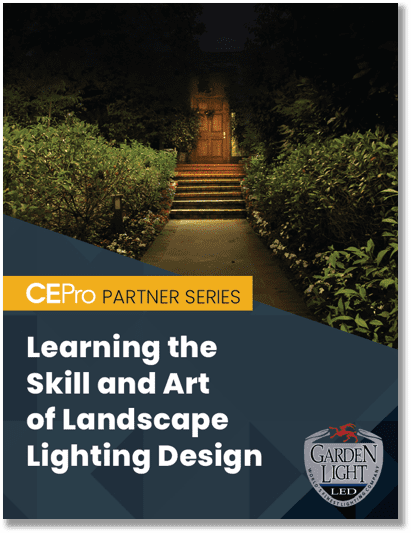 Experts recommend landscape lighting design as an entry point for integrators into the revenue opportunity of home lighting. Check out our new resource for tips and best practices. Download "
Learning the Skill and Art of Landscape Lighting Design
" today!.
Looking at the outdoor audio category, does Coastal Source provide the same level of dealer support to help dealers install these systems — especially dealers who are new to the outdoor technology market?
Yes, as most integrators know, Coastal Source goes about system design and engineering differently than most. Not for the sake of being different, but our aim is to offer installing dealers and their clients higher fidelity, SPLs [sound pressure levels], reliability, profitability and repeatability with our catalog of products. And, although our systems are simpler to install, they are different.
Our installing dealers tell us that our in-house professional design services known as CS | DS, provide them with full support from the conceptual design/specification stage all the way through the fully engineered, end-to-end system documentation and proposal stage.
Are there any new products dealers should be aware of to grow their business?
The luxury market is hot, so we are pleased to share that our unparalleled Line Source outdoor speakers, 18.0 high-output subwoofer, matching amplification and Uni-Connect cabling systems have started shipping. As many know, our current outdoor audio line has set the standard in high-fidelity outdoor audio.
The Line Source system sets an entirely new standard for outdoor sound reproduction. For homeowners looking to achieve concert quality sound with unrivaled outdoor coverage, this system offers a uniquely superior outdoor audio system that goes the distance. On the outdoor lighting side, we've introduced an elegant, contemporary series with Match Light featuring a flexible Gimbal LED Module. This spring, we'll be rolling out our Niche Flex line including pre-assembled models of our best-selling Niche modular components.