Gamers and wellness enthusiasts who are looking to take their passions to the next level might want to keep an eye on Hypnos Virtual's scent-based virtual reality (VR) experience Scentscape. The company is a newcomer to the residential wellness space and is looking to transform the VR experience by introducing what it calls Bio-Media, which brings mood-making or mood-appropriate bio-aromatics into the fold.
According to Hypnos, Scentscape will come in different sizes, with the cinema model creating millions of different scents from a unit smaller than a mini-fridge. The Bio-Media is experienced as a choreographed "Scent track" that is continually changing like a cinematic musical score, but instead of an array of musical instruments, it draws from a library of aroma chemicals designed to replicate a nearly endless array of olfactory sensations.
In addition, Hypnos is continuing to work on Scentscape's artificial intelligence component, which is in place to help enthusiasts receive the right scents at the right times, whether that's when watching an ocean scene in VR, taking in the aromas of a rainforest right after a downpour, or smelling the chocolate wafting off of a plate of brownies fresh from the oven while watching a cooking show.
Hypnos says bio-telepresence, virtual travel and even YouTube integration are standard features within the internet-based system, and the company even has plans to work on a Scentscape for the International Space Station.
The technology is also well-suited to the burgeoning residential gaming market, allowing gamers to immerse themselves in their chosen worlds to an even greater level of detail. According to the company, gamers can expect the battlefields of first-person shooters to have all of the dense aromas of exploding munitions, the thick fog of battle, and more, while fantasy role-playing games can use the technology to lend an additional sense of character to the worlds found within the media.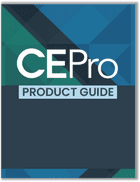 CE Pro's 2022 Product Guide showcases some of the latest and innovative solutions from manufacturers serving the custom electronics industry in a cross-section of categories.
Download the guide now!
To learn more about Scentscape and how it was developed, check out the company's site here for advanced details into its neuro-technology.