Frost & Sullivan Study Finds Work from Home is New Normal
A Frost & Sullivan study states that work from home collaboration systems will be a hot market opportunity for professional integrators because of the COVID-19 pandemic.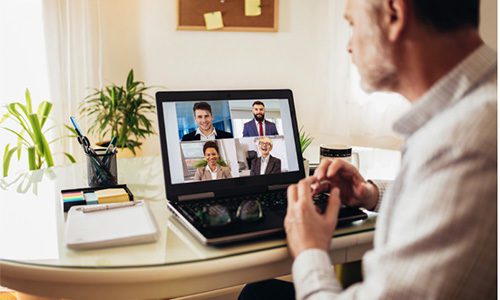 A newly announced study from Frost & Sullivan states that work from home system solutions will provide the integration market with huge growth opportunities.
The study is called "Post-Pandemic Growth Opportunity Analysis of the Meetings Mark," and the research finds the number of remote workers post Coronavirus will be 500% greater than pre-pandemic numbers.
Frost & Sullivan states the increased demand for video collaboration licenses is projected to grow at a CAGR (compound annual growth rate) of nearly 25% between 2019 to 2025, compared to a pre-pandemic estimate of just over 17%.
"The COVID-19 crisis has made remote work and hybrid work the new norm. During the pandemic and its immediate aftermath, in-office presence will be needs-based, and offices will transform from being 'productivity centers,' to being sites for employee engagement, collaboration and building relationships," says Roopam Jain, senior industry director, ICT.
"The shift to remote work represents a transformative moment for the meetings market and unveils tremendous growth opportunities for vendors that can differentiate on better quality and more scalable, manageable and secure cloud services and devices that ensure an optimal meeting experience, regardless of where users work."
Other Highlights from the Work from Home Study
Looking ahead, Jain estimates that video meetings will become an expectation for business communications in the near future.
She comments the growth of work from home collaboration systems will be driven by bundled solutions and other easy-to-use components.
"Growth in the future will primarily come from all-in-one, easy-to-use devices and service bundles for personal collaboration," notes Jain.
"However, revenue growth will be dependent on a confluence of factors, such as the conversion of free accounts to paid ones. Rampant free offerings during the pandemic will generate an immerse base of free users, providing vendors the opportunity to convert them to paid accounts in the future. The ability to gracefully wean users off of free services into a paid engagement will ultimately determine if providers will see a sustained revenue impact from the upsurge in user demand."
Frost & Sullivan adds the study also offers several points that include:
The research company emphasizes it's important to seize upon these opportunities in the early stages of the market to fully capitalize on the revenue potential
Frost & Sullivan says integrators need to simplify the collaboration experience, while meeting an organization's compliance and security needs
The study suggests that integrators take a vertically focused approach on markets such as healthcare, retail and manufacturing
Expanded technology partnerships with IoT and AI technology companies will help to foster more innovative meeting solutions to improve the work from home collaboration experience