Well, it's easy to see why CEDIA wanted to partner with Kohler in its efforts to foster closer relationships between custom integrators and the kitchen & bath design community.
During the recent KBIS 2022 event held in Orlando, Fla., Kohler staged a massive and busy booth front and center on the well-attended show floor featuring its high-tech and high-style shower, bath, faucet, lighted mirror and other products.
Just as the show was kicking off, CEDIA had announced the popular Wisconsin-based brand as the latest to join its CEDIA Propel affinity program for exclusive benefits to integrator members, including early access to Kohler's Authorized Rep Service (ARS) program in select major metro areas.
In its KBIS booth, Kohler offered looks at its latest innovations such as its new Anthem advanced outlet digital showering platform featuring slick touchscreens that link up to Kohler Konnect smart technology.
The company was showing both its mechanical and digital controls for shower functions, highlighting how bumping up to the Anthem Digital Control gives owners more ways to easily operate multiple showerheads, pressure, temperature and more.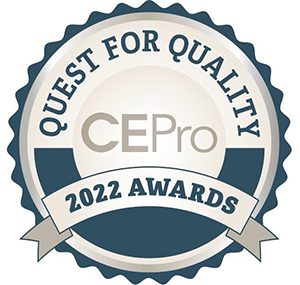 CE Pro urges integrators to recognize their suppliers that go above and beyond to deliver premium support and service. Cast your vote today to recognize the services (not the products) from your favorite manufacturers and distributors.
Cast your vote today!
"[Mechanical controls] allow you to turn individual outlets on and off … and select individual pressure, so it kind of gives you one step up of control in your space. When you go to digital, you open up the amount of control you have," says Tom Sindelar, senior product manager, performance showering at Kohler.
"In its simplicity, you can turn different outlets on and off – I have a rain head, I have a shower head, that's how I want it to work," he describes of the first step in the setup process for the smart showering experience. "Step two is you can change the flow, and when you have a valve like this that has two different zones – now you can unlink them and have a product in one zone medium and the other zone all the way up [in flow intensity], or you can link them and have them always be pared."
Anthem Digital Control Enhances Experience, Offers Flexibility
The controller, which delivers a haptic response to users' inputs, provides myriad options to tailor the experience to the owner much like an integrator might program lighting controls or music scenes.
"You have the option of operating up to nine presets," Sindelar says. "So if you've got your morning routine, your evening routine, two different people, kids, pets – you can do a preset. There are five 'experiences' that Kohler preprograms – you can choose one and it will run the shower heads through different pressures and temperatures. You can do the same setup on the app."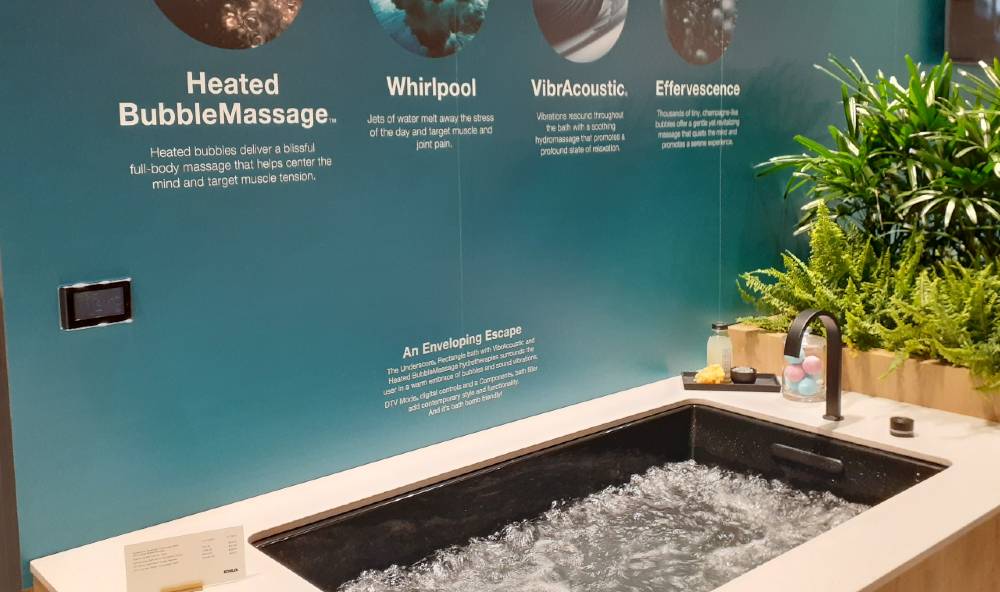 He adds that when the system turns on it starts with a default that's simple to activate to the user's setting. Plus, thanks to Bluetooth support, controllers can be placed in or outside the shower, and not even necessarily right near the shower because of the remote control capability.
He adds that traditionally controls need to be where the valves are, but in this case the valve can be up to 30 feet away to communicate via Anthem Digital Control creating more installation flexibility.
When asked about third-party control friendliness with popular CI channel providers, Sindelar notes the smart home integrations for now run through the Konnect app and enable voice activation via Alexa and Google, and Kohler is "continuing to add simple integration" for those.
However, for more robust smart abilities like commanding music (for its Moxie shower head and speaker incorporating Harman Kardon) and lighting simultaneously with water functions, Kohler has its DTV+ (digital thermostatic valve) option. He says integrators have been drawn to that product, and they can also anticipate an open API down the road for Konnect to play nicely with CI channel systems.
Meanwhile, Sindelar notes the potential synergy between smart home and Kohler customers has grown to where the new CEDIA partnership makes a lot of sense.
"We've had digital showering systems for close to 15 years," he notes of Kohler's long ties to tech. "And our ecosystem works great, but really what we've found is the consumer that would be shopping that is wanting a more integrated space."