Showing its continuing efforts to foster efficient Work from Home (WFH) employee productivity, Crestron has introduced its residential friendly Home Desktop solution.
With the launch of its new Home Desktop, Crestron has Recognized the importance of ergonomics and workflow, so it has leveraged its years of experience in the commercial market to provide users with a WFH solution that brings enterprise UC technologies into residential environments via an all-in-one component that resides on a desk or table.
The all-in-one unit incorporates a four-microphone array, as well as a built-in speaker, a touchscreen, a wireless hub and options such as USB/HDM and Bluetooth.
With its wired and wireless options, along with Crestron's AirMedia technologies, integrators have options to connect to homeowners' TVs to have these devices serve as collaboration displays. The inclusion of AirMedia is significant because it enables users to wirelessly connect their computers/laptops and smart devices to TVs to share presentations and simply communicate with coworkers, teachers or family members.
Some of the other features built into Home Desktop include universal web conferencing to support the system's use with Microsoft Teams, Zoom Rooms, Slack, Google Meet, or whatever particular program someone is running on their computer.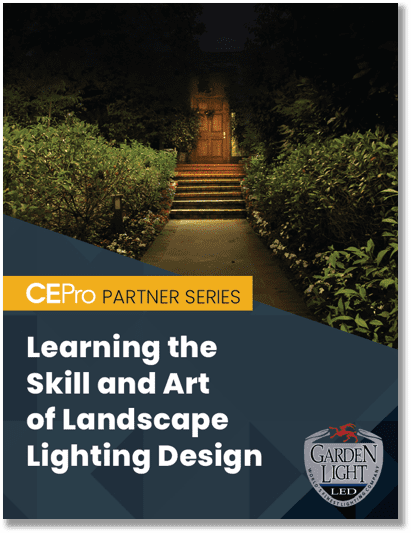 Experts recommend landscape lighting design as an entry point for integrators into the revenue opportunity of home lighting. Check out our new resource for tips and best practices. Download "
Learning the Skill and Art of Landscape Lighting Design
" today!.
Once someone enters a conference on the UC platform of their choice, Desktop's indicators can be set to a "do not disturb" mode. This option visually communicates to other members of a household that someone is participating in a call. When the light is turned on through a simple two-button switch, the indicator will light up red, and once a call is finished the light can be turned off to communicate to home residents the room is unoccupied.
Enhancing the user experience of Home Desktop, Crestron provides its Smart Soundbar and USB option. Crestron notes the Smart Soundbar delivers quality conferencing experiences, and it installs neatly underneath a display or computer. 
Summing up the potential and growing importance of its Home Desktop solution, Crestron emphasizes whether its WFH activities or remote learning, people are using UC systems at home. The company also points out that as people's comfort with these systems grows they have started to use these systems for more than work and learning—they are using UC systems to socialize with family members and friends.
Moreover, Crestron validates how rapidly the WFH movement has gained prominence by stating Microsoft Teams hosted 2.7 billion meeting minutes on March 31 alone, and Zoom's growth exploded from 10 million to 300 daily users within a matter of weeks since quarantining started.
Looking ahead, Crestron concludes that whether someone is utilizing its HomeTime array of WFH home solutions, Desktop or its Flex MM solution, it can, through its dealers, "elevate the experience from what it was before the pandemic, to the way we will continue to work, learn in connect with others from home."