Z-Wave is an increasingly popular way of connecting products within a smart home environment using a stable and reliable platform.
Showing the latest products from its growing array of industry partners in its CEDIA Expo 2021 booth, the Z-Wave Alliance showcased a number of solutions in a range of verticals, including security, water leak protection and lighting.
Some of the partners highlighted in the Z-Wave Alliance include Jasco, Yale, Honeywell, and Fibaro.
In addition to the products, the Z-Wave Alliance was promoting its Smart Start platform. The alliance developed this platform to streamline the installation process for professional integrators, and as Mitch Klein, executive director and chairman of the Z-Wave Alliance, explains, the SmartStart platform saves dealers time in setting up smart home systems.
"We are really excited about SmartStart, it essentially makes sure that you can scan the QR codes. Each individual device on the box, as well the device itself will have a unique QR code," notes Klein.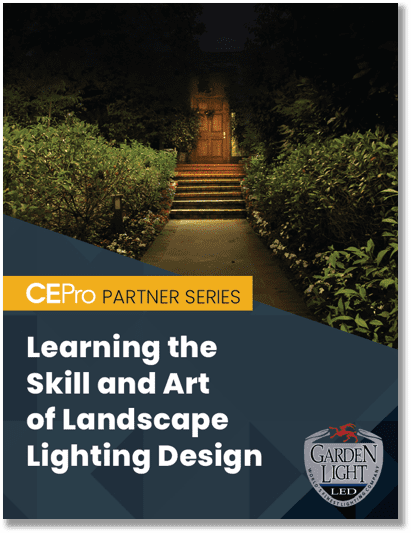 Experts recommend landscape lighting design as an entry point for integrators into the revenue opportunity of home lighting. Check out our new resource for tips and best practices. Download "
Learning the Skill and Art of Landscape Lighting Design
" today!.
"What it means to you the installer is that you actually use your phone, essentially use your camera to take a picture of that QR code. It will automatically get included in the system, as opposed, as in cases of going through multiple steps to get a device into the inclusion—maybe pressing a button three times, rubbing your head—patting your belly kind of thing."
In a white paper that's available for download, the Z-Wave Alliance sums up SmartStart by stating: "Z-Wave SmartStart aims to shift the tasks related to inclusion of an end device into a Z-Wave network away from the end device itself, and towards the more user-friendly interface of the gateway."
The alliance adds in the white paper: "Z-Wave SmartStart removes the need for initiating the end device to start inclusion. Inclusion is initiated automatically on power-ON, and repeated at dynamic intervals for as long as the device is not included into a Z-Wave network … by moving the device authentication process into the manufacturing and distribution phase or service provider domain, the end user is no longer required to do anything but to power on the devices."