Imagine walking into the office one morning to find your computer has fixed several issues in a customer's home without you having to do anything. Sound surreal? Well, during his CEDIA Expo 2019 TechTalk, Miguel Alonso, VP of products, Nortek Security & Control, discussed how this fever dream is slowly becoming reality for integrators thanks in part to the efforts of IP networking, the cloud, and AI computing.
The cloud allows integrators to use "virtually unlimited computing and memory resources at very low prices, and that changes everything," says Alonso. When the cloud is combined with IP networking, which allows integrators to unify the transport of signals in a home into a single physical infrastructure, integrators now have the ability to connect and compute faster and cheaper than ever before.
So how do integrators use this to their benefit? Elan has a management cloud that connects every Elan automated home together and allows integrators to manage, view, and control the network of devices they've installed. In addition, it provides remote management opportunities for the integrator so they can access their systems without needing to be at work.
"[Integrators] can literally see potential issues with an automated home before the end-user actually sees those issues. And they can take action remotely…they don't have to dispatch a technician to the consumer's home," says Alonso.
This allows integrators to service the same number of end-users with fewer employees, or they are able to scale by servicing more end-users with the same number of employees. Integrators then have an easier time offering maintenance services that they can provide at high-value for their customers, but at low cost to them.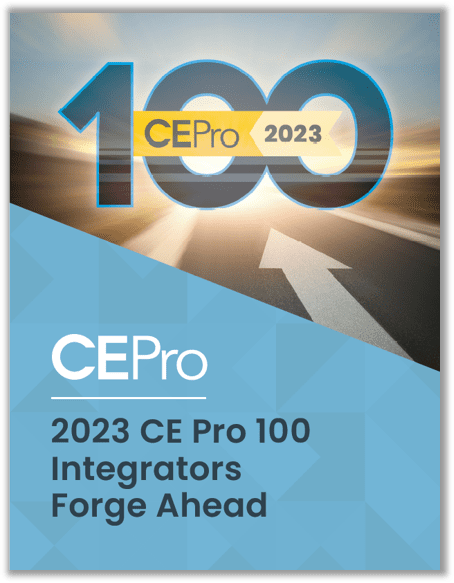 Which companies in the custom integration market made CE Pro's 24th annual CE Pro 100 list?
AI Does the Hard Work For You
In conjunction with IP networks and the cloud, artificial intelligence (AI) can help solve problems within a home faster and more efficiently than was previously possible.
According to Alonso, AI can look at the performance and behaviors of hundreds of thousands of installed homes. Then, using that data, algorithms can predict that a system will fail before the system actually fails. This is because it has now learned common failure behaviors from other systems.
AI can even take action on an integrator's behalf. "[Integrators] go from a place where the customer has a problem they call you and you dispatch a technician…to a place where the customer support technician shows up to work in the morning and the system tells them 'Hey, while you were sleeping, I fixed all these problems for you'," says Alonso.
Plus, AI can humanize the smart homes customers live in. For example, the Elan platform uses facial recognition to allow a smart home to react and respond to a user being there and subsequently personalize that user's experience.
If you enjoyed this article and want to receive more valuable industry content like this, click here to sign up for our digital newsletters!