Dedicated to bringing professional sound systems and spaces for entertainment to residential, marine, and other architectural settings, L-Acoustics Creations will be introducing the CEDIA community to Island Prestige during CEDIA Expo 2021. The Island is a sonic environment that places its occupants at the epicenter of a concert livestream, music, film, or gaming action via 13 frontal speakers, five rear speakers, and two subwoofers.
The entire oval-shaped lounge gently rotates 360-degrees in either direction with the push of a button, and optional overhead speakers are available for immersive experiences requiring height channels, enabling a dome of hyperrealistic spatial audio.
Paired with a media processor, Island's technology integrates to play or upmix audio from any format. To truly experience Island's ultra-high definition capabilities, Bubbles recordings, specially commissioned in the proprietary BluSpace standard, offer music which maps to the spatial ability of human hearing, projecting listeners straight to center stage. With 24,000 watts of available power driving professional-grade speakers, Island faithfully reproduces the full 140 dB dynamic range of a symphony orchestra. Island can be experienced in L-Acoustics Creations showroom in Los Angeles, London and Paris.
L-Acoustics Creations Brings the Nightclub Home
In addition to its Island Prestige system, L-Acoustics Creations will also show off its Archipel range of speakers, which are designed to help residential integrators bring the exceptional performance of professional-grade concert and movie theater experiences into their clients' homes. Now, thanks to the recent installation of an L-Acoustics Creations Tahiti 2.0 sound system by UK-based New Land Solutions, private home nightclubs can also be added to that list.
With many of the world's top electronic music artists, festivals, and nightclubs specifying L-Acoustics loudspeakers, New Land Solutions' owner Luke Newland turned to the brand when looking to design a club-worthy system for a DJ client's home.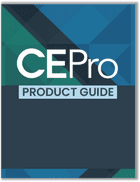 CE Pro's 2022 Product Guide showcases some of the latest and innovative solutions from manufacturers serving the custom electronics industry in a cross-section of categories.
Download the guide now!
"We had originally supplied a pair of high-end audiophile speakers with a pair of active subwoofers from another manufacturer, which achieved an excellent standard of audio but lacked headroom and, most importantly, the energy of a nightclub," he describes. "Following the client's request for more, we contacted L-Acoustics Creations. Their design team used Soundvision software to specify the Tahiti sound system and assured us that the two Syva speakers with Syva Sub, paired with their DSP amplifier would be just the ticket.
"The L-Acoustics Creations Tahiti system was unboxed and installed within hours. The difference was enormous! Not only was the sound pressure level (SPL) far beyond the previous setup, the room became exciting and gave the client the exact experience he was after—a proper nightclub in his home!"