Power and surge protection is one of the market's most misunderstood categories. Providing integrators with legitimate information is SurgeX. At the CEDIA Expo Virtual event, the power company will show off its SurgeX UPS products and provide educational sessions to help integration businesses provide the highest levels of system value. 
Lauren Simmen, director of marketing for SurgeX, outlines the company's virtual show plans by pointing out that SurgeX will show a new line of uninterruptable power supplies (UPS).
"So, we're really excited about the virtual event. We have just released a new line of UPSs. That's going to be our big showstopper for the show this year at CEDIA," she states.
"The new line of UPSs brings in some of the best of both worlds we have. It's a line interactive [solution] with an isolation transformer in a rack-mount unit. It's going to bring incredibly quiet UPS battery backup protection, as well as that isolation transformer to ensure 100% pure, clean power is coming into your rack."
Shifting gears to the education side of SurgeX's virtual show activities, Simmen points out that Vince Luciani will be presenting the company's "Basics of Power Protection" class. She notes Luciani's presentation will also reside on CEDIA's education page to provide a variety of ways dealers can access the information.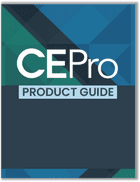 CE Pro's 2022 Product Guide showcases some of the latest and innovative solutions from manufacturers serving the custom electronics industry in a cross-section of categories.
Download the guide now!
In addition to his teaching duties, Simmen comments that Luciani will take part in the CE Pro All Star Band Virtual concert. 
As part of his performances with the band, Luciani will play an impressive array of Fender, Gibson, Collings and Duesenberg guitars, along with Marshall and Mesa Boogie amplifiers. Proving the validity of the SurgeX product line Luciani will protect these tube amplifiers using equipment from SurgeX, which show attendees will see during the band's virtual setlist.