Like peanut butter and chocolate, projectors and screens go together. And Hisense is marrying the two together with its Laser 100-L5 Laser TV projector and screen combination, debuting at CEDIA Expo Virtual. The 100-L5 is a DLP-based ultra short throw projector and the screen is ambient light-rejecting. The unit sits 7.5 inches from the wall and can project a 100-inch screen size.
"To be able to offer a 100-inch screen of anything is a great value because we are launching this product at $3,999," says Ken Welty, director of Laser TV at Hisense. "Compare that to a 100-inch TV display panel, which would sell for $40,000 to $50,000. The key to the product, and why we call it Laser TV, is that we include a screen… most manufacturers do not."
Welty notes that many manufacturers let integrators (and end users) fend for themselves when selecting the right screen for the project, while some might do nothing regarding the projection surface, leaving the images to display on the wall.
"The fact that the screen is ambient light means that any outside light is projected downward. You can put this in a very well-lit room. The projector can come out of the basement," he adds.
Other features include: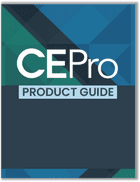 CE Pro's 2022 Product Guide showcases some of the latest and innovative solutions from manufacturers serving the custom electronics industry in a cross-section of categories.
Download the guide now!
Android TV
2800 lumens
Built-in TV tuner
Built-in speakers
Sits 7.5 inches from the wall
Zero-bezel screen that sits less than 0.5-inch from the wall
Two additional key factors that this product has are:
180-degree viewing angle – "Everyone know that for a panel TV, the best picture is for the guy who is sitting right in front it. But for this product, it doesn't matter where you are, you are going to get a great picture quality. There is no degradation whatsoever," says Welty.
Great for sports-watching – "It has a very fast response time, wide-color gamut, HDR 10… it gives you all the top-notch features of a panel TV," he notes.