It's fitting that last year's CEDIA Expo was basically a home game, if you will, for Draper, whose Spiceland, Ind., headquarters was a stone's throw from the tradeshow floor in Indianapolis. The company introduced its Draper@Home residential shade solutions close to home; this year, Draper is taking shades on its road trip to Dallas.
At the company's CEDIA Expo 2022 booth (#23081) in the Kay Bailey Hutchison Convention Center in Dallas, Draper will continue to showcase new and existing attractive, versatile Draper@Home shade solutions during the Sept. 29 – Oct. 1 event.
Clint Childress, a 22-year Draper employee who was recently named director of residential markets – a newly created role to work exclusively with the CI channel – spoke with CE Pro about the upcoming CEDIA Expo 2022 booth highlights.
"So one of our big highlights is all the different shading products we have," says Childress, noting the company has been making shades since 1902. Childress has been in the shading division for two-plus decades, so the comprehensive roster of solutions is near and dear to him.
New for the show, Draper announced its new motorized roller window shade system, FlexStyle, designed to meet standards of aesthetic-conscious homeowners and designers.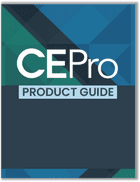 CE Pro's 2022 Product Guide showcases some of the latest and innovative solutions from manufacturers serving the custom electronics industry in a cross-section of categories.
Download the guide now!
The company will show off that exciting offering in its booth, along with a number of outdoor products plus detailing new Zigbee motors from partner Somfy, Childress adds.
"We have a broad and strong line of exterior products, ZipShades and the new Tension ZipShade we'll be looking to launch early next year," he says.
Childress hopes dealers ask the company about their full shade lineup at the CEDIA Expo. He says the CI channel likely knows Draper well for its projection screens, but in the hot motorized shade category it provides a wealth of options.
Hear more from Childress in the video above and find Draper in booth #23081 at CEDIA Expo 2022 in Dallas.
"We can come and walk them through all parts of it, because there's fabric systems, there's even some unique partners solutions that we can import from Europe," Childress says.