I finally got my first hands-on experience with Caavo at CEDIA Expo 2019, and I was more than a little impressed with the remote-control and content management system that really does seem to have it all. A Pro version of the system is forthcoming and the company demonstrated integration with Crestron home-automation at Expo for the first time. Welcome to the channel!
I've been following Caavo for over two years since the company introduced its first $399 remote-control system (8 inputs to one TV) at CES 2017 to mixed reviews. Intuitive to set up and operate, the reviewers said, but overpriced and unnecessary when you could just use something like an Apple TV or Roku to control your TV and content.
Eventually, Caavo would introduce a less expensive box, the Control Center, which allows four inputs and comes with a remote control and lifetime service plan for a total of $150. This was the product demonstrated at CEDIA Expo for Caavo's pro-channel debut.
Never mind that the product is built for DIY. Top integrators were going through the demo while I was there … and they were mightily impressed. And to think, Caavo director of marketing Michelle Wright told us earlier this year the company wasn't "ready" for the pro channel because they didn't have a special product just for them.
Never mind that the product is built for DIY. Top integrators were going through the demo while I was there … and they were mightily impressed.

As a custom integrator, lighting is in demand. Effective communication, education and showcasing the value proposition of LED light fixtures in conjunction with integrative control systems are the keys to overcoming challenges and closing sales in this specialized market. Join us as we discuss the future of digital lighting and control with David Warfel from Light Can Help You and Patrick Laidlaw and Mark Moody from AiSPIRE.

Register Now! 
Go figure … pros also want products that are easy enough for consumers to configure themselves.
Even so, Caavo is developing an API and demonstrated its first home-automation integration with Crestron.
Also, Caavo is working on a rack-mounted controller for the custom channel (image below), and was actively taking feedback during the show.
What Caavo Does
I'm waiting for my own demo unit to try Caavo for myself, but the company says its controller auto-discovers HDMI devices plugged into the hub. Co-founder and CEO Andrew Einaudi says the product uses a "ton" of different techniques – machine vision, HDMI CEC, IR, etc. – to determine if the connected component is a cable box or satellite box or Apple TV or Roku or Blu-ray player or Xbox or Nintendo or OTA tuner …
And then it catalogs all the apps available across the devices, and which services the user subscribes to.
Universal search is available across the devices. Automatic switching works seamlessly in the background. If a guest comes to visit and grabs a Dish remote (for example), Caavo recognizes the signal and cedes control of the system to that remote. Pick up the Caavo remote control again, and you're back in the Caavo environment.
Standard voice assistants, IFTTT and other popular services are supported, or users can speak through the Caavo remote to "send" any request to the TV. Saying "Send info" into the remote, for example, brings up the "info" screen for whatever content is currently playing.
Want to search for a show or anything else that pulls up a search box in Tivo or other content service? Just dictate your search words and Caavo virtually "types" them into the search box.
Here's my favorite part about Caavo if it does what Einaudi says it can do:
"At my house we watch TV together," he tells me.
We all individually know how to get to our content using our own smart devices, he explains, so until the same experience could be had from the living room today, we all entertained ourselves individually.
In the Einaudi household, the family watches together.
And Remote Access, too
Caavo has added several features lately, including support for Sonos and Nest cameras.
Just prior to CEDIA Expo, Caavo launched yet another feature, called Family Care, that I'm especially eager to try: app support to monitor and control TVs and content remotely.
Users can set permissions for access and monitor what's being played on any given TV – locally or otherwise. Don't expect to stream video from a remote TV, but you can get enough still images to ascertain what's playing and make changes from the app – perfect to help my Mom watch her shows, whether Wimbledon on live TV or "Grey's Anatomy from Netflix."
I can also send messages from my app to her TV screen if I so desire.
What I cannot do today, according to Einaudi, is push a slideshow or video through Google Photos to her display. But he sure liked the idea.
Let's get a couple of these in my hands, please — one for me, one for my Mom, and apps for remote control for my brother and sister.
---
CAAVO PRESS RELEASE: CEDIA EXPO 2019
Coming Soon: Control Center for Professional Installers
DENVER, Sept. 09, 2019 
-- Caavo Inc, showcasing in Innovation Alley booth #3259 at CEDIA, today
announces that it will release two pro models of the Control Center home
theater hub and universal remote with APIs that allow integration with other
control systems. Caavo will demonstrate its first integration with Crestron, a
global leader in advanced smart home technology, at CEDIA and plans to make its
APIs available to additional partners in the near future.
"We're excited to partner with Crestron to bring installers and
high-end homes unique value by transforming the TV into a single, shared-home
interface to control everything connected to the TV," said Andrew Einaudi,
co-founder and CEO of Caavo Inc. "Caavo enables overlays from start home devices,
like Sonos, and whole home messaging with Telescope technology on top of TV
content, giving customers broader control of both their entertainment and smart
home."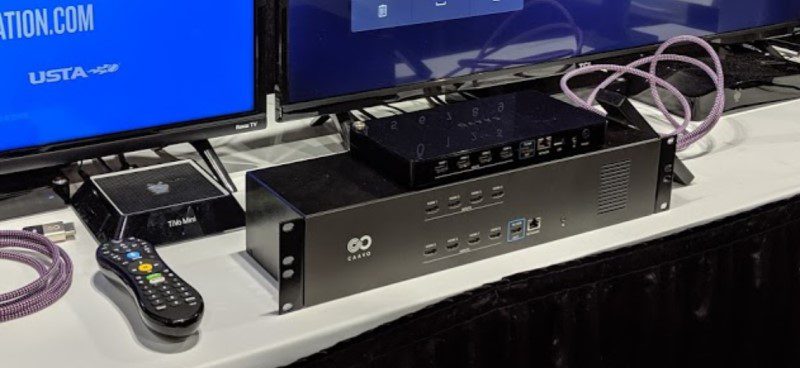 With Caavo's proprietary voice and user interface on TV,
professional installers can create custom home entertainment experiences,
dramatically transforming TV for their customers. Control Center simplifies
integration of devices connected to the TV, reduces required programming and
allows Control Center to be scaled/installed in high-end home installations.
"Crestron is extremely pleased to be working in partnership with
Caavo, this unique product adds more options and value to our dealer network
and clients, and we are proud to be the very first Caavo integration partner,"
said John Clancy, VP Residential at Crestron.
Caavo's pro models of Control Center will be available Q1 of
2020 in 4-port and 8-port rack mount models. The pricing for each will be
announced on rollout.
For more information, please visit Caavo Inc, booth #3259, in
Innovation Alley at CEDIA September 10-14, 2019.
About Caavo

Our mission is to unite entertainment for people and unite people through
entertainment. Founded in 2015 by Andrew Einaudi, Ashish Aggarwal, Vinod
Gopinath, and the late Blake Krikorian, Caavo currently has 75 employees and is
headquartered in San Francisco, CA and Bengaluru, India. Caavo technology is
protected by more than 80 patents and patents-pending. For more information, go
to www.caavo.com.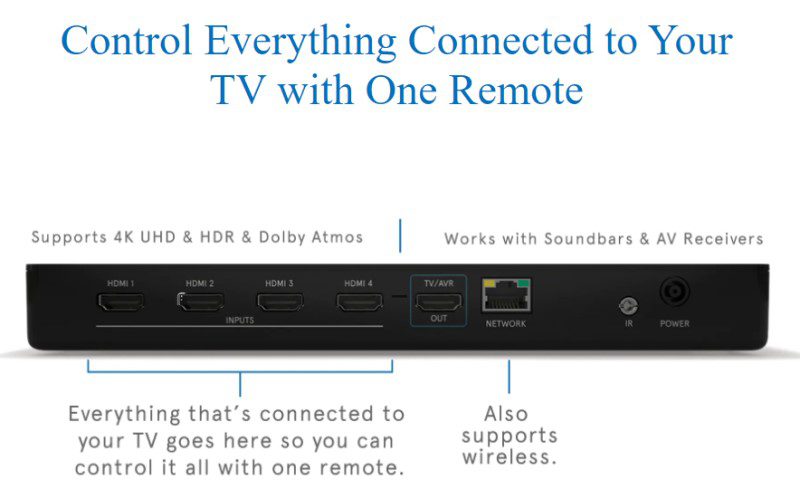 If you enjoyed this article and want to receive more valuable industry content like this, click here to sign up for our digital newsletters!