ProjX360 is a relative newcomer to the CE professional software category, but the company is looking to become a leader in software-as-a-service (SaaS) products and education through its booth at this year's CEDIA Expo Virtual Experience.
In addition to showcasing its software at its virtual booth, the company will be hosting three live demos on each day of the show.
"We're going to be hosting and showing our SaaS management solution software for the custom integration industry, and we're going to be doing three live demonstrations all three days," says Doug Greenwald, founder and CEO, ProjX360. "One is at 8 a.m. Pacific, another one at 10 a.m. Pacific, and another one at 1 p.m. Pacific where people can come and see the full software from sales process all the way to generating a proposal to project management, time tracking, scheduling, work orders, inventory management, so they can really see how our end-to-end solution really works."
"Also, we're going to have our onboarding director Ryan working the booth with me so any existing clients can schedule appointments and speak with [him] and discuss training options," adds Greenwald.
For Greenwald, this year's expo is a way for him to reach out to both residential and commercial integrators and let them know what ProjX360 has to offer.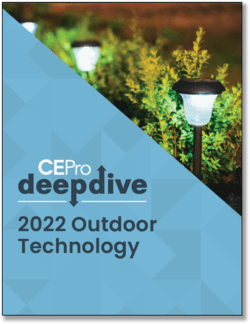 The 2023 CE Pro Outdoor Technology Deep Dive reveals unique set of impediments, including explaining pricing and interacting with outdoor-centric trades.
Get your copy now to take a "deep dive" into the trends and challenges of outdoor technology.
Download the report now!
"Really what I'm excited for is to get our name out there because we are one of the new guys on the block when it comes to the software side of things," says Greenwald. "[We want] to show we are an end-to-end solution designed for this industry."
He also views the show as an opportunity to share his expertise and experience with newer integrators or those looking to simplify their business processes.
"I've been in this industry for 27 years, and I still actively own an integration company, so I'm still in the trenches dealing with the issues other integrators are dealing with and that's what the software is all designed about."
Be sure to visit ProjX360's booth during the CEDIA Expo Virtual Experience from September 15-17.