URC has announced its MRX-30 and MRX-15 system controllers can now be used to control Apple TV 4K and Apple TV HD. Through this native integration, users can natively control Apple TV 4K and Apple TV HD across URC's portfolio of interfaces including:
Tabletop controllers with 7- to 100-inch touchscreens: TDC-9100 and TDC-7100
In-wall controllers with 5- to 10-inch touchscreens: TKP-9600, TKP-8600, TKP-7600, and TKP-5600
Ergonomic handheld remote with 2.4-inch capacitive touch screen: TRC-1480
With a press of a touchscreen or mic button on the TKP-8600 and TRC-1480, users can now ask Siri to control what is playing on Apple TV, search for shows and movies, and check the score of a game. Also, users can ask Siri to control HomeKit-enabled accessories, such as lights, door locks, and thermostats.
With Apple TV 4K and Apple TV HD, customers can use the Apple TV app to watch Apple TV+, enjoy Apple Music, Apple Arcade, and thousands of other apps, including games, fitness, and education.
"This next generation of voice-enabled, Apple TV integration ensures that our dealers can easily install smart home systems with premium streaming entertainment quality across hardware and streaming sources. This is the first true integration among custom electronics installation brands," says Lars Granoe, URC's vice president, Product Development.
Combining the power of URC's Total Control MRX-30 and MRX-15 controlled systems and Apple TV 4K and Apple TV HD creates unified, smart home control for homeowners. Key benefits of the Apple TV integration include: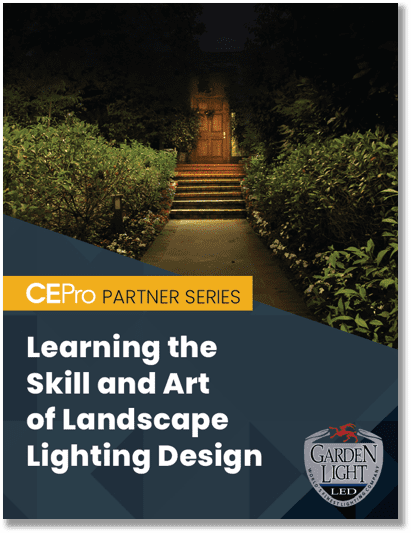 Experts recommend landscape lighting design as an entry point for integrators into the revenue opportunity of home lighting. Check out our new resource for tips and best practices. Download "
Learning the Skill and Art of Landscape Lighting Design
" today!.
Unified Operation – Use the Total Control system to ask Siri to answer personal requests on Apple TV, minimizing the number of controllers
Voice Control – URC's voice commands allow two-way communication with simple homeowner operation across URC user interfaces
Simplified Integration Programming – Fast, easy, professional programming through URC's home automation dealer community
Fast User Response – URC's secure data base enables quick response to voice commands and enables searching or launching apps.
URC's dealer community is excited for this launch. Ryan Yeackley of Schaefer's TV in Lincoln. Neb., says "I am truly excited for URC's integration with Apple TV as it is a simple, straightforward solution for our clients. Adding the capability to use Siri with the TRC-1480 and TKP-8600 expands the ability to not just navigate to the Favorites app faster, but can be used as an alternative audio source. The module is lightning fast and has a clean UI. I believe showing this in our showroom will add more comfort during the buying process. Seamlessly connecting all of their streaming devices is a big benefit. Kudos to the URC team on publishing another solid module expanding the integration capabilities of an already robust library of device integrations."