Expanding on the power, flexibility and user appeal of its artificial intelligence (AI)-based voice control platform, Josh.ai has launched its Nano and Core products.
The Nano architectural microphone and Core whole-home processor are purpose-built solutions that are engineered to deliver on the promise of voice control.
"We decided to launch Josh Nano and Josh Core at our first ever Josh Keynote, an event not only aimed at the integrator community, but at architects, designers, home builders, and homeowners alike," says Alex Capecelatro, CEO of Josh.ai.
"In addition to featuring our own products, we wanted to highlight our strong partnership with brands like Lutron, Sonos, and Crestron, in a world class environment. Filmed at an $80 million spec home designed and built by Arya Group in Los Angeles, the event features a hidden sushi bar that rises from under a table, hydraulic walls and ceilings that open up to transform their environments, advanced lighting and AV features, and more, installed by integrators Powerfull Systems and Roberts AV. The goal is to show people what's possible, not just with voice control, but in a beautifully designed and professionally installed home."
Josh.ai explains the Nano architectural microphone utilizes a 4-array microphone, along with its far-field listening privacy switch that physically disconnects the microphones when activated. The Nano also features a capacitive touch sensor for contextual touch control capabilities, and it also offers a full RGB LED light ring that disappears when not in use.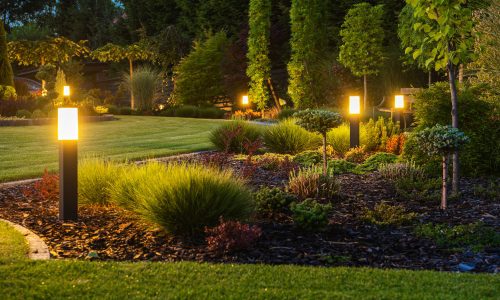 We are thrilled to present a lecture topic that delves into the connection between light and our surroundings, exploring how landscape lighting can transform a space from ordinary to extraordinary. Our keynote speaker, Janet Lennox Moyer, will share her extensive knowledge on the complexities of landscape lighting in design, commissioning, and maintenance and provide participants with the tools to identify good versus bad practices and techniques. Join us for an enlightening session that will unlock the secrets to success in landscape lighting design with one of the industry's most respected experts, Janet Lennox Moyer.
Register Now! 
Additionally, the Nano incorporates a remote temperature sensor that can be used to trigger advanced automation functions.
Capecelatro notes the company has been conceptualizing an architectural microphone for a few years. Ultimately, he continues, once Josh.ai released its VoiceCast technology, the idea for an architectural microphone crystalized.
"The idea has always been attractive to us, but we weren't exactly sure of the right form factor or even what would be possible," comments Capecelatro.
"It took launching VoiceCast a year ago and tremendous feedback from our integrator and architecture friends to start to nail down the right embodiment. Once we nailed down the design it took about a year to develop something we felt proud to launch and release."
According to Capecelatro, Josh.ai's Nano improves upon the voice control experience of its previous generation products and mass-market products by offering homeowners a solution that more easily integrates into their properties.
"Josh Nano is equipped with a 4-microphone array capable of beam-forming, as opposed to the 2-microphone array in Josh Micro. The new configuration makes it easier for Josh to focus on the speaker and tune out background noise," he explains.
"The speakers of mass-market assistants are only getting bigger in order to accommodate better performing audio, where we chose to go in the opposite direction with an architectural microphone in a distributed environment."
Nano and Core are Complementary Products
Josh.ai states the Core serves as the heart of its voice-control systems.
Acting like a central brain, The Core Whole-Home Processor communicates with all connected devices to provide integrators with a centralized processing solution.
The Core unit features Josh.ai's VoiceCast and VoiceLink technologies to send system responses through a home's built-in audio system to essentially feel like the entire home is speaking to occupants. This option is supported by the Core's inclusion of wireless and hardwired audio input/output ports.
Josh.ai points out that Core is also capable of spanning VLANs to help ensure it works reliably on complex networks.
Capecelatro comments the company developed Core to integrate into any number of home environments in any manner that integrators require to successful install a system.
"Josh Core is perfectly aligned with the emphasis on reliability and robust performance that our industry needs out of all of its products. While designed to sit on any surface, Josh Core will likely end up in the rack thanks to our co-designed 1U shelving solution with Middle Atlantic," he emphasizes.
"As a central processor, Josh Core is exclusively powered by PoE [Power over Ethernet] to ensure stability, and it provides installers with a voice-automation first ability to span VLANs for more complex systems. On top of that, a more powerful local processor further emphasizes our stance on privacy and data security with as little reliance on the cloud as possible."
Further underscoring the power, versatility and dealer friendliness of its latest products, Josh.ai stresses that when its AI technologies and hardware are combined with solutions from top companies such as Crestron, Lutron, Sony, Yamaha, AudioControl, Meridian, Control4 and LG, integrators can create customized, reliable systems that prioritize homeowners' privacy.
"We have been working diligently with our partners in preparation for this announcement as well as scoping out a new training curriculum for Josh.ai dealer certification. At launch, we have four white papers available to our dealers in collaboration with Sonos, Sonance, AVPro Edge, and AudioControl outlining system design and deployment best practices for VoiceLink configurations. We are also working on documentation for Crestron and Control4 systems so that our dealers have guidance in deploying this new topography with their pre-existing control solutions," says Capecelatro.
"It's not only for Josh Core and Josh Nano, but the Josh.ai software powering our entire product family that enables a magical smart home experience. The mass-market assistants want to be a little of everything to everyone, which is exactly what you would expect with a retail product. At Josh.ai, we know that our place is the smart home. That is why our team develops all of our natural language processing features, enhancements, and inferences around the ways that you would think to naturally have a conversation with your home."
If you enjoyed this article and want to receive more valuable industry content like this, click here to sign up for our digital newsletters!