Back in May 2007, Savant held its first-ever dealer conference with about 40 integrators in attendance (and yours truly) in Amelia Island, Fla. At that event, the company gathered its engineering team to unveil its new easy-to-program Linux-based home control system and some funky remote control designs. But instead of a slickly produced glitzy introduction event, that first conference evolved into an in-depth give-and-take brainstorming session between the dealers and the company. It set a precedent that still continues to today: Savant listens to the custom channel.
A few weeks ago the 15th annual Savant Dealer Conference took place, this time virtually due to COVID-19, but even though the attendance has swelled to an impressive 1,600 attendees, the core objective of the event hasn't changed… Savant uses the event as an interactive thinktank between the company and its authorized dealer base.
This year, there was a broad swath of innovations to unveil, including:
A new Zoom Rooms WFH solution
The creation of Savant Energy
A preview of the new Savant Las Vegas Experience Center that is under construction
An overview of the Savant Virtual Showroom program in NYC
Creation of a new recurring monthly revenue (RMR) program built on the new 10.0 software platform
Savant Virtual Event Reaches Broader Group
Savant appears to have made the most out of this year's virtual event with 1,600 attendees on day one and 1,200 on day two. The physical Savant Dealer Conferences are typically three-night/four-day events.
"I got some great feedback in terms of the efficiency of the virtual environment," says JC Murphy, president of Savant. The content delivery was done mostly via pre-recorded videos of both products and applications.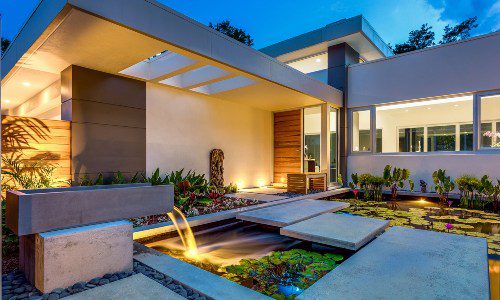 Landscape and architectural lighting create a magical and elegant ambiance for homeowners. The outdoor lighting industry has always been a phenomenal one and continues to grow in popularity. Now is the ideal time to learn more about this rapidly growing and highly profitable industry. Join our panel of esteemed lighting experts that will dive into why it's time for integrators to rethink their role in the outdoor lighting industry.
Register Now! 
"We were able to get more folks dialed in," he says, noting that usually integrators will have just one or two representatives per company at a physical Savant conference but the virtual event allowed deeper access to other members of the team. Usually, Murphy says just one or two representatives from each company attend the in-person event due to the time commitment (three nights/four days). The virtual event enabled broader visibility across the dealers' teams. He admits that certainly the camaraderie that takes place at an in-person event was missing.
"You can't replace that," he admits. " But from a business perspective in terms of content and engagement, it was really good."
The format allowed attendees to ask questions and over the past year everyone has become more comfortable with that, Murphy says.
Resiliency of the Channel
One of the key themes from the Savant Dealer Conference was the resiliency of the channel during the pandemic and how dealers became even more important to their clients in 2020. Savant targeted that importance with its remote upgrade campaign midway through the year. Murphy says integrators capitalized on that with enhanced end-user communication and expressing how they can maintain systems remotely.
Hand-in-hand with that remote capability, Savant highlighted the virtual demonstration capability in its NYC Experience Center.
"If it wasn't for COVID, I would have never invested in being able to do virtual demonstrations of that facility," admits Murphy. "I should have done that five years ago… to let anybody in the world come and experience what connected home means in that awesome New York facility. Now, the amount of people who are able to get a tour has skyrocketed because people can go in and do virtual demonstrations without the headache and hassle of going in and out of New York City."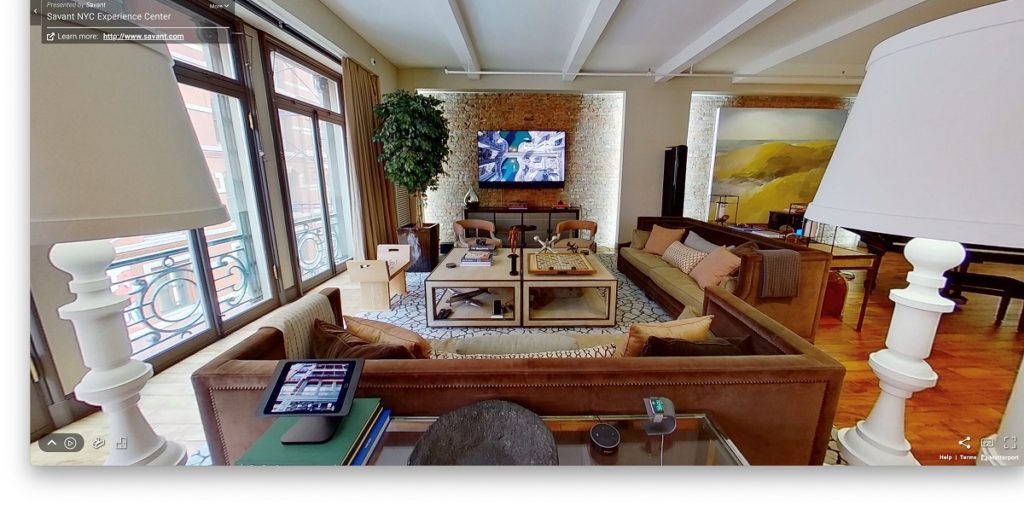 Murphy says the virtual tour is not quite the same as an in-person tour, "but it's really good." Using the virtual tour capabilities, dealers can Savant's solutions in energy, energy management, lighting, audio and video, as well as the UI, which is a feature of that tour. Murphy says hundreds of integrators have used the virtual tour capabilities, which are a full 3D experience where the guests are virtually turning devices on and off remotely. Eventually, the tours will have an enhanced element that allows guests to click on a partner product in the showroom, like a USAI lighting fixture or Sony 4K projector, and get a popup of additional information about that device.
During the conference, Savant also updated dealers on the construction status of Savant's new West Coast Experience Center, dubbed "Vegas Modern," which will also be open for virtual tours once it is completed. The showroom, which is in Henderson, Nev., a suburb of Las Vegas, has been delayed due to COVID-19 slowing the construction timetable, but Murphy says it is "very close to being usable" by dealers.
GE Lighting Branding Taking Over
Another portion of the dealer conference covered the GE Lighting acquisition and Savant's plans to move everything lighting related to the consumer-friendly GE Lighting brand name. The GE brand not only has broad consumer acceptance, but also has high acceptance among electrical contractors, who still do the majority of the specifications for lighting.
Murphy also reviewed how Savant is gaining manufacturing scale across all its platforms via GE Lighting's massive operations team across all its platforms. That scale is enabling Savant to boost the margins for not just its lighting products, but also in particular its audio solutions. The main reason for the improvement in margin is Savant's new access to embedded technology solutions for capabilities like Bluetooth or Wi-Fi.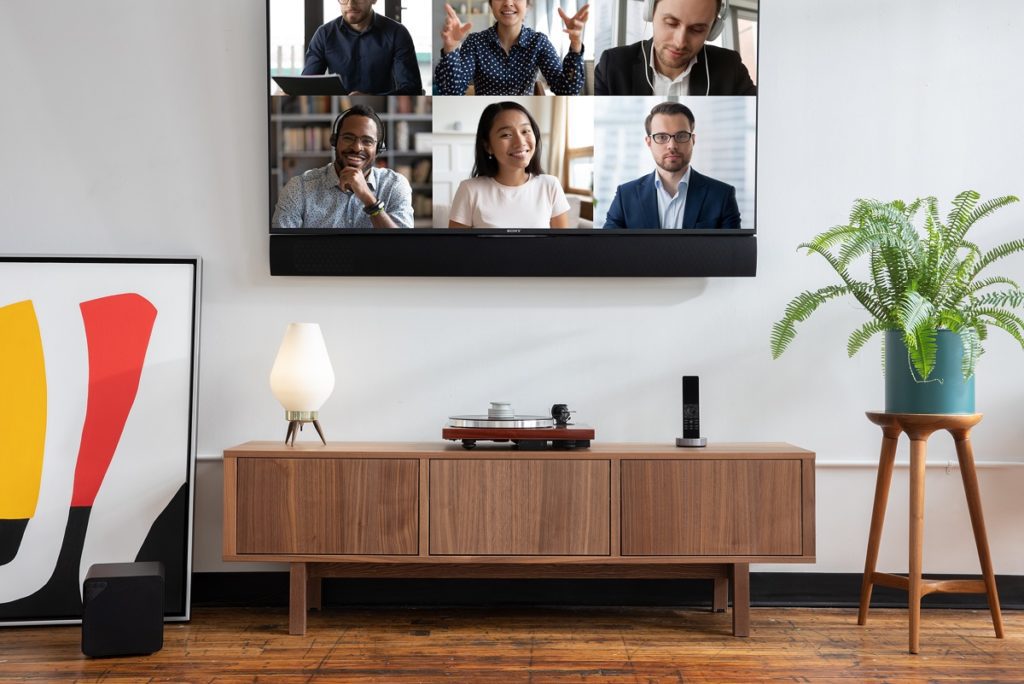 "I'm basically able to really leverage the scale of the operation to drive efficiency across those product lines and direct cost out of it on my end, so I can deliver better margins to the dealers," remarks Murphy.
Murphy also recapped for dealers the company's new Zoom Rooms solution and the acquisition of Racepoint Energy… now called Savant Energy. Murphy says attendees at the conference were generally excited about the prospect for energy management, energy monitoring and the ability to shed loads using Savant Energy going forth.
"We've likened it to selling a green version of a generator," he says. "As opposed to having a generator for back-up power, this technology does two things: It actually makes a generator more efficient because you can manage your load and you have a virtual critical load panel. Also, it allows you to have an alternative to a generator that can be powered by batteries through the use of solar."
10.0 Software Architecture Will Breed RMR
Last but not least, Savant detailed its 9.4 software upgrade and gave attendees some sneak peeks at its new 10.0 upgrade, which will provide integrators an opportunity to earn RMR from their clients.
"The new Ten Dot O software architecture is the environment that we are pointed at a sustainable channel investment through recurring revenue. We are building this as a pure software platform that will have an annual subscription to the end-user for the features and services that are delivered. Although it's new to the channel from a business model perspective, it's not new to us from a technology perspective. This is a completely open standard architectural environment," explains Murphy.
The technology is already in place via the new Savant Home app through a simple, open API and tied it to the Apple TV. The open-standard platform also enables thew new Zoom app that is embedded in Savant. The 10.0 upgrade will also allow Savant to take advantage of more machine learning and AI innovation.
If you enjoyed this article and want to receive more valuable industry content like this, click here to sign up for our digital newsletters!