How can integrators shave more profit from every installation? The most obvious way is to be more efficient in installation time.
"Time and choice seem to be at the forefront of most of our minds these days. In both our personal and professional lives there is never enough time and the number of options exposed to us daily can quickly become debilitating," says Greg Barrett, Director of Product Marketing — Lighting & Shades, for Savant.
Barrett notes that CE Pro highlighted in an August 2022 piece that labor costs are one of the highest costs of an Integrator's P&L.
"Savant recognizes that the time required to specify, install, and support a product is one of the most important factors for your business when choosing which products you and your team recommend to customers. Multiple trips to the window to mount a single shade become tiresome, waste your time, and cost your company money," he says.
He explains that Savant's introduction of Inception Shades by J-Geiger changes that entire equation with pre-assembled shades that can install in minutes.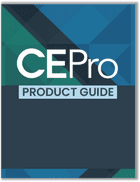 CE Pro's 2022 Product Guide showcases some of the latest and innovative solutions from manufacturers serving the custom electronics industry in a cross-section of categories.
Download the guide now!
"With simple measuring, multiple mounting options, and shades that arrive ready to go out of the box, your time can be spent getting things done when you're at the jobsite without sacrificing beautiful aesthetics," adds Barrett.
"Shades can be part of a larger equation to maximize your revenue. When considering products and vendor partners in the industry, it's easy to see products in their own silos of shades, speakers or lighting, but partners such as Savant offer programs that allow integrators opportunities to maximize revenue by combining categories of products and benefiting from their bottom line in ways that are greater than any individual product could achieve alone.
"We all want to maximize our time and minimize the noise when making business decisions. Let's make that possible," he concludes.