Two years ago, American entrepreneur Fadi Shakkour introduced his connected household product tracking and monitoring alliance product, PantryOn. PantryOn's IoT appliances track such in-home household goods as groceries, cleaning supplies and other essentials, delivering data and alerts to the homeowner when supplies run low and need replenishing. Now, the company is hoping crowds at CEDIA Expo 2021 will stop by on the last day of the show to check out how its system can improve the lives of integration customers across the country.
Exhibiting from Booth #3035 at CEDIA, Shakkour is showcasing a line of three new intelligent shelving units – the Bruno with sensors to monitor 12 items; the Asoota with up to 18 sensors; and the Adoola, which tracks up to 24 different products. The company is also introducing three new "mini" units, scheduled to hit the marketplace later this year. 
"CEDIA is the ideal showcase for smart home technology, and for us, it makes perfect sense to introduce our new solutions at this event," says Shakkour. 
Integrated throughout the company's entire product line, the PantryOn sensor shelves interface with a fully accessible mobile app that stores consumers' grocery lists based on the weights of the various items stacked in the user's pantry.  When the weights drop below a certain level, the product's real-time data provides immediate updates and can even automatically place restocking purchasing orders. 
"PantryOn is the first-to-market product of its kind, with a full line designed to address the vast majority of home-management needs," Shakkour says. "By removing all human involvement, if desired, we are in the business to make homes not only 'smarter,' but also to make our customers' lives easier. This is why PantryOn came to life."
PantryOn was developed by a team of engineers from MAC Faucets, LLC, inventor of the luxury electronic automatic faucets where the phrase "decorative automatic faucets" was coined.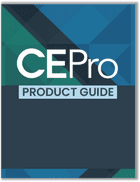 CE Pro's 2022 Product Guide showcases some of the latest and innovative solutions from manufacturers serving the custom electronics industry in a cross-section of categories.
Download the guide now!
The PantryOn app is available for Android and iOS through iTunes, Google Play, App Store and PlayStore.