Even though motorized shades themselves move up and down, the current market for motorized shades is only moving in one direction: Up!
According to the latest CE Pro Motorized Shade Deep Dive Study, integrators are seeing continued demand heading into next year, despite the uncertain economic conditions on the horizon.
According to the data, dealers predict their motorized shade installation business to grow 12.6% next year, supporting the conclusion that the category has become a staple of custom integrators' businesses. Indeed, the category has become so strong that dealers report nearly one-third of all their residential installation projects (31%) this year will include motorized shades.
And the inclusion of motorized window treatments is lucrative and sizeable.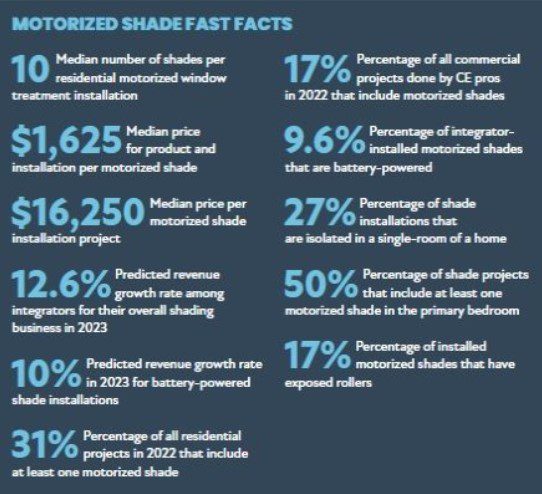 The average shading project has 10 shades installed at a median price of $1,625 per shade. That adds a median of $16,250 to a project — not bad. Shade projects can grow to be quite sizeable also. CE pros report that 14% of all their shade installations are over $50,000.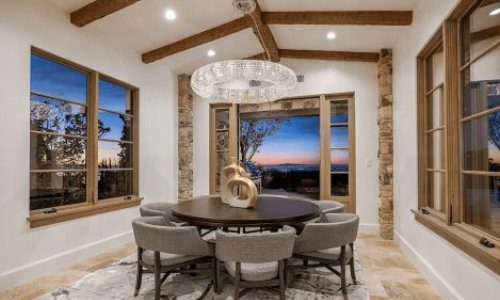 As a custom integrator, lighting is in demand. Effective communication, education and showcasing the value proposition of LED light fixtures in conjunction with integrative control systems are the keys to overcoming challenges and closing sales in this specialized market. Join us as we discuss the future of digital lighting and control with David Warfel from Light Can Help You and Patrick Laidlaw and Mark Moody from AiSPIRE.
Register Now! 
Motorized window treatments are also becoming a key component that helps CE pros get in earlier on a project with the architect, homebuilder, and homeowner.
That early intervention, so to speak, means the technology is much less likely to be left out or have a limited budget as is unfortunately common when integrators are not involved during the planning stages of a new home.
According to the data, nearly half of all motorized shade projects (48%) are in single-family new construction projects.
It is vital for window treatments to be planned during the construction of a new home. More than perhaps any other component that integrators install, the architect and builder must include the required ceiling pockets or soffit space for hidden window treatments.
If they are not planned for appropriately, it can be a major headache (or even impossible) to accommodate for a hidden shading solution, leaving exposed roller shades as the only solution.
Besides new construction, 35% of shade projects are in existing homes, 10% are commercial installations and 7% are in multi-dwelling units.
Speaking of exposed roller shades, the industrial design of exposed roller shades has become an ideal solution for retrofit projects, as well as for those who don't mind seeing the shade. In all, 17% of all projects now include at least one exposed roller shade solution.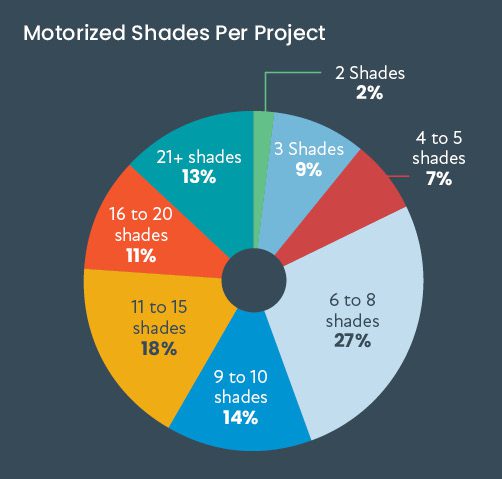 Blackout shades, which are ideal for home theaters and bedrooms, are in 34% of projects. Other common shade applications include floor-to-ceiling windows (29% of projects), hard-to-reach windows (27%), and motorized drapery (24% of jobs). Among the more niche applications are doors (10%), outdoor awnings (7% of projects), curved windows (5%), and skylights (5%).
When integrators are installing shading systems, they tend to be throughout the home. As noted previously, the median number of shades per project is 10. So obviously, that many shades means typically these installations are being done in multiple rooms.
Indeed, according to the study, only 27% of motorized shade installation projects are isolated in a single room of the home.
Larger windows also tend to be the sweet spot for motorized shades. Dealers report that 39% of their shade installations are on very large windows that are over 61 inches wide, while 40% are in fenestration arrangements with glass exposures between 30 inches and 60 inches wide.
The remaining 21% were on smaller windows.
Speaking of room locations where shades might be installed, it's no longer the case where motorized window treatments are only installed in home theater areas or master suites.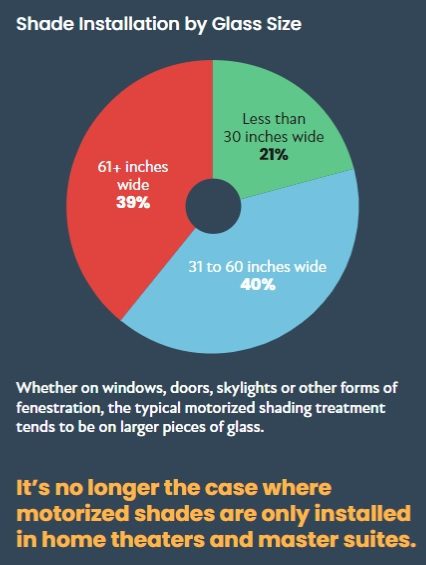 In fact, integrators are installing these profitable shading systems throughout the home, with primary suites (formerly known as master suites), great room/den/family rooms, and formal living rooms leading the way as the most common areas. Home theaters, dining rooms, secondary bedrooms, and home offices were also prominent locations.
Heck, even 3% of projects called for a motorized shade in the garage!
One of the most interesting technology advancements in the shading industry over the past half-decade has been the advancement in battery-powered solutions. According to the survey, nearly one in every 10 shades (9.6%) installed professionally by integrators is battery-powered.
Clearly, integrators are still primarily focused on bringing hardwired solutions to their clients.
Shades are among the key product categories in which design and technology intersect. The category allows for dealers to spec the solution while allowing the interior designer (along with the homeowner) to take charge of the color choices, shade design, and fabric type.
According to the data, 35% of all motorized shade projects are ones in which dealers are working with a designer.
A small percentage of integrators (3%) report that they work with an interior design professional on every shade project. On the flip side, 11% of CE pros report they have never collaborated with an interior designer on a shade project.
Not surprisingly, dealers list product compatibility with a control system as the No. 1 priority for selecting which window treatment solution to use.
Product availability is the next most important element, which is also not surprising given the current problems so many dealers face getting products from the swollen supply chain.
The speed and loudness of the motor, the availability of a broad choice of fabrics and colors, and price are the next most important considerations. Interestingly, the sustainability and flammability of shading solutions is not high on their radar, even though recent legislation has brought that issue to the forefront.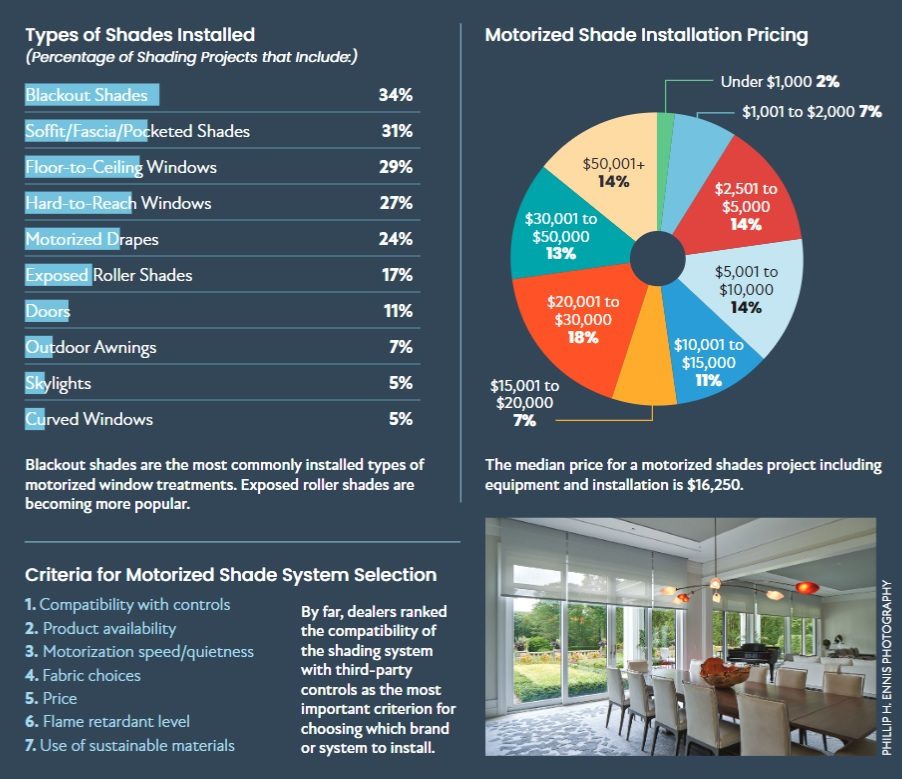 If you enjoyed this article and want to receive more valuable industry content like this, click here to sign up for our digital newsletters!