Somfy's partnership and CI channel manager Brittany Mier y Terán goes over the wealth of opportunities available to integrators in the lighting and shading markets.
Lighting and shading is not just fixtures and rollers. It's embodying a holistic view of an inhabitants' existence within a space. It's looking at how they are going to use, experience, and enjoy an environment to provide comfort, energy, and wellness. Managing and creating access to light is something that has become very familiar in our industry, and Somfy is working to find a way to bridge the gap between basic lighting options and more advanced, color shifting options.
Over the last decade we've come to understand the shifting colors of light throughout the day, and its effects on the humans residing indoors. But what we're starting to see is that there are a multitude of light access and management techniques that fall well within our scope as integrators and lifestyle enhancers.
"As integrators, there is a unique opportunity to curate the experience in somebody's home," says Brittany Mier y Terán, partnership & CI channel manager at Somfy. "We are in a position to enhance that by adding to [its] scope. We have audio, we have visual…but now when you start to add electric light, solar light, [and] outdoor spaces, we are really starting to expand the scope."
Of course, there are the roller shades and even motorized draperies, but there's a whole world of solar light available to those living inside a space. How many of us are leveraging natural light flow from the ceiling via motorized skylights and pergolas? How many of us are working closely with architects and interior designers to educate them on the limitless possibilities when motorization and natural light are considered at the earliest design phases?
In addition to traditional integrated solutions, integrators are the experience curators of a space that can provide an enhanced lighting experience. The silent symphony working in the background, programmed, and calculated to account for the sun's position, is the next ultimate lifestyle enhancement.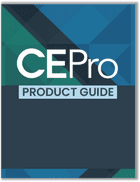 CE Pro's 2022 Product Guide showcases some of the latest and innovative solutions from manufacturers serving the custom electronics industry in a cross-section of categories.
Download the guide now!
"It's a really great time to be in the lighting side of the business right now. The scope of systems has expanded massively, and fixtures and lighting certifications have become a holistic part of what we do" says Mier y Terán. "It's the kind of stuff that makes everyone continue to come back, and to continue to enhance and expand."