Wouldn't it be nice if you didn't need an electrical contractor to install home lighting? Not just the lighting controls but everything from the bulbs to the switches?
That's the goal of LumenCache, a new company that offers an LED lighting system that runs almost entirely over Cat 5 cable. Forget about Romex.
"LED lights are digital circuits—more like smartphones than light bulbs," says LumenCache founder and principal Derek Cowburn, who also runs the integration firm DistinctAV in McCordsville, Ind.
He suggests wiring the LEDs more like a home network than like incandescent lights.
The somewhat fragile circuits of an LED need clean DC power converted from AC. Generally, that conversion occurs within a fixture itself, which can reduce the life of the bulb.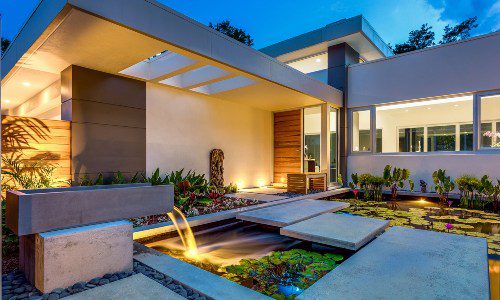 Landscape and architectural lighting create a magical and elegant ambiance for homeowners. The outdoor lighting industry has always been a phenomenal one and continues to grow in popularity. Now is the ideal time to learn more about this rapidly growing and highly profitable industry. Join our panel of esteemed lighting experts that will dive into why it's time for integrators to rethink their role in the outdoor lighting industry.
Register Now! 
"It's very complex to dim AC LEDs," Cowburn explains. "The driver circuits hate it. So bulbs may be supposed to last 30,000 hours, but in 2,000 hours the driver pops and you end up tossing the whole bulb."
In the case of LumenCache, the AC/DC driver circuit is eliminated from the fixture and moved to "one big reliable converter to charge and power all lights," Cowburn says. "It's very efficient, safe, and most importantly reliable."
From there, he explains, "you could add automation in one step—just add a main processor brain."
The trick, then, would be to find some DC-powered LED lights, which are few and far between, and available primarily for commercial applications.
Cowburn was able to convince several fixture manufacturers to build such lights with an RJ-45 built in. But he doesn't want to stop there. The LumenCache fixture interface is completely open, Cowburn says: "We want as many manufacturers as possible to make [compatible] fixtures."
How LumenCache Works
The backbone of the LumenCache system is the Power Distribution Module (PDM), which creates up to 16 control channels, each of which can support groups of lights, sensors, switches and keypads depending on which "Puck" is snapped into the circuit.
Currently, three Pucks are available for switches, constant current LEDs, and constant voltage LEDs.
An AC/DC Power Management module installed at the hub provides over-current protection to up to six PDMs and monitors the energy consumption to the PDMs and batteries. It can accept AC or renewable supply sources.
Cat 5 cable is run from the closet to each light or strings of lights (up to 15 depending on the voltage drop of each light). Because the network is all low voltage, no back boxes are required for most fixtures and fixture locations.
"Treat ceiling lights like speaker installs and switches like volume controls," Cowburn says.
Cat 5 also is run to switch, sensor and other device locations.
Pricing and Availability
Pricing for LumenCache should fall within 5% to 10% of the cost of a traditional LED lighting system when you factor in labor savings, Cowburn estimates. In the case of LumenCache, you eliminate heavy copper wire, conduit, and the hassle of installing lighting cans.
"This is a big savings for luxury homes with lots and lots of small lights," he says. "Each AC LED typically has about $50 of stuff behind it. Imagine just having to drill a hole and run Cat 5."
"Why are we still wiring buildings with 15-20 Amp Romex for lighting when lights draw 1/6th of the power?" Cowburn wonders. "And it's only going down from here."
Cowburn says LumenCache is poised to ship in quantity starting this July. The product, demonstrated for the first time at LightFair 2012, will make its residential debut at CEDIA Expo 2012 in September.
Help This Product Come to Market!
LumenCache was snubbed in the first round at KickStarter. Help the company get funding by leaving a comment on the importance of this innovation!
If you enjoyed this article and want to receive more valuable industry content like this, click here to sign up for our digital newsletters!