As more integrators move into offering lighting fixtures, they are quickly realizing that not all lighting fixture suppliers are the same. Choosing the right one can make a substantial difference. For Luis Rodriguez, co-owner of WOW Media in Middletown, R.I., Environmental Lights has become his go-to lighting supplier due to various unique factors with their lighting products and services.
WOW Media is not a newcomer to lighting fixtures. The company, which has been in business since 2012, began doing lighting fixture installations in 2018. WOW Media's focus is on repeatable projects in the $50,000 to $70,000 range, doing more than 150 installations per year.
"People are not just looking at us as the audio-video company anymore. They are looking at us more often as the full solution lighting provider because we now have knowledge about lighting fixtures and lighting control. Lighting designers typically just know about lighting design, but not fixtures and controls. For years, our industry knew a lot about control but not much about lighting fixtures," he explains. "I know the reason we are successful in lighting fixtures today is because it builds up confidence in us among both the homebuilders and the homeowners. We can speak to them accurately about both lighting fixtures and lighting control."
Remote Power Supplies Are Key
The trajectory of the company's lighting fixture business has been skyrocketing and Rodriguez gives much of the credit to using Environmental Lights.
WOW Media is a loyal integration company to San Diego-based Environmental Lights for several reasons, but the most important is the company's driverless low-voltage downlighting fixtures and remote power solution in its REVI line. Eliminating the driver removes heat (the enemy of LEDs) and enables a smaller, more dependable fixture that receives its power remotely via 18 AWG wire. 120 VAC is no longer sent directly to the fixture where it would then be converted down to low voltage by an onboard driver.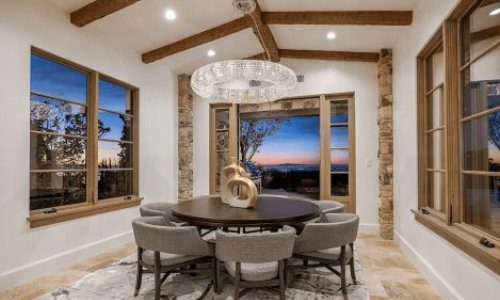 As a custom integrator, lighting is in demand. Effective communication, education and showcasing the value proposition of LED light fixtures in conjunction with integrative control systems are the keys to overcoming challenges and closing sales in this specialized market. Join us as we discuss the future of digital lighting and control with David Warfel from Light Can Help You and Patrick Laidlaw and Mark Moody from AiSPIRE.
Register Now! 
Instead, remotely located power supplies are rack-mounted, integrated with the primary control system, and configured to run multiple LED fixtures — all from up to 200 feet away. This enables easy power management while eliminating the need to run expensive ROMEX wiring. Each power supply supports between 12 and 48 fixtures, depending on their output and if the fixtures are tunable white or single color.
"One of the biggest advantages for us is that we don't have to worry about where to hide the power supply to power any of the recessing lighting in the ceiling," says Rodriguez.
For example, WOW Media is working on a project right now that has lighting from five different manufacturers. Some of the fixtures require large power supplies to be mounted in the custom-painted, glazed ceiling.
"We discussed with the builder and homeowner what would happen when there is a necessary lighting fixture repair. We are going to have to get to that driver, which means we are going to have to disturb the ceiling that has been meticulously painted by artists from all over the world. The homeowners admitted they had not ever thought of that scenario. We inform them that we should do REVI fixtures with remote power supplies because 99% of the time there is an issue it has nothing to do with the LED… the problem is rooted in the power supply or the driver. By using the remote power supplies, we don't have to worry about touching the ceiling or possibly messing up the floor," explains Rodriguez.
Environmental Lights Modular Design Adds Flexibility
Another aspect of the Environmental Lights line is its modularity.
"As an owner, it is so much easier. I don't have to worry about if the customer, interior designer or lighting designer are going to change their mind," says Rodriguez. For other brands, the integrator needs to make sure he or she has enough in stock to cover options such as square versus round trims, trimless or trim, and filtered lenses, non-filtered lens or no lens at all.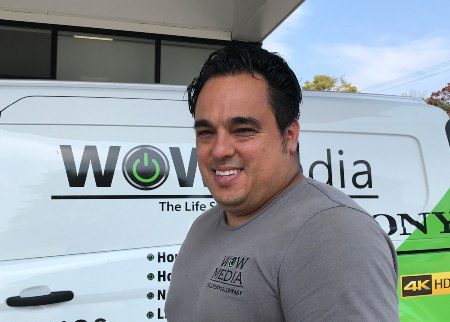 "Each of those is its own little SKU at another company," he says "At Environmental Lights, it's one little SKU.
WOW Media recently had a customer who wanted to change all their exterior lights be all wall washes. The clients thought it meant all the lights would have to be changed out, but because WOW Media used Environmental Lights modular solutions, the company quickly and easily swapped out the housings.
As a starting point for all WOW Media's residential applications, Rodriguez starts with a 3,000 Kelvin, round trim downlight. From that base point, he can then swap out the housings, add tunable white light, etc.
In addition to downlights, Environmental Lights offers linear tape lighting. Accent lighting provides the "wow factor" for altering spaces in ways traditional lighting can't. Linear accent lighting applications can range from toe-kick lighting all the way to cove lighting, and also provide a wide range of backlighting opportunities. Multiple color options are available including tunable white for biophilia applications.
"The beauty is that if I tell Environmental Lights that I am using 3,000K downlights, they know exactly what type of linear lighting I need to match perfectly with that. It's a good marriage. Unlike other lighting fixture companies, I would have to use two different manufacturers: one for recessed and one for linear," says Rodriguez, which also simplifies the controllability of the lights.
Environmental Lights' solutions are all control-agnostic, and, he adds, "they also offer lighting design services if we need help determining the proper number of ceiling fixtures for full lighting coverage."
If you enjoyed this article and want to receive more valuable industry content like this, click here to sign up for our digital newsletters!