Expanding its Crestron Home ecosystem in a big way, the newly announced Crestron LED light fixtures are designed to integrate seamlessly into the powerful home control and automation platform.
Crestron says that its new lighting products were created to meet the design, elegance, customization and intelligence needs that homeowners demand from today's smart home. The Crestron LED light fixtures are fully tunable, and they add real-time, personalized lighting control capabilities to Crestron Home.
"Lighting affects everything: mood, concentration, creativity and given the human need for health and wellness within our home, homeowners are looking to designers and technology providers for tunable LED lighting control to support this. Increased awareness of topics such as circadian rhythm, biophilia, and wellness are putting a focus on personal health as impacted by our surroundings," states John Clancy, executive vice president, residential, Crestron.
"Crestron Home technology uniquely supports this market and can help professional designers and installers bring these coveted solutions to their customers."
Crestron LED Light Fixtures Put Homeowners in Control
The global electronics company explains the new lighting products through Crestron Home enable users to have full control of the color of their lighting. Users can opt to synchronize the Crestron LED light fixtures with their home's natural circadian rhythm or they can employ a Crestron SolarSync sensor to match the natural light that occurs outdoors.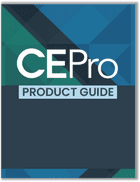 CE Pro's 2022 Product Guide showcases some of the latest and innovative solutions from manufacturers serving the custom electronics industry in a cross-section of categories.
Download the guide now!
Supporting the Crestron LED light fixtures, the company is also rolling out the addition of third-party fixture manufacturers to its partner program. Crestron notes that select fixtures from these companies will have native Crestron Home integration to facilitate optimized lighting experiences within Crestron Home installations.
"With third-party light fixture manufacturers partnering with Crestron for our LED Partner Program, we'll see a huge step forward in the architecture of intelligent and appealing LED light fixtures in addition to the numerous configurations available with the Crestron LED Light Fixture," Clancy points out.
"Installers, designers, and homeowners will all be able to get what they want with flexible, reliable, and simple to deploy lighting solutions."
Crestron says the modular design of the new lighting fixtures makes them suitable from any room in the home. Fixture options include adjustable, wall wash, fixed frame, pinhole fixtures, multiple enclosure possibilities, and square and round trims.
Crestron adds that within a Crestron Home system, the new lighting fixtures will work in tandem with a home's shading options. Crestron emphasizes the integration of the lighting and shade products—including the battery-powered shades—allows homeowners to easily control and manage all aspects of their homes' lighting.
Highlights of the Crestron LED Light Fixtures Include:
Scene-based control. Integrators can setup one-touch control. Scenes can be specified with white lights, colors, or they can trigger circadian or SolarSync cycles.
Integrators can offer "one-touch warm dim" or "one-touch wellness" to allow users to favorite their preferred settings to allow homeowners the ability to toggle through their favorite settings.
Home settings can be setup to run on a household's circadian rhythm, and if needed, those rhythms can be interrupted.
Other customization options that integrators can use the Crestron LED light fixtures for, include the ability to employ lighting in the focal points of a home. Those spaces can range from prized artwork and fireplaces, to kitchen islands for example.