The Italian firm CoeLux has been in the business of circadian lighting for some time now, having first been established in 2009 with a mission to "foster an innovative solution for lighting, architecture and real-estate industries aimed at fostering the perception of an extraordinarily wide space," and having seen what they've come up with their artificial skylight line, I would say: "Mission accomplished."
While it's ultimately an LED panel at heart, CoeLux's artificial skylight fixtures are so much more than just color tunable ceiling lamps. According to physicist and CoeLux founder Paolo Di Trapani, the company "recreates the same scientific process that makes the sky appear blue"–also known as Rayleigh Scattering. In essence, "we built the sun," he clarifies.
What that means is CoeLux simulates the same oxygen, nitrogen and CO2 particles found in air, and virtually "compresses the atmosphere" from 10 kilometers down to a few millimeters, creating a solid, rather than gas or liquid, Trapani says.
Whatever the science, this artificial skylight is transformative. I personally was incredulous when I saw photos of CoeLux installations. And that same incredulity extended to when HomeTronics principal Greg Margolis first laid eyes on it.
A high-end audio, video and home automation integrator in Dallas, HomeTronics had been one of the first in the U.S. to install CoeLux, having trained five employees in January, so to say they were impressed might be a bit of an understatement.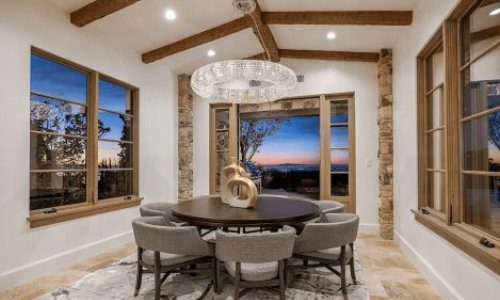 As a custom integrator, lighting is in demand. Effective communication, education and showcasing the value proposition of LED light fixtures in conjunction with integrative control systems are the keys to overcoming challenges and closing sales in this specialized market. Join us as we discuss the future of digital lighting and control with David Warfel from Light Can Help You and Patrick Laidlaw and Mark Moody from AiSPIRE.
Register Now! 
"This is a disruptive technology," says Margolis. "It will change the way spaces are designed and lit." Indeed, because of CoeLux, HomeTronics was able to transform a naturally dark home theater at the company's showroom into a multipurpose space.
"The reaction you had to the picture is multiplied 10-fold when you see it in person," Margolis tells me. "We had a range of professionals in — interior designers, builders, architects, commercial developers, lighting reps, and doctors in charge of medical facilities. Everyone was blown away. They all thought the skylight was real, except for the people who came at night. They were confused."
"If you can't tell," he says, "I'm very excited about this solution and the possibilities it will lead to."
CoeLux Mimics the Sky for a Closer Connection to Nature
The implications for both residential and commercial installs are immense.
First, the benefits that natural light has over artificial for mental and physical health has a veritable library of research compiled on it at this point.
Margolis says the medical professionals who attended the CoeLux launch at HomeTronics were eager to add the artificial skylight to treatment rooms such as gamma knife suites, where patients undergo radiosurgery.
He even tells of one guest who said his facility uses a $4 million machine "because it produces a higher quality lighting and a better working experience for the doctors, and also is more comfortable for the patient."
That's how important a role lighting can play.
Other medical uses, Margolis says, would be in patient recovery areas of the hospital, to promote faster healing, better well-being, and quicker turnover for the hospitals.
For more amusing and mercantile applications, Margolis suggests car showrooms would benefit greatly from a dose of almost-real sunshine.
"The lighting in car showrooms does not accurately reflect the color of a car when it is outside in sunlight," he says. "CoeLux lighting allows car dealers to showcase vehicles inside, accurately, and at any time — day or night, in the rain, cloud, snow, etc."
And car buffs can finally show off their collections like the works of art they are. Margolis says: "They can appreciate their cars, show them off in 'natural' light, have them seen inside the way they are supposed to look outside."
The natural light will also ensure the car collector never picks the wrong color for a drive.
CoeLux has plenty other residential and commercial applications. Sunlight, even of the simulated variety like in circadian lighting, can improve productivity and enhance moods. In prisons and mental institutions, it can calm residents. In Las Vegas it can keep gamblers gambling. In dressing rooms you'll be able to tell what your outfit and skin tone will look like outside, averting a possible fashion disaster.
CoeLux Artificial Skylight Makes a Great Conversation Starter for Integrator
In the case of HomeTronics, the team had some fun with unknowing visitors to their showroom, leaning into authenticity the artificial skylight puts forward.
As Margolis tells it, the guest walked into the home theater–lit with both can lights and CoeLux–and exclaimed, "Wow, that's really cool that you put a skylight in the theater."
The client wondered if the light posed a problem for movie viewing.
"I told him we had a new lighting technology," says Margolis, "and I asked him to hit the on switch for a nearby lamp."
Just as the guest turned on the lamp, Margolis hit a Lutron button that killed both the can lights and the CoeLux.
The guest was astonished. How could Margolis turn off the sun in a split second?
"I said our special lamp outputs negative light and zaps all the photons coming from light sources," Margolis says. "After about a minute in the dark, he knew something was up."
The guest, says Margolis, was Andrew Ard, a long-time industry veteran
More than an Artificial Skylight, It's the Next Evolution of Circadian Lighting
Currently, CoeLux has a massive array of circadian lighting products within the artificial skylight category, however, in recent years, the company has also branched out to include a false window product known as the 45 Square.
From the the 'mini' 45 LC to the impressively large 45 HC, the solutions are fairly scalable and able to match the general spatial requirements of most environments. There's even a linear lighting option, dubbed the Sky Line.
By default, all CoeLux products feature either a vertical or 45-degree beam orientation from the ceiling, however, the different and models come with a variety of alternate capabilities. For instance, the 45 LC and HC models also have a Sun & Moon version, which allows the skylight to produce artificial moonlight for nighttime scenes. There's also the LS Ice, which opts for a far cooler color temperature perfect for productivity applications.
The High Tech 25, can even simulate the movement of the sun throughout the day and be linked into smart home systems using DALI protocol and 0-10V dimming. Alternatively, it can also be set up as a standalone solution that is controllable through the CoeLux app. (There's also a High Tech 25 Mini for smaller installations.)
The many of CoeLux's artificial skylight offerings also come with the options for bordered or borderless installations, depending upon the type of ceiling or specific look designers and architects may be aiming for on a project.
In fact, Margolis says the architects he's worked with not only like the practical lighting aspects of CoeLux, but also how the product can transform the design of the space.
"Multiple panels completely change the look of the ceiling," he explains. "You almost think you're in an outside space as opposed to being inside."
If you enjoyed this article and want to receive more valuable industry content like this, click here to sign up for our digital newsletters!