Is this the future of home automation? The Intellithings UAS-100 User-Location-Awareness System is a sensor-based smart home system that enables the home to respond to the specific individual's needs with no need for a physical interface. The system uses a person's portable device, such as a smart phone, to recognize when he or she has entered or exiting a room, responding with voice-controllable automation to turn on or off lights, turn off or one surveillance cameras, change the temperature, raise or lower the blinds, or just simply track movements to monitor the well-being of an elderly person, for example.
Oren Kotlicki, CEO of Intellithings, gave a demonstration at CEDIA Expo 2022 in Dallas on how the system works, giving CE Pro a glimpse the future autonomous home. Kotlicki, a home security market expert with more than 20 years of experience in the home security and smart home industries, established Intellithings in 2014. The company develops technologies and solutions that bring, for the first time ever, user location and identity detection for home and light commercial applications.
Considered as the future home and office, user-aware products and services identify who's using them to learn and provide automated and personalized usage experience. Using sensors, the solution takes the smart home from the manual era of users having to tell the home how to act, to an autonomous era of smart homes doing it on their own.
The solution saves energy because it can detect when a room is empty. Instead of using motion sensors, the Intellithings user-awareness solution knows the real-time location of a person so it can automatically turn off room devices to save energy.
On the security front, the solution provides the central station with real-time indication about a verified user's presence in an alarmed zone, which then can enable the central station operator to eliminate false dispatches due to false alarms. In addition, Intellightings can be integrated with security systems and surveillance systems to prevent false alarms at the source.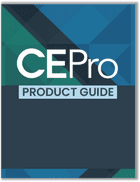 CE Pro's 2022 Product Guide showcases some of the latest and innovative solutions from manufacturers serving the custom electronics industry in a cross-section of categories.
Download the guide now!
In terms of privacy protection, the Intellithings solution can make surveillance cameras automatically stop recording when identified users are in the room, for fully automated privacy protection. That mode eliminates the biggest concern homeowners have about having surveillance cameras inside their home… privacy.
Lastly, the system can detect inactivity in a room or home, which can be a vital assistant for monitoring elderly loved ones without forcing them to wear a pendant. The solution enables fully automated, smart phone- and smart watch-based monitoring of a user's room presence to detect when users do not visit a room during pre-defined expected presence times, as a possible result of an emergency situation.