Has a client ever told you how much they hate the look of their air conditioner? Probably no, not ever, and they likely never will. That hasn't stopped LG from coming up with the ARTCOOL Gallery air conditioner. For those wondering, it's a mini-split, wall mount AC unit with a 27-inch LCD screen that displays digital art on demand and connects to LG's smart home app, ThinQ.
Using the ThinQ app, users can select from a growing range of static and animated images, or choose personal photos and images uploaded via the app. Users can also use the app to select and monitor settings and functions, however the option to control the device through a more simplified remote does exist.
The air conditioner itself is a mini-split, wall-mountable unit that LG states uses up to 70% less power than a residential air conditioner. LG also notes that the DUAL Inverter Compressor Technology also allows it to double as a heater during colder weather. The model's 3-way airflow, meanwhile, is designed to provide indirect airflow suitable to space.
LG also states that the base operating noise level is rather quiet and can get as low as 20 decibels while in 'Sleep Mode.' The ARTCOOL Gallery even comes with an AI self-drying feature. This, according to LG, effectively removes any moisture build-up based on settings. Additionally, the model's bottom grill can be easily detached and cleaned as well as a cover that helps make installation easier.
LG ARTCOOL Gallery Re-Contextualizes Air Conditioning in the Home
Despite having the strong performance of an LG air conditioner, the art display is the selling point. In today's world there's this concerted effort to make every technological aspect of home design friendly. Some people might disagree on whether this should be done, but at the end of the day it boils down to options and personal preferences of client, and I can certainly see this appealing to many an integrator's customers.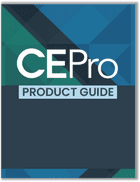 CE Pro's 2022 Product Guide showcases some of the latest and innovative solutions from manufacturers serving the custom electronics industry in a cross-section of categories.
Download the guide now!
You can have products like Leon Speaker's Ente SoundTiles which does nearly the exact same thing as the ARTCOOL Gallery but with loudspeakers which look stunning and are wildly popular. Or you can have LGs own line of air purification furniture which while innovative can come off as a little odd. The ARTCOOL Gallery seems to fall somewhere in between those two.
Environmental control and comfort is something that is huge for homeowners. It's usually the primary reason one decides to spring for a renovation or a remodel—and air conditioning plays heavily into that. If we're talking about an in-window unit, that's something that is going to cut off beautiful, natural light that can make a room visually comforting all its own.
At least the ARTCOOL Gallery isn't infringing upon natural light with it being a wall-mounted unit. If anything, it takes the place of a window unit. However, now I would love to see LG and LiquidView should get together and make air conditioners with virtual windows on the front of them.
A Functional Take on Digital Art? Or a Designer Take on Connected Air Conditioners?
If I had to describe the LG ARTCOOL Gallery, I would pitch it as a decorative art piece with a built-in mini-split AC rather than the other way around. It reminds me a lot of a product I saw a while back working for DesignWell that was a living green wall and air purifier built into one, especially considering how digital art has entered the conversation for integrators. Air quality and art seem to be a popular combo.
It's something akin to a Blackdove or Frame display that can be more customized with personally uploaded images and has the bonus of being a mini-split AC. Considering LG has already partnered with Blackdove, maybe that comparison isn't too far off.
As of today, this is LG's second iteration of the ARTCOOL Gallery. The first was an analog art piece strapped to an air conditioner, and I think the LCD screen is a step in the right direction with what LG is going for. For those interested in the LG ARTCOOL Gallery, the unfortunate news is that there's no currently confirmed price or release date available.