Balancing the collision between design and technology is an ongoing battle that Hunter Douglas is aiming to solve. Some clients want to see the technology, others want it hidden. Integrators often have to figure out how to hide the technology without impeding its performance.
When the technology is exposed, the industrial design of the product is vital. According to our recent CE pro Design and Hidden Technology Deep Dive, 56% of integrators deem the design Very Important, and another 40% say product design for exposed technology is "Somewhat Important." That adds up to 96% of integrators saying product design is vital.
The survey also asked integrators which of their clients was the MOST concerned about hiding technology or product design. By far, interior designers was #1 – 42% of integrators said interior designers are the most concerned. Architects were second with 16% of dealers saying architects were the most concerned. Homeowners were third at 15%.
"It is interesting that there is such a strong delta between the percentage of interior designers who want to hide the technology versus the percentage of homeowners," remarks Scott Stephenson, director of product, motorization at Hunter Douglas. "It tells me that maybe there are some areas of compromise that can be reached. The designer may be pushing to hide something that honestly the homeowner doesn't really care that much about."
Overall, Stephenson believes manufacturers and integrators should be seeking out product solutions with high industrial design to mitigate hesitancy on the aesthetic front.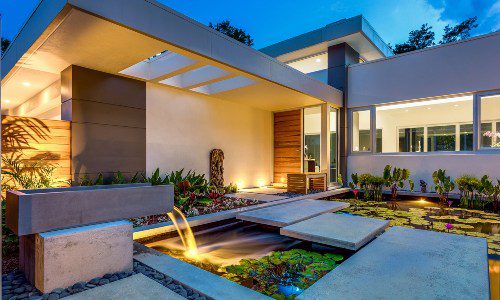 Landscape and architectural lighting create a magical and elegant ambiance for homeowners. The outdoor lighting industry has always been a phenomenal one and continues to grow in popularity. Now is the ideal time to learn more about this rapidly growing and highly profitable industry. Join our panel of esteemed lighting experts that will dive into why it's time for integrators to rethink their role in the outdoor lighting industry.
Register Now! 
Hunter Douglas did exactly that recently with the release of its new PowerView Gen 3 Automation system that features a sleek gateway device and eye-catching Pebble remote controls.
"Year over year, smart shading continues to serve the custom integration industry as a key growth pillar, with enormous end user benefits: Privacy, security, convenience, energy savings, interoperability, and custom design. Incorporating automated window treatments seems like a no-brainer, but it also has a reputation for a hefty barrier to entry – with a combination of design-centric and technical learning curves alike," says Stephenson.
Using integrator feedback, the PowerView Gen 3 solution is a complete overhaul of the company's previous control platform. To complete the upgrade, the company relied on four guiding principles at the foundation:
Simplicity: Recognizing that complexity doesn't help the integrator, nor the end user, the company redesigned the installation and setup process that makes delivering personalized, sophisticated control of shades simpler than ever.
Reliability: Bluetooth Low Energy (BLE) defines a futureproof foundation for automated window treatments, enabling real-time two-way communication between the shades and the system.
Scalability: For any window – and any space – Hunter Douglas defined a clear path to triggering automations and scheduling shading.
Control Streamlined. Home automation is becoming more connected than ever before, and to be future-proof and seamless alike, the best smart shades should prioritize integrations with third-party systems and voice solutions.
"PowerView Gen 3 completes the connected home with style and ease, pairing high-quality shade styles and fabric designs with smooth integration into the connected home," he adds.
According to Stephenson, the system can be set up in a fraction of the time it previously took. He used the example of a 10-shade, three-room system that previously would have taken 45 minutes to set up and can now be done in just 10 to 12 minutes.
"It is much easier for integrators to get in and then get out with constant two-way feedback," he notes.
The design of the Pebble remote was actually based upon the industrial designer seeing colorful pebble stones flowing in a small stream. The company offers an array of colors for the sleek remotes, but Stephenson says black and white are the most common choices.
If you enjoyed this article and want to receive more valuable industry content like this, click here to sign up for our digital newsletters!