Over the years, integrators have experienced revolutionary changes in just about every category they install, and home lighting technology is the latest illustration. Sometimes a technology itself is brand new, adding a new category of equipment that CE pros never even previously considered or installed.
Other times, the new technology represents an evolution that over time virtually eliminates a previously existing technology — examples such as the transition from VHS tape players to media servers, closed-circuit to IP-based surveillance cameras, or even vacuum-tube to solid-state amplifiers come to mind.
Finally, there are instances in which the change is slower as multiple technologies continue to co-exist and are installed, each with relatively large market shares — the transition from vinyl to digital media, physical media servers to streaming devices, and hardwired to wireless multiroom audio are prime examples.
So where does the lighting fixture revolution fit into this mix? Will it eliminate prior technologies or merely co-exist with existing lighting options allowing integrators to provide multiple solutions. Only time will tell the answer to that question, but clearly dramatic changes have already taken place with both light sources/bulbs and fixtures.
The 2022 CE Pro Lighting Deep Dive special report offers an analysis of the market opportunity and addresses some of the key questions dealers have about lighting fixtures, including how to get started, how to work closely with electricians and builders, and how to sell it to clients and what level of lighting design skills are necessary to succeed.
Among the sources for the special report are numerous individuals from the recent Home Technology Specialists of America (HTSA)-organized Lightapalooza event in Dallas who shared their secrets of success, along with panel discussions from the ProSource and Azione Unlimited buying groups' spring conferences.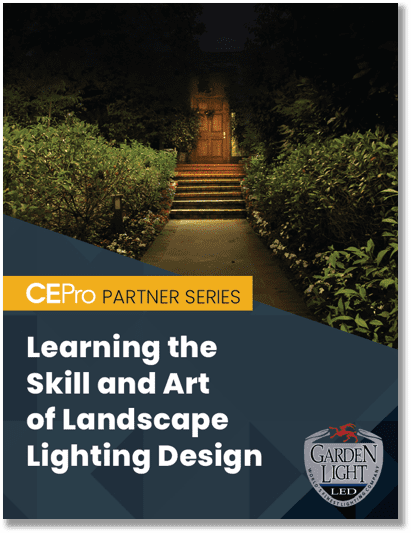 Experts recommend landscape lighting design as an entry point for integrators into the revenue opportunity of home lighting. Check out our new resource for tips and best practices. Download "
Learning the Skill and Art of Landscape Lighting Design
" today!.
How Big Is the Lighting Fixtures Opportunity?
They say math doesn't lie, our emotions do. And if you "do the math" regarding the marketing opportunity for integrators in the lighting fixture business, it's clearly beginning to "add up." Indeed, the arithmetic is solid enough to overcome any emotional hesitation integrators might have toward jumping into this hot market.
So just how big is the lighting opportunity? David Warfel, chief evangelist at Light Can Help You, a preeminent lighting design firm, discussed the market potential at the HTSA's Lightapalooza educational conference in Dallas in February.
In 2021, the average dollar figure for a lighting project that was specified by Light Can Help You on behalf of a custom integrator was $82,000 just in fixture sales. (Dealers may or may not have done the labor for the installation based on their business model and working relationship with electricians — see page xx.) In 2021, there were about 1.3 million new housing starts in the U.S.
Lighting fixtures represent a $5 billion per year market for custom integrators even if the industry only captures 1% of newly constructed and recently sold homes.
"Let's imagine that as an industry, the custom installation channel captures 1% of the new housing starts. That's 13,000 houses," calculates Warfel. "If you take $82,000 in fixture sales and multiply it by 13,000 houses, and you have a $1 billion industry, which you can have tomorrow. That's out there.
"That doesn't include the 5 million existing houses that change hands every year. That's another opportunity," continues Warfel.
"If custom integrators work in 1% of existing homes that are sold each year — because people remodel when they buy a new home — then lighting becomes a $5 billion category. A few years ago, I was talking to a group and I said, 'I think lighting is a $100 million category. The more time I spend in the market, the more I find out that number was a joke — it should be $100 million a month."
Warfel adds, "Now if we divide the lighting fixture market among 500 integrators — because many custom integrators are not interested in doing lighting fixtures — that is $10.5 million each. That's a nice number."
He notes another way to calculate the additional revenue for integrators is by dollar-per-square foot. According to Warfel, the typical smart LED lighting fixture costs about $750 apiece, and the average project specified by Light Can Help You is $14 per square foot for the integrator.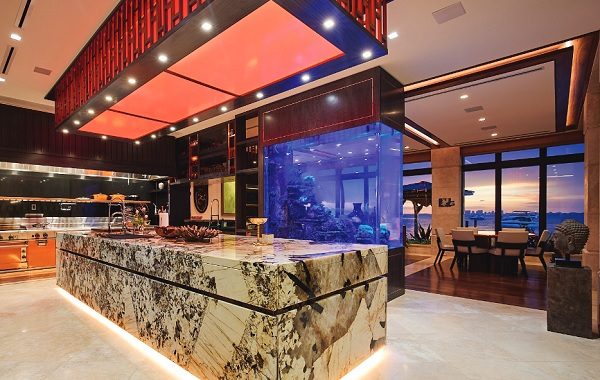 That is much higher than the typical $1 to $2 per square foot garnered by integrators for networking, control, audio, and video.
Mike Teolis, CEO of Colorbeam, agrees, noting, "On a 200-fixture project as an example, if you are just doing the control, it's about a $15,000, $20,000 revenue.
"If you add 200 fixtures at a modest $150 apiece, which is at the low end of what this market should be selling, you've added $30,000. That doesn't stop you from selling $300, $400, $500, $600 fixtures. It's an exponential growth opportunity."
Wild, Wild West Means Taking Risk
Beyond just the financial benefits, Warfel believes integrators need to embrace the cutting-edge nature of the lighting space.
"The money is big, but so is the sense of adventure. Why do I mean that? It's the Wild, Wild West out there," he contends.
"You've got this all this craziness we're in right now. It's like when Thomas Edison invented the light bulb. If you fast forward to today, we have an entirely different way of doing light. We don't even use Edison's technology anymore. It's gone. It's starting to feel like a wilderness again. We are in an uncharted time in the lighting industry. It's in disruption. You need to have a little sense of adventure if you're going to step out of your safety zone and move into the Wild, Wild West."
Warfel encourages integrators to "stake their claim" in the lighting fixture business before it is too late.
"There are other cowboys out there. Electrical contractors are already starting to step into the low-voltage territory. Tech giants like Google, Apple, and Samsung have enough capital to do whatever they want. If they decide to get into the lighting space, they will do it.
"There's an opportunity right now for them to do that. Also, commercial integrators can use lighting as a profitable avenue to get into the residential space," he explains, adding that commercial integration companies have already had discussions with Light Can Help You.
More Custom Integrators Seeing Success in Home Lighting
The integrators who have jumped into lighting fixtures are experiencing tremendous success.
Richard Millson of Millson Home Technologies in Vancouver, Canada, has only done about 10 projects with lighting fixtures so far, but it has already proven to be lucrative. Speaking during one of the panels at Lightapalooza, Millson described how his very first lighting fixture project added $25,000 to the sale. The second project, using Lutron Ketra fixtures, resulted in an additional $200,000 in revenue.
"It was reasonably easy to do," he recalls. "We're looking at more fixture sales. It's a logical thing. We can gain control of the entire lighting chain; we're already doing the lighting controls, and we're already doing the shades. Bringing it in-house enables us to have better outcomes because we are able to specify the control system and the fixtures, and know-how those interactions work and the drivers. It's been successful so far, and I see it being much more successful in the future."
Related: 10 Outdoor Lighting Products for Your Next Installation
Ken Irvine of the Premier Group in Carmel, Ind., started installing lighting fixtures in 2008.
"We continuously grow every year with it. It's one of those products where sometimes clients don't know they need it. They have a lighting plan from a builder who thinks he knows what he's doing, and it's just horrible. We've continued to increase our sales of fixtures tremendously."
He says most of his projects are hybrid in that they are a combination of panelized lighting and individual dimmers. He estimates about 25% of the Premier Group's lighting projects are panelized systems.
Colorbeam's Teolis hears from CE pros consistently who are doing well in the category. He described a recent project for a modest new construction 1,600-square-foot townhouse in which the owners spent an additional $30,000 in lighting over the base package presented by the homebuilder.
"They recognized the value of better lighting. That speaks to the opportunity ahead of this channel," he notes.
Millson equates the current market opportunity in fixtures to what many integration companies experienced a decade ago with motorized window treatments.
"Integrators understand the opportunity. The biggest corollary would be to think back to before you did shades. That is literally the control of natural light. Now with fixtures, we are talking about the control of electronic light and now the actual sources that produce the light," he says.
Millson also points out that a few years ago may not have been the right time to jump into lighting compared to today's atmosphere.
"A few years ago, LED was a complete [mess]. It was the Wild West… nothing worked properly, nothing dimmed properly… it didn't work. You couldn't sell fixtures as an integrator. Today, we're fortunate to have a lot of choices that work properly. Today, shades are a big part of our business. We've done projects where we sold 8,000 or 9,000 shades into a tower. It's millions of dollars. If we have those relationships with the developers, as well as builders of single-family homes, why wouldn't we try and talk to them about fixtures?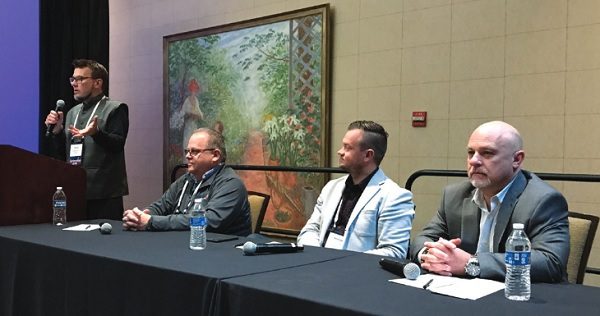 He continues, "It's not just about making additional revenue on the fixtures, it's also about the money we're going to save by not having to literally fix the problems caused by other people.
"We've had projects where we've done complete detailed documentation where every single load, every single wire, every single driver was spec'ed out at all the locations, and literally the electrician has just ignored it and wired the way he wanted even though we're on project management and telling him, 'Hey, you can't do that.' We had to go back and fix all that."
Millson is looking to add an electrical division to his company, which will enable Millson Home Technologies to control the lighting installation from start to finish, as well as supply the home lighting technology solution.
"When we have full control, we will literally save hundreds of hours that we currently spend fixing problems. If we don't have to do that anymore, that's a big deal," he exclaims.
Irvine believes his lighting fixture business will be bigger than his control business in the next year or two.
"With the amount of fixtures you can do in a room compared to two or three keypads, you're going to definitely do more in lighting fixtures and especially with the different qualities of fixtures that will allow you to step up. You can sell a $150 lamp or an $800 Ketra lamp; it just depends," he says.
Troy Dunnington of Lightworks in San Diego just might have the most experience in lighting of any integrator. Lightworks has been selling and installing lighting fixtures for 20 years. Some of Lightworks' lighting projects are as much as $300,000 in lighting fixtures. The company's go-to brand is USAI.
"Lightworks was built on the foundation of electrical contracting, lighting, and lighting design We added AV later into all that," he says, noting that the company's lighting business has helped forge strong relationships with home builders.
Listen: CE Pro Podcast #107: Sell Security, Curb Appeal & Entertainment with Outdoor Lighting & Audio
"We wanted to be different than a standard subcontractor coming to the table with a high-end builder in terms of value-add and point of sale. We're sitting at the table with the architects and the designers. It was important for us to not believe that we are just a subcontractor, but we're a partner. I want to stand or walk aside the builder, and not behind."
According to Mark Langston of Light Can Help You, it is not uncommon for architects and builders to under budget for lighting. He has routinely seen blueprints for a 10,000-square-foot home that will have a $25,000 allowance for landscape lighting, $35,000 allowance for decorative lighting, and yet only $5,000 for the rest of the interior lights. He believes a home of that size should have a $140,000 lighting fixture budget — that's a big difference.