Now that smart homes are becoming more commonplace, many companies are trying to find the next innovation that pushes the boundaries of how consumers think of smart home technology. To that end, Google Cloud and GE Appliances (GEA) have recently entered into a multi-year partnership to try and change the way homeowners look at smart appliances.
After looking for a company to partner with, GE Appliances chose Google Cloud for its expertise in data, analytics, artificial intelligence, and machine learning to accelerate, with plans to integrate these capabilities into their entire appliance development process from ideation to the production line.
The two companies will work together to develop the next generation of smart appliances with Google Cloud Vision AI. Thanks to the partnership, GE Appliances will be able to benefit from Google Cloud's integration with other Google platforms and technologies such as Android and Google Assistant.
"As the fastest-growing appliance manufacturing company in the United States and with more than a century of industry experience, we are committed to continuing our evolution and fulfilling our promise to deliver the best appliances to our owners and customers," says Viren Shah, CDO of GE Appliances. "Bringing together Google and GE Appliances to co-innovate and build advanced technologies is a key driver propelling this evolution forward."
Google Cloud will also support GE Appliances in enhancing its AI-enabled intelligent product platform, which provides appliance owners with personalized features, insights, and energy-saving recommendations. For commercial customers, the platform will help manage fleets of appliances, decrease unplanned downtime, extend product life, and ultimately reduce their total cost of ownership.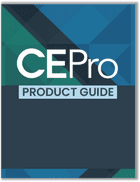 CE Pro's 2022 Product Guide showcases some of the latest and innovative solutions from manufacturers serving the custom electronics industry in a cross-section of categories.
Download the guide now!
"GE Appliances is an award-winning, smart home innovator that gives consumers the forward-thinking features and capabilities they want and expect," says Dominik Wee, managing director of manufacturing and industrial at Google Cloud. "Marrying GEA's expertise in smart home appliances with Google Cloud's data analytics and AI/ML will deliver industry-leading, innovative appliances and digital experiences that will delight consumers for years to come."