With its classic, coastal vibe, Harbourside Place is the premier downtown Jupiter, Fla., destination for shopping, dining, luxury hotel accommodations, entertainment, boating and office space.
But the area sits along Jupiter's Intracoastal Waterway and is subject to South Florida's unpredictable and occasionally extreme weather, which can wreak havoc with electricity outages and damage.
So when a family office recently decided to relocate their workplace to this upscale spot, the key requirement was to have a secure facility whose technology always functions regardless of power conditions.
RoseWater HUB Energy & Storage System Install in Two Stages
The manager of the office had recently worked with local integrator Definitive Electronics to upgrade his home technology and install RoseWater Energy's HUB SB20 energy & storage system. The HUB SB20 combines a trio of industrial-grade capabilities – power conditioned outputs, uninterruptible power supply (UPS) with a large battery backup, and surge protection.
The manager asked Definitive Electronics president Don Dixon to assist with the new office project and ensure clean, reliable power to drive anything that had a 120V input.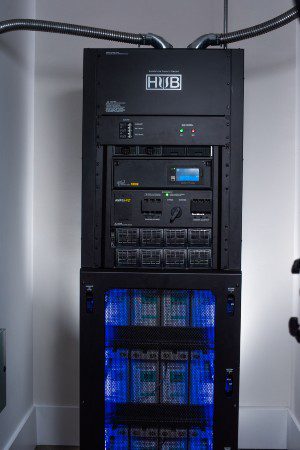 The new office location is on the second floor of a commercial building that could not accommodate a generator. Based on his experience with RoseWater's HUB in his residence, the family office manager agreed that the system was ideal for meeting the business' power needs.
Installation took place in two stages. In the first, the product was set in place and assembled. In the second stage, the product was commissioned to RoseWater's electrical team. The phases were about eight weeks apart.
"In this HUB installation, we needed a firmware update and discovered that we had a defective inverter communication board," says Dixon. "One way to judge the quality of a company is how they deal with problems. RoseWater was great. They did the diagnostic, flew in the part, and got the unit up and running.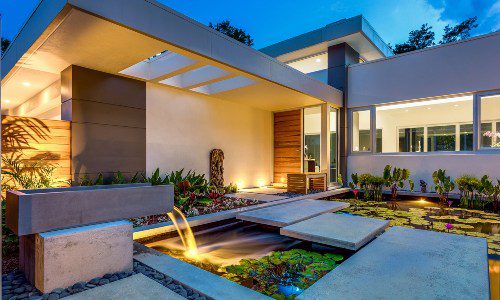 Landscape and architectural lighting create a magical and elegant ambiance for homeowners. The outdoor lighting industry has always been a phenomenal one and continues to grow in popularity. Now is the ideal time to learn more about this rapidly growing and highly profitable industry. Join our panel of esteemed lighting experts that will dive into why it's time for integrators to rethink their role in the outdoor lighting industry.
Register Now! 
"We also had a special 3-phase electric need and had an incoming voltage issue that RoseWater responded to after-hours and immediately corrected."
Security, Lighting, Climate Systems' Power Well-Protected
A Crestron control system anchors the new office technology, which also includes bio-print and card access control; security lighting; and thermal shades to maintain the office at a consistent 75 degrees.
The clean, open office design meant it was imperative to keep electronics aesthetics from distracting from the look, so Definitive had to take that into consideration. The office was also designed to be ADA compliant and includes a Crestron access control panel mounted at the door to accommodate wheelchairs.
The designer included color-coded ceiling runs for sprinklers and water runs to include the open ceiling in the design plan.
"We had some challenges working with the builders to ensure continuity of the design during the technology installation that we worked through," Dixon notes.
"Definitive Electronics has a reputation for being meticulous in our work and the completed aesthetics met our high standards."
In the event of a power outage, the client can see exactly how much power they have and can decide what loads they want to shed, Dixon explains.
"There's enough backup power there to keep security protocols in place and continue working for days."
The family office opened in early 2020 and has not experienced any power issues, Dixon reports.
"Everything in the office is operating as it should," he says. "We can see the anomaly events while monitoring the HUB, and it's doing exactly what it should."
If you enjoyed this article and want to receive more valuable industry content like this, click here to sign up for our digital newsletters!