RoseWater Energy Group managing director Joe Piccirilli realizes there are some luxury products that aren't meant for every integrator, or their customers. But given how momentum has picked up for power management and reliable energy solutions, he also knows there's less reason for integrators to balk at a $70,000 solution like RoseWater's HUB SB20 unit these days.
The combination of larger-scale homes and less-than-adequate power going into them creates increasing liability with connected technologies. Integrators can turn that liability into reliability – and profit.
"This category used to be an accessory added on at the end of a sale to raise margins, and it was a couple grand – or less," Piccirilli says.
Companies like RoseWater and sonnen are changing that paradigm with industrial-grade solutions for residential projects. RoseWater's HUB SB20 Energy & Storage System, for instance, was developed to model the level of component circuitry used by telecommunications and military systems where protection against power loss is mission critical – "they can't go down," Piccirilli says.
Price Concerns Less of an Issue
So the HUB SB20 has the build quality of a commercial system, which understandably raised eyebrows as RoseWater rolled it out specifically to the resi market.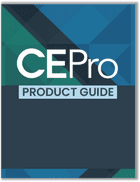 CE Pro's 2022 Product Guide showcases some of the latest and innovative solutions from manufacturers serving the custom electronics industry in a cross-section of categories.
Download the guide now!
"The hardware is a $70,000 device and people were going, 'This is impossible,'" Piccirilli notes. The perspective is changing, however.
"If you look at markets along the coast, where the power quality is the worst – California is a huge market, Florida is a huge market, New York is becoming a very large market for us," he tells CE Pro.
During a TechBites presentation at CEDIA Expo 2019, he told attendees that based on the number of calls he received in the last year, "I'd say I severely underestimated how rapidly the quality of power is diminishing."
Besides power strain due to population density, construction and remodeling, Florida-resident Piccirilli can also attest to daily looming naturally occurring dangers like lightning strikes.
He's had integrators, builders and other trades validate the pricey offering, which features power-conditioned output, uninterruptable power supply (UPS) and industrial-grade surge protection.
"People talk to us about the price and say, 'When is it going to come down?' My issue is I will never build a product to a price point, I build it to quality," he explains, adding, "Nobody blinks at the price anymore.
"They go, 'Oh no, this is worth it' when you show it to an electrical designer or somebody who's been in the power world. Their comment across the board – because they look at it and they recognize the components – is, 'How do you sell it for so little?" It would be hundreds of thousands …"
Two-Piece Version Opens Installation Opportunities
Also during CEDIA Expo 2019 in Denver, RoseWater was showing a prototype tweak to the system to make installing it an option for more integration customers.
The company responded to feedback about installation issues due to the system's size (84 inches tall) and heft (2,300 pounds) by developing a two-piece version. Piccirilli is eyeing Q1 of next year for market.
"One of the objections we have with our device is it is difficult to move in and out for installation and getting it into some spaces is extremely difficult," he says, noting that wiring can necessitate even more room.
"So now we have a two-piece design that is either stackable or side by side. On side by side it's less than 4 feet tall (46 inches) and in stackable it's the same 84 inches," Piccirilli says.
Side by side also distributes the load between the cabinet containing components and the other housing containing the batteries.
It can open up opportunities where vertical living is prioritized but previously integrators may have been limited to first-floor installation. "This one now is right around 300 pounds per square foot, so that will go into a high-rise," he says.
Proof Is in Integrator's Service Logs
For residences in which the RoseWater solution is already being spec'd, Piccirilli shared a couple of success stories during CEDIA Expo.
One integrator was about to work on a second HUB SB20 installation for an existing client with residences in New York City and the Hamptons area on Long Island. After having the system in place for seven months in the Hamptons, he showed the customer two service logs – one for the integrator's work in the seven months prior to the HUB installation, the other for the seven months it had been in use.
"There was an 85% difference, because now he only services upgrades," Piccirilli says.
"His team was having to go out to the house to fix something because of power glitches; now it isn't a reliability issue. He said there's no better proof [of how the system works], and what did the clients do? They said, 'Oh, we need one in the New York City brownstone.'"
Customers with multiple residences, especially vacation houses on the beach or in the mountains, comprise a good portion of RoseWater clientele, Piccirilli says. Additionally, he points to a builder in Southern California that specs a system into every new construction.
"It's a lifestyle issue about quality of enjoyment, that's what gets people to buy," he notes.
"One of the focuses in my trainings is you look at the typical problems – malfunction, total dysfunction, and then inconvenience because you have to reprogram things – but the real negative to poor power quality is it destroys consumer trust, because the consumer never blames the utility. They'll blame the dealer or the gear. Once you've lost your customer's trust, forget it."