Integrated Systems Europe is always a fun time for Crestron dealers to learn about the automation leader's new product launches. Just ahead of this year's event, being held next week in Amsterdam, Crestron has announced the release of its new MC4-R Control System.
While Crestron systems are often associated with expansive luxury residences, the MC4-R provides dealers similar functionality of Crestron Home to single-room, small, midsize and MDU projects, the company notes.
Crestron used last year's ISE to unveil Crestron Home as a successor to the popular Pyng platform. Along with the launch of the MC4-R as a scaled-down alternative to the company's CP4-R control processor, integrators can expect to hear about the latest updates regarding Crestron Home during ISE.
John Clancy, VP, Residential, at Crestron is excited to add to the platform's lineup a "lower-cost, smaller-footprint, thinner-profile" version of hardware to run Crestron Home, he tells CE Pro in an interview heading into ISE 2020.
"It's a great little one-room solution that can literally fit behind a television," he says of the new MC4-R.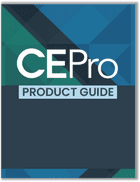 CE Pro's 2022 Product Guide showcases some of the latest and innovative solutions from manufacturers serving the custom electronics industry in a cross-section of categories.
Download the guide now!
Clancy explains that the MC4-R can fuel a full version of Crestron Home, it just runs fewer devices (see comparison with the CP4-R below), he says. Approximately half of what CP4-R supports, but still typically larger than what most systems are including right now.
"It's a perfect starter system," Clancy says. "You can put it in your media room or living room and add remote control and have it control all of your AV in that room and easily add lighting – and then add the rest of the house to that."
New Processor Another Plus for Crestron Home
The product can help Crestron dealers address more potential customers, whether they're looking for starter control systems, live in apartments, etc. It only adds to the positive impact Crestron has already been seeing from Crestron Home in the half-year integrators have been installing it.
"There are always new things you want to do and tweak, that's why you see platforms like iOS evolve the way they have. So we always knew this was going to be something that we started with in September, it was not an end all," Clancy says of Crestron Home's rollout last year, which after being previewed at ISE officially launched at the beginning of September.
"We've had three major releases since then, and we've added features and we're about to add some really significant features again. So we've stayed on this every four-to-six week cadence really showing off what we can do with just the software update."
Clancy notes the software update aspect of Crestron Home, as that's been a shift in how dealers work with the platform and customers compared with the past.
"This is new for Crestron dealers, where they were responsible for the software themselves," he continues. "Yes, we gave them tools but everything was left in their hands, making the system work, creating the GUI, making it look nice, making it intuitive to use … we put a lot of the burden back on the dealer, and this platform removes a lot of that.
"By doing that, we're also able to easily evolve these systems. That [dealer] feedback alone has been really spectacular – how a customer's system that was installed in September got better over time and in just a relatively short period of six months."
MC4-R Specs, Comparisons to CP4-R
The MC4-R is powered via PoE (Power over Ethernet), has a full complement of built-in control ports, and includes an infiNET EX wireless gateway.
The compact component can be surface- or rack-mounted, and its small size allows installation behind a TV, as Clancy noted.
"The MC4-R is designed for ultimate flexibility," adds Jason Oster, senior manager, Product Management Residential Solutions, Crestron. "It can control hundreds of devices and packs dazzling performance and industry-leading security into a convenient form factor at a great price."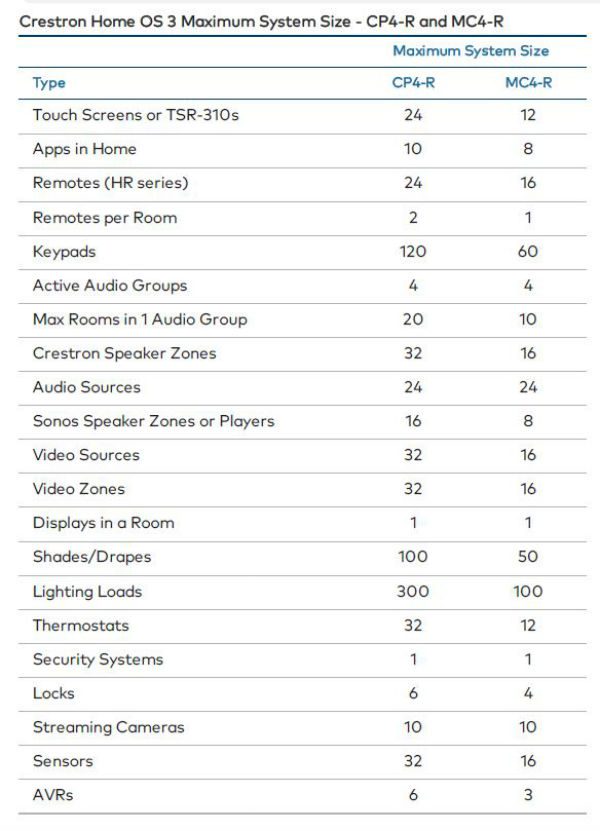 Integrators can read more information on Crestron Home and the new MC4-R on its website here.
Additionally, for easy comparison's sake, here's a chart that shows maximum devices or components that can be added to Crestron Home for CP4-R and MC4-R processors, as tested and guaranteed to work, according to the company. The chart covers myriad connected solutions and zones such as distributed AV, lighting/shading, thermostats, security and more.