Crestron's much-anticipated new home control platform Crestron Home OS 3 is hitting the market and is being hailed as a "gamechanger" for the company. OS 3 is the headlining technology for the company's "Resurgence in Residential" theme, with the official launch date set for September 2.
First shown at ISE 2019 in Amsterdam, Crestron Home OS 3 is the company's new control platform characterized by a dramatic redesign of the consumer app-based user interface.
The re-engineered interface, which was two-and-a-half years in the making, is speedier, smoother, more intuitive and highly visual for users. The interface underwent the largest beta testing ever by the company with more than 250 integrators testing the new operating system.
"This development was not done in a sequestered room by a bunch of engineers. It was done by a group of integrators, end users and the Crestron team. It was the first time ever that Creston opened up beta testing to any integration company to apply. Once they qualified, the group used user feedback forms and closed forums to exchange ideas," says John Clancy, vice president of residential, at Crestron.
The end user testing was explicit. End users were asked to perform specific tasks with no guidance. They were then timed on how long it took them to perform those tasks. Based on those tests, Crestron engineers adjusted the interface design.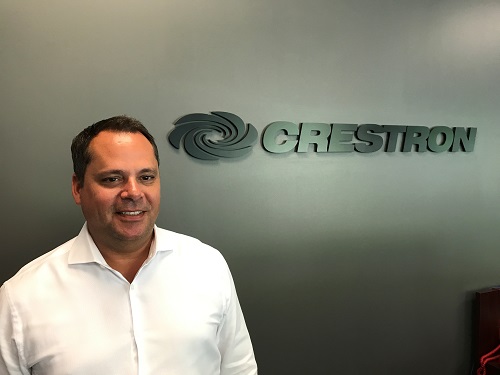 "OS 3 allows deployments at a high level without having to be a computer scientist."
— John Clancy, Crestron
Crestron Home OS 3 has the same back-end operating system as OS 2, which previously had the Pyng name. Crestron has officially retired the Pyng brand name.
The new interface has customizable macros that can be created on a web browser by the integrator or homeowner, and then those macros appear instantaneously in the app.
For years, Crestron relied on its dealer base to create the user interface experience for clients via custom programming. Unfortunately, that reliance sometimes led to multiple layers of complexity and even some darn-right ugly custom skins.
"The biggest problem Crestron has had in the past is the complexity of deployment," says Clancy.
"Pyng went a long way in reducing that complexity but the UI wasn't the best. Also, most dealers do not go back and upgrade existing clients because it was too expensive to upgrade. That problem also goes away with OS 3, which can be updated [today by integrators, and eventually by consumers directly via an app prompt]. This new OS 3 is a gamechanger for us."
He continues, "OS 3 allows deployments at a high level without having to be a computer scientist."
Crestron Home OS 3 System Configuration
Integrators utilize a separate Crestron Home Setup App that is exclusive to dealers and not accessible by end users. To build a system, technicians merely go to the cloud and use a simple button to add a device driver. Clancy says new drivers are posted daily.
Moreover, technicians will be able to be trained using online video tutorials, eliminating the costly expense of on-site training courses.
Crestron Home OS 3 is not designed to handle just small deployments. Clancy estimates it will work on 75% of all projects that integrators install today. The system handles:
300 lighting loads
100 motorized shades
24 touchscreens or TSR-310s
8 App in home
24 remotes
120 keypads
4 active audio groups
32 Crestron speaker zones
24 audio sources
16 Sonos speaker zones or players
32 video sources
32 video zones
1 display per room
32 thermostats
1 security system
6 door locks
10 streaming cameras
32 sensors
6 AVRs
The system is also not a cut-rate smart home control system. The hardware is approximately the same as other Crestron systems.
"The savings comes in the programming time. Dealers will save tons of time," says Clancy.
The new platform is also fully backward compatible, enabling it to work with Crestron equipment in the field that is up to 15 years old.
Read Next: Goodbye Pyng, Hello Crestron Home OS 3: 'Dramatic Redesign' at ISE 2019
Crestron has shifted a lot of its engineering focus in recent years to its commercial products, but Clancy says the full resources of Crestron's renowned engineering and product development teams at the Rockleigh, N.J.-based company were involved in every aspect of the evolution of OS 3.
In recent months, the company has unveiled integrations with Apple TV and the CP4-R home operating system processor, the fastest, most powerful residential control system it has ever built.
Designed to serve as a home control and automation system's "central brain," Crestron says the CP4-R provides four times the speed and double the RAM support than its previous generation CP3-R home operating system processor.
If you enjoyed this article and want to receive more valuable industry content like this, click here to sign up for our digital newsletters!