Neeo is back! Control4 acquired the remote-control and home-automation start-up earlier this year, with plans to bring the mostly-DIY product to the professional installation channel.
Now Control4, acquired by SnapAV earlier this year, has launched its first Neeo product, boasting Neeo's original hardware but powered by Control4's new OS 3 smart-home platform.
Neeo was always known for its industrial design, which had users gushing over the elegant packaging and stylish remote, more so than product performance, per se.
Control4, on the other hand, has never been too famous for industrial design but their stuff sure does work.
"When I joined the company, I think the Control4 product line was known for delivering a rich customer experience," says Charlie Kindel, who joined Control4 last year from Amazon. "But I don't think people would say our product design was something to lust after."
Kordon Vaughn, Control4 senior director of product marketing, joined the company more than a decade before Kindel came along. He concurs with Kindel's assessment.
"We usually chose function over form," he says in a joint CE Pro interview with Kindel.
Control4 products are far from unattractive, but these days consumers pay a premium for elegance and often tie it to a manufacturer's overall appeal.
That newish reality is not lost on Control4.
Kindel recalls Motorola's old Startac flip phone, which was highly practical and not necessarily bad looking back in the day. That was just fine for us users.
"We were happy with that," he says. "But customer needs have changed. They value that look and feel."
He adds, "Our belief is: We're going to be in this business for a long time, and our products are front and center in the customer's home."
While customers might not see the graphical UI all the time, and never see the back-end code responsible for the UI, they do see the hardware interface, which tends to personify the company as a whole.
"A lot of smart home devices sit hidden in a closet or behind a wall," Kindel says, "But not interaction devices; they are front and center. How they look and feel is just as important as how they work."
That being said, Neeo's industrial-design acumen is seen in Control4 black boxes, as well. The CA-10 controller, for example, was in development at the time of the acquisition, and Neeo helped to "refine the design" with "little details" related to functionality and fit-and-finish, Kindel says.
Control4's First Combo Touchscreen/Hard-Button Remote
Control4 is somewhat unique among the major home-automation companies in the pro channel. The company has never offered a remote control with both touchscreen and hard buttons.
Kindel says such a product was on the roadmap for Control4, but Neeo accelerated the plans. The timing was right, aligning with consumer trends, expectations in the industry, and technological progress in areas like battery life. These and other factors allowed Control4 to create a combo product that would be both sophisticated and affordable.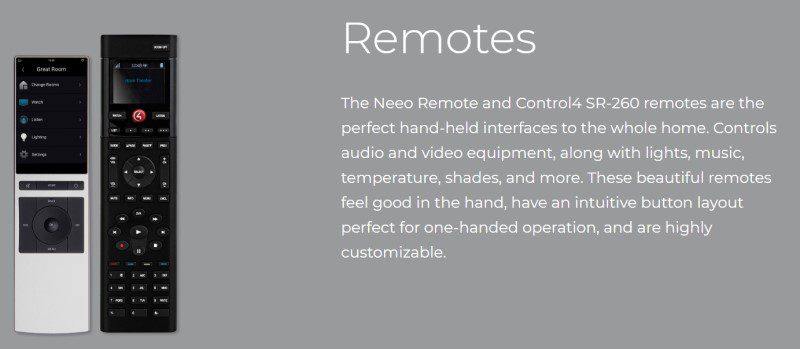 There's another thing: Control4's new OS 3 platform practically begs for a touchscreen remote. User personalization is a hallmark of the new platform, and like other Control4 devices, the remote allows customers to select "Favorites" for the home screen – maybe an icon for CNN, one for Pandora, another for whole-house temperature, and another for "Movie" mode.
"I've been using it at home and our family really likes it," Vaughn says. "They picked it up so fast."
There's not much to pick up, really, with favorites on the home screen. Vaughn's daughter can simply pick up the remote and press "her" button, which goes to Netflix "most watched."
As for Kindel: "We like being able to ensure the porch door is locked before we start a movie. That door lock favorite is right there on the Neeo. Tapping it locks or unlocks the door and shows the state in real-time."
Why Keep the Neeo Brand?
Why did Control4 keep the Neeo brand, and not just release the new product under its own name?
Kindel and Vaughn didn't say this exactly, but … Neeo had a reputation for design. Possibly like no other brand in the remote-control category, Neeo earned a strong following because the product looks and feels so good.
Home-technology pros often raved about the Neeo remote, without ever knowing much about it. Perhaps they held it during a tradeshow or ogled at online images, and they were hooked.
That's a hard legacy to ignore. The Neeo brand is practically synonymous with style. Keeping the brand gives Control4 instant cred for design – more so than assigning the product a generic model name like SR-270.
What Kindel does say about the branding is this: "The Neeo remote clearly sets a new bar for sophistication and refinement in an interaction device. … The Neeo remote and our naming of it makes it clear how serious we are about satisfying customers in this regard."
And what I say is this: It would be hard to get dealers super-energized about a great new remote called SR-270 or some such thing, regardless of how stylish or useful it might be. But "Neeo" … yeah, that works.
Potential Business Opportunities
Already, dealers are looking to upgrade customers to the new remote. It's a simpler proposition than ever. As long as the customer has OS 3, they can swap out an existing remote with a new Neeo, no programming required. Neeo will automatically pick up the settings for that remote, and any favorites associated with that room. Done.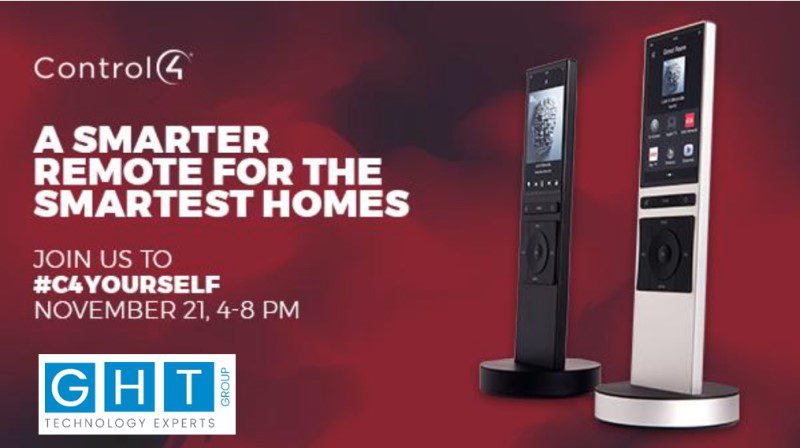 Georgia Home Theater blasted out an email today, inviting customers to bring a new or gently used coat to the company's #C4Yourself event on Nov. 21. GHT will donate the coat, and reward customers with a 20% discount on a Neeo remote. Customers can walk out of the store with their shiny new thing and use it right away at home.
You could imagine how a trade-in program could be quite lucrative for Control4 dealers with virtually no labor required. Perhaps customers could order their Neeo upgrades online for a discount, and return their existing remotes in the same box with the included shipping label.
So is this what Control4 envisioned when it acquired Neeo this year? Not necessarily. They knew there was something there, that Neeo could get them some strong talent and good hardware right away, and that the existing product could be just the ticket for the forthcoming OS 3. But that's about the extent of it.
"We had been working with them," Kindel says. "We could see how the product would be a great fit. As we started working, the vision really formed of an unbeatable customer experience – a refinement of their device, plus the sophistication of what would be OS 3."
Yes, we will see more design-centric products from Control4 going forward. No, they wouldn't spill the beans on either the product roadmap or how the Neeo brand will be used in the overall scheme of things within Control4 and SnapAV.
post