No matter how you slice it, 2021 was sweet music to the ears for the members of the CE Pro 100. The annual list of the largest custom integration companies had "record"-breaking growth last year that would make Adele envious.
The median member of the CE Pro 100 had revenues of $6.56 million, up from $5.7 million in 2020. That's a solid 13% increase driven by the continued demand for smart home technology, yet likely hampered by the continuing supply chain shipping crisis and microchip shortages that rendered equipment hard to get all year.
The increase is quite a turnaround from 2020, during which the outset of the pandemic basically shut down most businesses for three months and resulted in a cumulative drop of 2.4% last year. In terms of total revenues, the companies on the 2022 CE Pro list did a whopping $8.3 billion in 2021, up from $7.8 billion in 2020.
The CE Pro 100 list itself, now in its 23rd year, is also unique and constantly evolving. For many years, the qualifying revenues were solely based on income derived during the installation process of various subsystems.
Starting two years ago, we began including all their revenue sources as the basis for the list as it reflects the growing diversity of companies in the commercial space, retail, online, and especially, recurring revenue.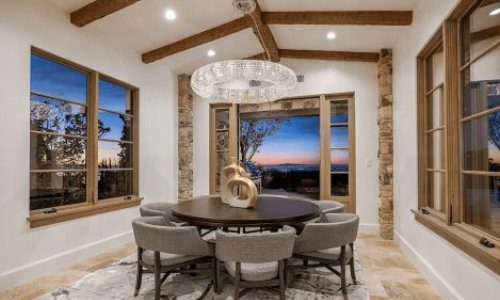 As a custom integrator, lighting is in demand. Effective communication, education and showcasing the value proposition of LED light fixtures in conjunction with integrative control systems are the keys to overcoming challenges and closing sales in this specialized market. Join us as we discuss the future of digital lighting and control with David Warfel from Light Can Help You and Patrick Laidlaw and Mark Moody from AiSPIRE.
Register Now! 
Same as last year, CE Pro is delineating out for each company not only the number of residential and commercial installations, but also the percentage of revenue derived from recurring monthly revenue (RMR), online equipment sales that are installed, and over-the-counter equipment sales that are installed.
All those sources are now in play as the custom integration industry evolves from a niche that served only elite clientele to one that serves the mass market with smart home solutions.
That growing diverse client base is why the list itself is an amalgamation of high-volume mass market players, security companies, retailers with installation divisions, and commercial integration companies that have migrated into the residential market.
The list also includes several national rollup players such as Bravas and AVDG that are focused on the high-end custom installation market.
The 2022 CE Pro 100 list is aggregated in several ways: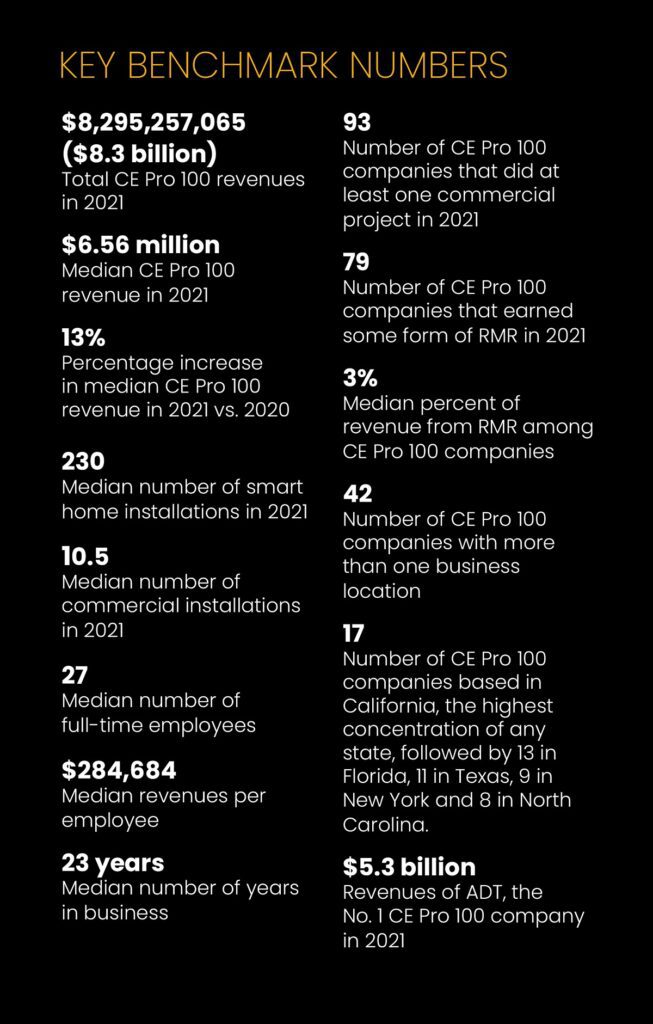 A qualification form appeared in the February and March 2022 issues of CE Pro.
An online form was posted on cepro.com for three months, inviting entries.
A blast email was sent to the installing companies that subscribe to CE Pro.
Special emails and phone calls were made to a handful of firms that appeared in previous CE Pro 100 listings.
The list is ranked by the volume of billed, not booked, business from custom installation systems that incorporate at least three of the following subsystems:
Audio (sources, speakers, processors or multiroom distribution components)
HVAC control/energy management systems
Lighting controls
Security systems (alarms, integrated fire, access control or video surveillance)
Structured wiring
Telecommunications
Video (sources, monitors, projectors, screens, multiroom distribution components, gaming)
Whole-house automation/integration
Networking (PC/broadband routers, modems, WAPs, etc.)
Window covering controls
Energy storage systems
Water leak detection
Indoor air quality
Lighting fixtures, including landscape lighting
Other (cell phone signal boosters, voice control, central vacuum, surge protection, irrigation control, voice control, satellite, spa controls, acoustical panels, seating, furniture, etc.)
The data also includes recurring revenue from multi-subsystem installations, as well as over-the-counter and online sales.
Given that RMR for subsidized smart home installation is a new business model being adopted by many companies, CE Pro began including RMR revenue in the custom revenue totals a few years ago.
As always, there are many large companies that chose not to participate in this year's listing. Many higher-end custom companies do not want to be compared with high-volume companies on any list.
Digging into the Data
The median number of installed residential systems in 2021 by the CE Pro 100 was 230, up solidly (13%) from a median of 203 in 2020.
Meanwhile, the median number of installed commercial systems was down for the second consecutive year to 10.5, a 20% decline from a median of 13 commercial jobs the previous year.
The pandemic put the brakes somewhat on the trend of residential-based integrators moving more heavily into the commercial market.
Offices, bars, restaurants, hotels, entertainment venues, houses of worship, schools and even retail are all still target markets for integrators on the commercial side, but those areas were hit hard by COVID-19 and in the case of corporate office work it might be quite a while before we see the level of commercial jobs that dealers had before 2020.
The companies at the top of the list (ADT, Vivint and Guardian Protection) are all experts in the art of earning RMR…The largest "traditional" custom AV installation firms are Bravas, Audio Command Systems, AUDIOVISIONS and Audio Video Systems.
In terms of employees and productivity, the median number of employees is 27, up from 23 in 2020. The revenue per employee in 2021 rose sharply to $284,684, that is up 30% from 2020.
In terms of company age, the CE Pro 100 companies tend to be much more established than the rank and file of the industry with a median 22 years in business.
RMR continues to grow as a revenue source among integrators. Nearly eight in 10 integration companies (79%) earn some sort of recurring revenue, that is up slightly from 77% in 2020.
More than three-quarters (77%) of the CE Pro 100 now earn some form of RMR. The median percentage of total revenues earned from recurring sources by the CE Pro 100 is 3%, up one percentage point from the previous year.
Not surprisingly, the companies at the top of the list (ADT, Vivint and Guardian Protection) are all experts in the art of earning RMR.
Meanwhile, commercial specialists like CCS Presentation Systems and AVDG are both high on the top 10, while custom retailers Just One Touch/Video & Audio Center, Abt Electronics, World Wide Stereo and Nebraska Furniture Mart run well-oiled revenue machines. SST in Southern California focuses on the lucrative homebuilder market.
The largest "traditional" custom AV installation firms are Bravas, Audio Command Systems, AUDIOVISIONS and Audio Video Systems.
How Companies Verify Their Data
Companies are asked to submit their financial data or have it verified by their accountant for the CE Pro 100. The verification is optional. Companies were required to sign a statement (for faxed or mailed entries) that says, "the information provided is accurate and truthful."
CE Pro has selected gross revenue in multisystem residential and resimercial installations as the determining factor for the ranking, recurring monthly revenue from security monitoring and service agreements, as well as over-the-counter retail sales of electronics and that are installed.
Keep your eyes peeled for the June issue of CE Pro that will include a brand analysis of vendors used by the CE Pro 100. All entrants in the CE Pro 100 are eligible to attend the CE Summit/Total Tech Summit as a hosted guest. It will be held this year in Orlando from October 26-28, 2022.
Is your company missing from the list? If so, email CE Pro at jason.knott@emeraldx.com, or please email any other comments about the 2022 CE Pro 100.
To learn more about this year's CE Pro 100, view the slideshow
The 2022 CE Pro 100 Integration Firms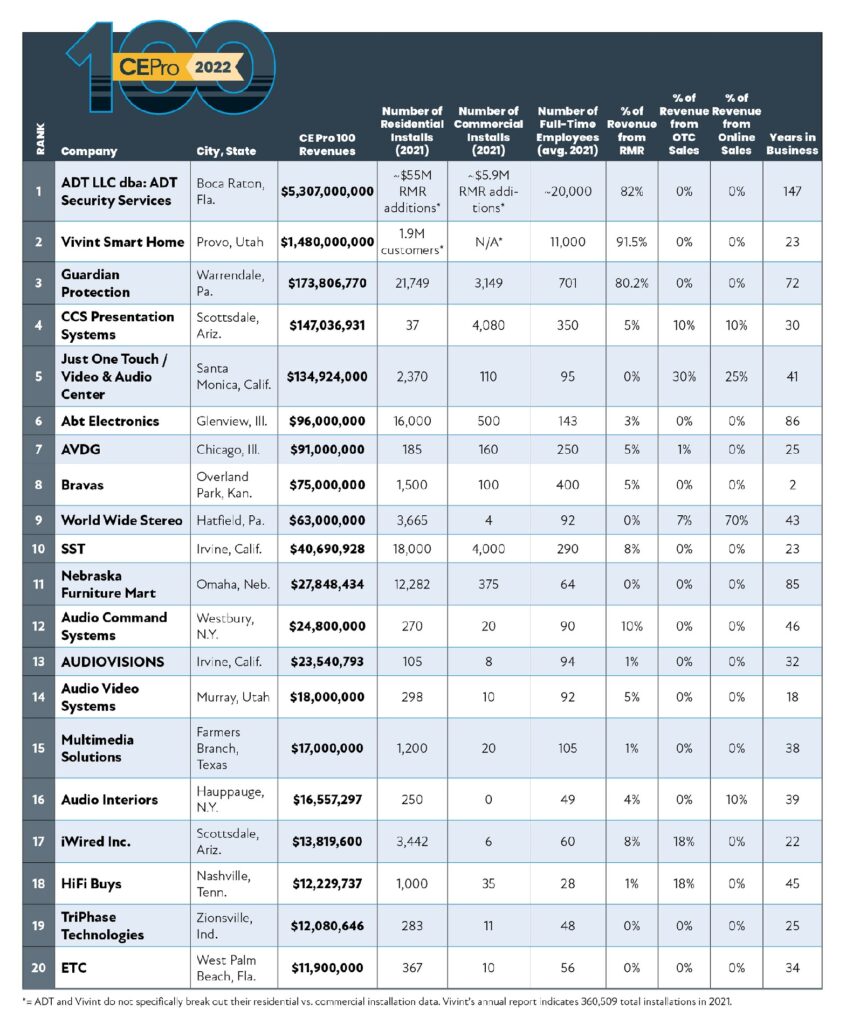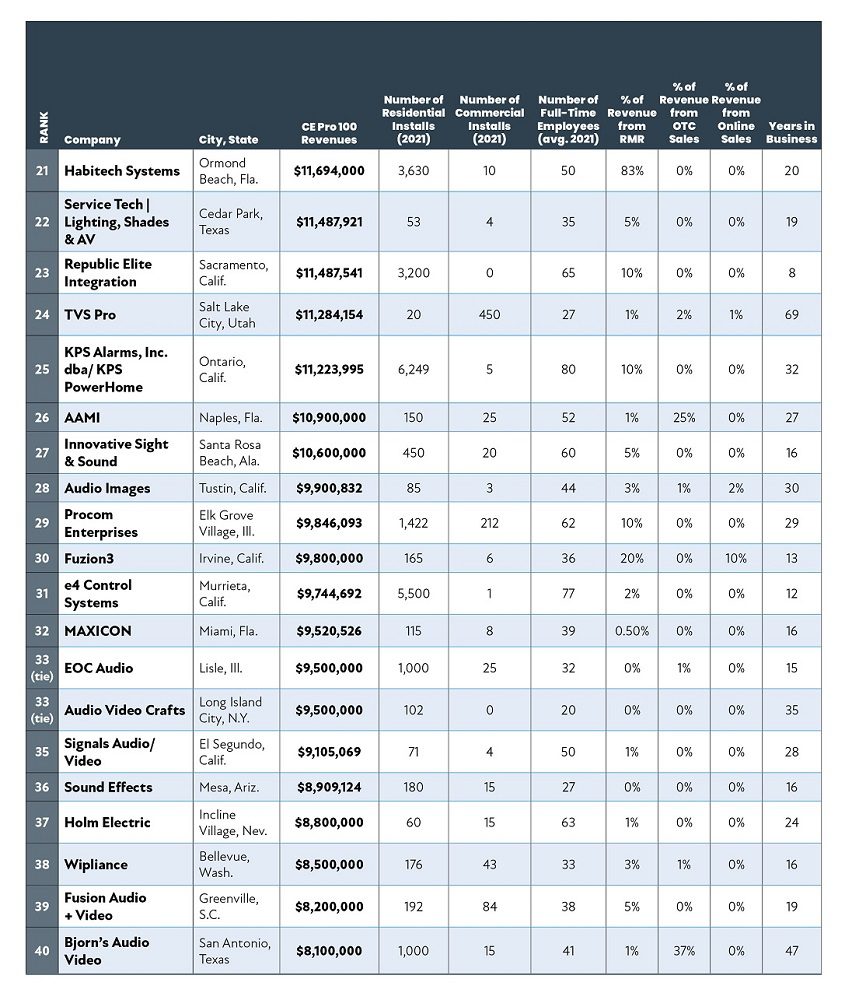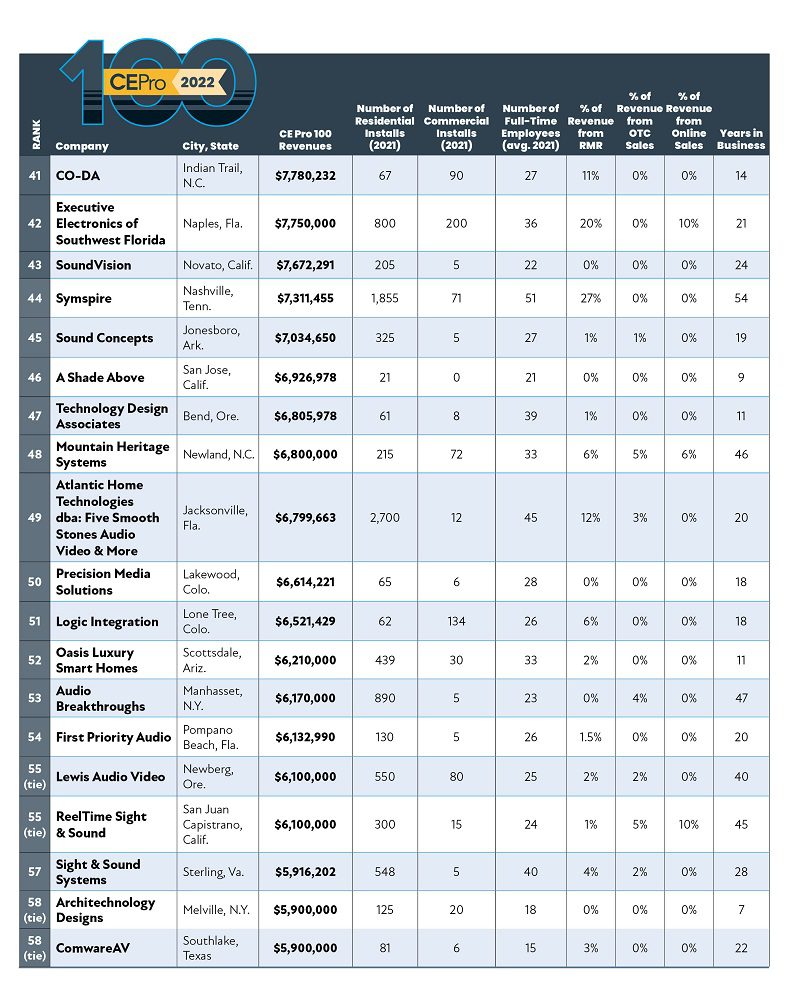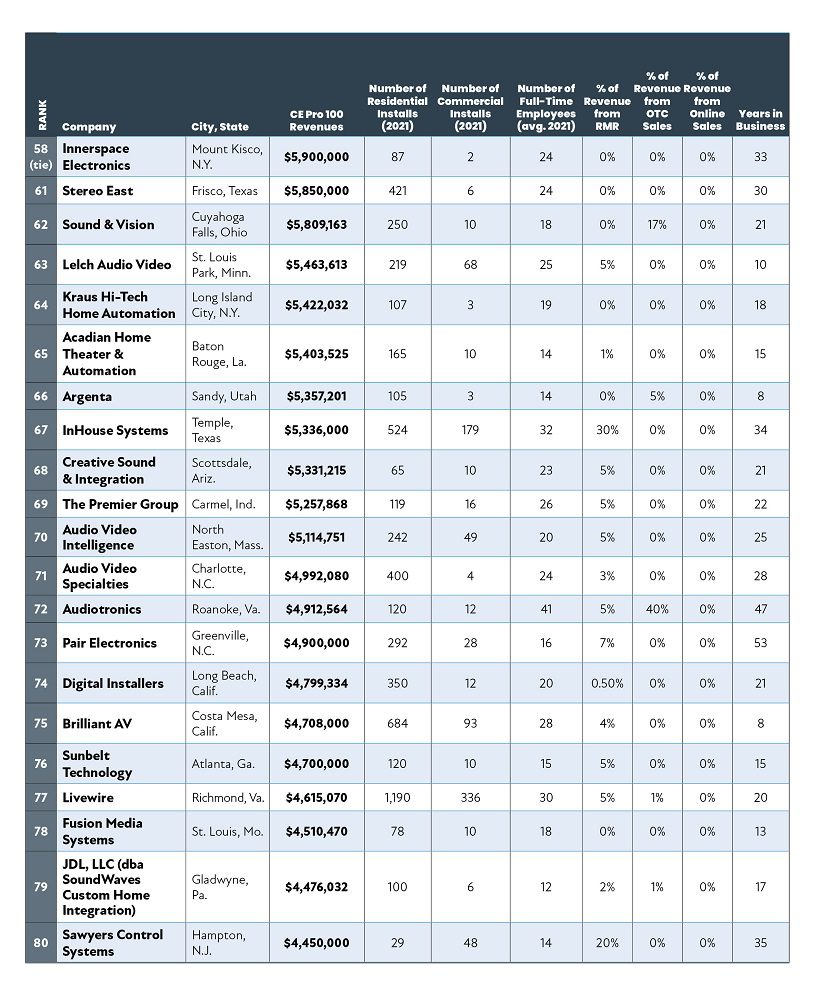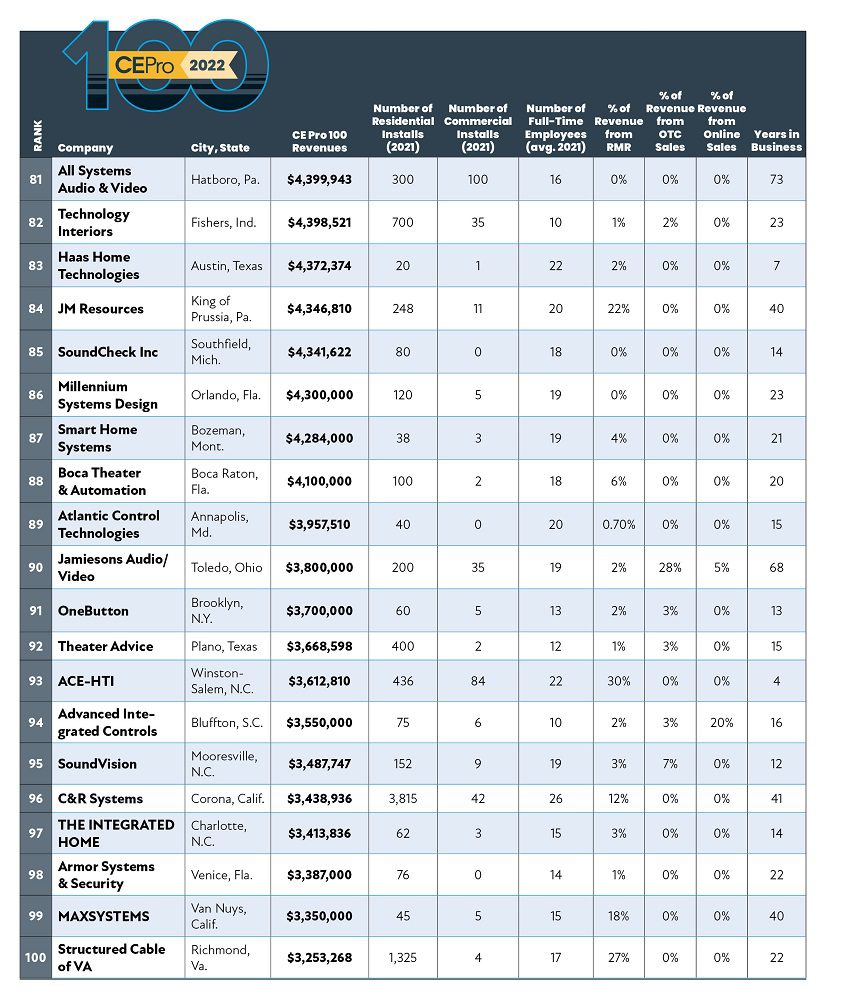 If you enjoyed this article and want to receive more valuable industry content like this, click here to sign up for our digital newsletters!