Elite Screens Awning Doubles as a Projector Screen for Outdoor Entertaining
Elite Screens partnered with Advaning Awning and Shades to create an outdoor shade that doubles as a projector screen once the sun sets.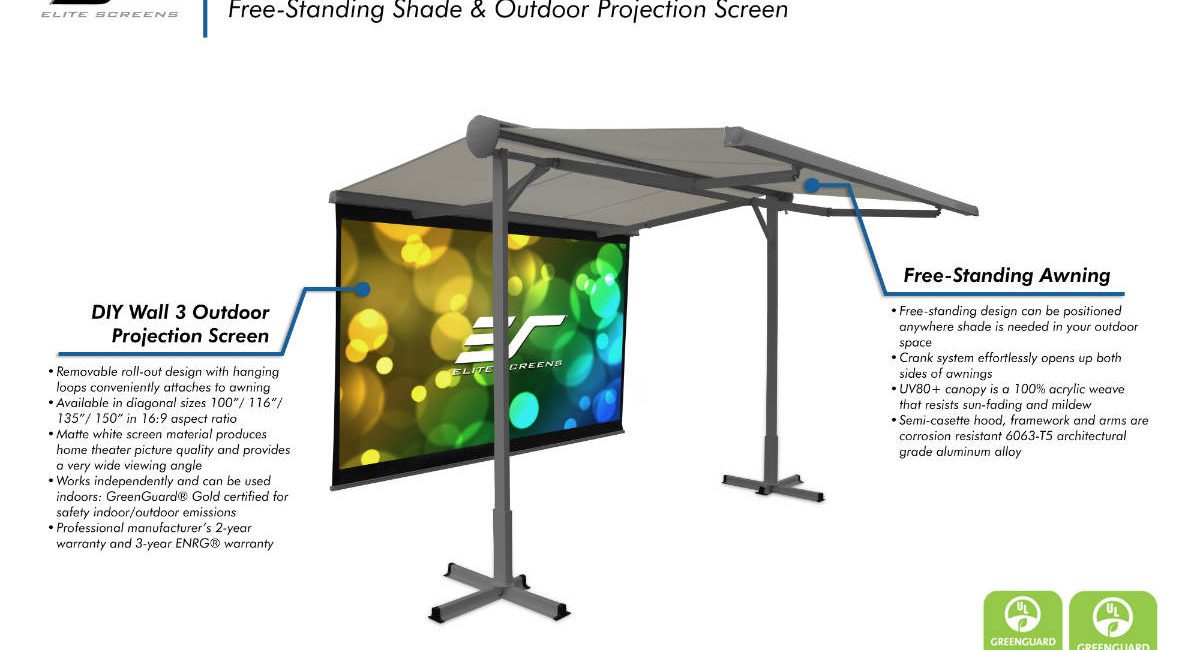 It's always cool to see companies looking to make a multitasker where a unitasker once existed. In this case, projection screen company Elite Screens Inc. worked together with Advaning Awnings and Shades to create the Yard Master Awning Series, a free-standing outdoor shade that also doubles as a large outdoor movie screen after dusk.
The Yard Master Awning Series features a manually operated semi-cassette format that projects a pair of opposing retractable canopies. Its design utilizes a hand-crank operated mechanism, and the company claims it's able to be installed in minutes.
The canopy portion of the product is made out of UV80+ sun protective 100 percent acrylic material, which is a weave of fabric noted for being resistant against sun fading and mildew, and will also not trap heat or moisture so as to ensure a more pleasant shelter through the heat of the day.
The semi-cassette hood, aluminum lateral arms, and front bar counterweights use corrosion resistant 6063-T5 grade aluminum alloy, while the lateral arms are inlaid with twin 316 marine and architectural grade stainless steel cables designed to offer strength.
Yard Master is 4K, HDR Ready
Elite's DIY Wall 3 Outdoor Projector Screen comes as a detachable module that uses Elite's MaxWhite B theater grade 1.0 gain matte white material. The screen is a Greenguard (UL 2818) certified, 4K Ultra HD, Active 3D, and HDR Ready projection surface that is ideal for use with standard long-throw projectors.
Yard Master Awning Series stands 8 feet 3 inches tall with an open span of 10 feet.
Related: 8 Outdoor Video Systems That Deliver Value and Performance
The screen is compliant with all of the high-resolution standard "long-throw" projectors on the market today and is available in an HDTV (16:9) aspect ratio with sizes ranging from 100 inches to 150 inches.
Elite Screens' Yard Master Awning Series is available now with a starting price of $1099.