Longtime industry consultant Dave Chace has rebranded his Training Allies training and education firm as COGENT360. Along with its new name, COGENT360 has a new website as it rebrands and expands its virtual and experiential marketing capabilities for CE manufacturers, buying groups, retailers, integration companies and other markets.
With a focus on helping companies educate their sales channels about their products and services, Cogent360 has developed advanced media design capabilities including VR, 3D modeling, and ultrarealistic 360° virtual experiences that allow viewers to explore, interact, learn, make purchases, and many other options
As demand for virtual technologies and capabilities has increased, Cogent360 is positioned to address this demand, having developed tools and services over the last several years in VR design. This skill enables integrators to create ultra-realistic, interactive, immersive environments including virtual showrooms and experience centers that enable manufacturers and dealers to showcase products such as smart home controls, programmable lighting, appliance options, motorized screens, audio systems, and more.
"The possibilities with a dynamic virtual showroom are limitless, as you can provide a highly engaging and immersive 'customer journey' to anyone, anywhere. You can now bring your showroom to them and illustrate a wide array of key features and benefits, and even simulate system capabilities to excite customers with jaw-dropping features that can easily grow your project," says Chace, founder of Cogent360.
"In the new virtual marketplace, most companies lack the design capabilities in-house to develop 3D, VR, and other virtual resources at this stage.  It is critical to align with an experienced partner who understands not only the marketing side of the equation, but also has extensive experience in the consumer electronics and custom integration markets," he adds.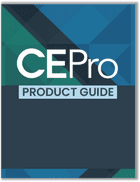 CE Pro's 2022 Product Guide showcases some of the latest and innovative solutions from manufacturers serving the custom electronics industry in a cross-section of categories.
Download the guide now!