Rental property search engine Rent.com released its survey findings on the desire for smart technology in the home.
The website surveyed 1,546 people about their smart home technology preferences, asking them which smart home features they currently have in their lease and which smart devices they wished they had.
Renters also answered how much they'd be willing to pay every month for the technology they wanted. The survey addressed smart thermostats, smart lighting, smart outlets and smart appliances.
Among the findings, 82% of renters say they want at least one smart device in their home and yet 49% don't have one, creating an opportunity for integrators to sell these devices.
When it comes to the smart home technology renters do have, 21% have just one device, 12% two devices, 7% have three devices and 5% have four. Just over 2% of renters had five devices.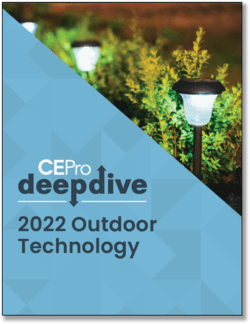 The 2023 CE Pro Outdoor Technology Deep Dive reveals unique set of impediments, including explaining pricing and interacting with outdoor-centric trades.
Get your copy now to take a "deep dive" into the trends and challenges of outdoor technology.
Download the report now!
Voice control systems were the most common smart home technology devices found among those who own at least one, with half of renters saying they already have them. Smart appliances were the second most owned devices listed by renters at nearly 41%.
Rent.com cites the reason for this being both are relatively easy to set up and don't need to operate as part of a larger smart home system.
The next most commonly owned smart devices were smart lights with nearly 36%, smart thermostats with 33%, smart outlets at 30.5% and smart locks/keyless entry systems used by slightly more than a quarter of current devices owners.
The survey also found that people who rent houses are more likely to currently use smart home technology (56%) than apartment dwellers (49%).
When it came to what smart technology renters want the most, thermostats scored the highest importance ranking of any device on the survey when respondents were asked to rank the importance of each device. Smart locks and/or a keyless entry system was ranked second.
You can read the full results of the survey by clicking here.
---
This story originally appeared on our sister publication Security Sales & Integration's website.