NRG Energy, Inc. (NYSE: NRG) has announced a definitive agreement to acquire Vivint Smart Home, Inc. (NYSE: VVNT) for $12 per share, or $2.8 billion in an all-cash transaction. The buyout equates to 6.3X over EBITDA. The agreement has been unanimously approved by the boards of directors of both companies.
NRG will acquire 100% of the outstanding equity of Vivint for a total transaction value of $5.2 billion, which consists of approximately $2.8 billion in cash and the assumption of $2.4 billion of debt (net of cash), which benefits from attractive terms and pricing. This consideration represents a premium of approximately 33% to Vivint's closing share price on December 5, 2022. Vivint stock closed Dec. 5 at $8.99 per share.
Vivint Smart Home, the No. 2 company in the CE Pro 100, has nearly 2 million customers paying an average of $66.39 per month for monitoring of an average of 15 devices in the home, ranging from intrusion alarms to video surveillance to energy and lighting. NRG Energy has 7.4 million customers. It has a proven track record of integration and synergy realization across a number of acquisitions, including Direct Energy, Stream, and Xoom.
According to a statement from NRG, the acquisition accelerates the realization of NRG's consumer-focused growth strategy and creates "the leading essential home services platform fueled by market-leading brands, unparalleled insights, proprietary technologies, and complementary sales channels." The transaction improves and diversifies NRG's financial profile, bringing its annual run-rate Adjusted EBITDA to $835 million.
"Last year at our Investor Day, we presented our strategic roadmap to becoming the leading provider of essential services for homes and businesses, informed by consumer trends and underpinned by disciplined execution," said Mauricio Gutierrez, president and CEO of NRG. "The acquisition of Vivint is a transformational step in achieving our vision. Customers want simple, connected, and customized experiences that provide peace of mind. Vivint's smart home technology strengthens our retail platform, improves our customer experience, and increases customer lifetime value. I am excited to welcome Vivint to the NRG family."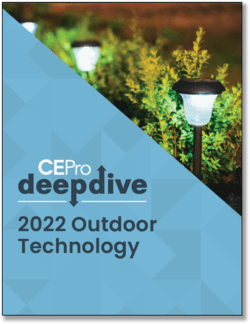 The 2023 CE Pro Outdoor Technology Deep Dive reveals unique set of impediments, including explaining pricing and interacting with outdoor-centric trades.
Get your copy now to take a "deep dive" into the trends and challenges of outdoor technology.
Download the report now!
"We are pleased to announce a transaction that delivers immediate and compelling cash value to Vivint's stockholders while also presenting significant opportunities to drive our company's continued success in the years to come," said David Bywater, CEO of Vivint Smart Home.
"Our agreement with NRG is the culmination of our Board's ongoing pursuit of maximizing value for Vivint stockholders and is a testament to the strength of the Vivint brand, capabilities, and proven industry leadership. We look forward to working with NRG to create exciting opportunities for Vivint as part of a larger platform. On behalf of our Board and management team, I thank the hard-working Vivint employees for the significant role they have played in this important milestone."