Consumers want better warranties on their products, but it's not from a seat of distrust. We've all been there in a 'worst case scenario,' where something that by all accounts should last for years breaks after three days in some freak accident. It's comforting to have that support and backing—especially when we're talking about something as vital as a security system— and it some cases, a good warranty service can be as big of a selling point as the product itself.
How big of a selling point, you may ask? Enough that over two thirds of consumers in a recent Parks Associates study said they are expecting a warranty service when they purchase a professionally installed security system.
"Smart device owners are demonstrating their interest in warranties in addition to support and protections for their connected devices as add-on services," said Frank Saldaña, Research Analyst, Parks Associates. "Our research shows that almost half of respondents have purchased an extended warranty/device protection service of some kind, up 15% from Q2 2019."
It All Comes Down to Trust
As part of the whitepaper, Protect the Connected Home: Home Security Meets Personal Privacy, the research, released in partnership with Assurant, highlights consumers' privacy concerns around smart home devices and the opportunities that pro monitoring security providers have to offer warranty, cybersecurity, and other add-on services.
As consumers' privacy concerns are a barrier to smart device adoption, home security providers can offer device protection and data privacy services, enabling them to leverage their skills, assets, and service relationships with customers.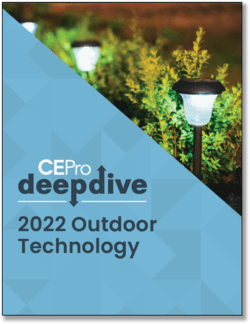 The 2023 CE Pro Outdoor Technology Deep Dive reveals unique set of impediments, including explaining pricing and interacting with outdoor-centric trades.
Get your copy now to take a "deep dive" into the trends and challenges of outdoor technology.
Download the report now!
"The surge in the need to be connected over the past several years, coupled with the dangers of hacking and identity theft, has opened the eyes of consumers and heightened the need to protect their personal identity," said Jeff Unterreiner, President of U.S. Connected Living at Assurant. "Along with personalized support, these value-added services are key to increasing consumer adoption of the connected home."
As such, Parks Associates notes home security firms are in a strong position to offer personal data privacy and security, in addition to warranties, as add-on services.
"Home security owners have assigned a significant level of trust to their security providers to ensure the protection and monitoring of their homes. Protecting the digital aspects of home life naturally aligns with the core security value proposition," Saldaña said.