If you want to sell Jeeps, you don't attract people with technical details like fuel economy and cylinder configuration. If you want to sell Jeeps, you show people what their life could be like if they had one. The intrigued buyer will then be motivated to look at the technical details.
In the world of AV integration, if you want to sell more projects, you need to enhance your presentation.
Here's a good example of what I mean: In my early days of designing and selling AV systems I quoted and proposed a project for a large church. It was one of my bigger projects at the time and I was at the limit of my expertise in designing for the size and scale of this audio system. Still, I put together a system that I knew would perform well.
My marketing and graphic design background was always front and center in my AV presentations. My proposal was clear, visually appealing, included quality photos of previous projects, and it highlighted quotes from very satisfied clients.
I broke the system down into three or four smaller categories, such as the speakers themselves, the mixing system, and the lighting system. Smaller bite-size pieces, each with their own description of work and line items.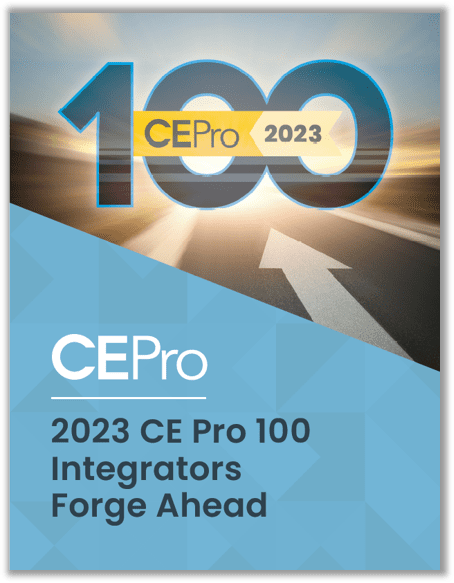 Which companies in the custom integration market made CE Pro's 24th annual CE Pro 100 list?
So rather than, "The system will be capable of X dB and is going to be X megahertz to X quadrilaterals", I said, "The listener will be able to enjoy the energetic sound with clarity, with very few areas in the room experiencing muddiness or low frequency unevenness." My technical details were there for any interested party in the back of the proposal.
Project Proposals Are About More Than Creating the Perfect System
The client put my proposal against others they had gotten. They called me back for a follow-up meeting and showed me a proposal from the main competitor they were comparing me against. I recognized the person who designed the system. They were very well respected, and they had designed what would be a fantastic sounding system.
But, it was as if they hadn't made it past middle school English. There were typos and sentence structure issues that signaled a lack of detail. Also, they wrote in purely technical terms, so these pastors and laypeople had no idea what they would actually be getting.
To make matters worse, their numbers weren't even correct. For example, they had presented good, better and best options, and for the "Best" system, the line items totaled $150,000. However, they accidentally typed an extra zero, skyrocketing the system to 1.5 million dollars!
Their "Better" system was arguably as good or better than the system I had designed and for less money. But if you were that client, which AV company would you trust?
I won the project because my system was presented well and they figured that a company who cared that much about the presentation of the proposal would probably care that much about the installation of the project.
Software Can Help Create Better Project Presentations
So I definitely believe big in the power of presentation, which is why the picture of the car sells more cars than the spreadsheet listing all the items in the car.
Throughout my AV career, I continued to design with the highest level of excellence that I could, while also proposing my projects with the highest level of presentation I possibly could. I provided real clarity and used terms people could understand.
I also spent a lot of time looking for a sales platform that could help me do this more easily, which is part of what led me to develop Jetbuilt. Jetbuilt can help integrators create a well-crafted proposal like the ones I used to spend days putting together for my clients.
After all, being a top AV system designer and being a top AV system presenter are two different things.
---
Paul Dexter is the founder of AV business software company Jetbuilt.
If you enjoyed this article and want to receive more valuable industry content like this, click here to sign up for our digital newsletters!