Like many custom integration companies, DeVance Electronic Lifestyle in Carrollton, Texas, has become more diverse than ever. The company now touts about half of its revenue from commercial projects, while its residential business is a mix of small $5,000 installations and long-term $100,000+ projects. Meanwhile, after 17 years in business the company has built up a large contingent of past clients, many of which need regular service, but with just five technicians in the field, there is no dedicated service team. It's a constant "dance."
To keep track of it all, the company turns to iPoint software, which has been in place at DeVance since 2016. For owner Matt DeVance and CFO Stephanie Johnson, managing the entire operation has been made much easier with iPoint's Morning Coffee, a configurable reporting engine that gives them the ability to generate particular daily reports based on a specific schedule.
DeVance starts his day with Morning Coffee reports showing him the sales pipeline and proposals. Johnson can also generate reports for new sales orders created, active sales orders, signed proposals, change orders, purchase orders, new customers added, dollar amounts for new invoices, total invoices year to date, profitability per job, aging, etc.
"Pretty much anything you want to know, you can generate a report for it from iPoint," says Johnson. 'iPoint really gives you better overall business management capability. You have everything in one spot, plus it integrates with Quickbooks. For me, iPoint gives me the entire big picture on the business."
Juggling the Service "Dance"
One other area where DeVance is just beginning to recognize the capabilities of iPoint is in the scheduling function, particularly as it relates to service calls. The company prides itself on providing exceptional customer service to its clients, so it can be frustrating when it has to juggle its technicians between new installations and service calls.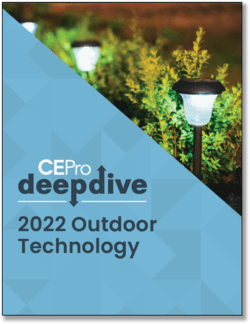 The 2023 CE Pro Outdoor Technology Deep Dive reveals unique set of impediments, including explaining pricing and interacting with outdoor-centric trades.
Get your copy now to take a "deep dive" into the trends and challenges of outdoor technology.
Download the report now!
"It's a dance… it changes every day," admits Johnson. "There may be times where everything's hunky-dory because we don't have any service appointments. On those days, everybody is divided up on projects. Depending on the stage of a project, we will determine which tech is released to go handle a service call."
To manage the "dance," DeVance has a project manager on the installation side and a separate service coordinator for its service business who work hand-in-hand together to manually adjust technicians' schedules to best suit its clients' needs.
Using iPoint, a company can email a client letting them know exactly when the technician is due to arrive for the service call.
"We aren't using iPoint to its full potential. When I first joined DeVance two-and-a-half years ago, I saw that immediately. I said, 'Wow, this software can do so much!' iPoint helped us realize there are so many more measurables to look at. It makes you think, and say, 'We should really be tracking that!' Plus, the metrics are based on industry standards. I really like that aspect."
She adds, "The software helps you understand how one part of the business can affect another part. For any integrator considering iPoint, you really need to be open-minded and prepared for change… they are good changes that help you really understand the entire business and the role of each department in your company."